MPs have taken offence to criticism by security minister General Elly Tumwine over their recent botched attempt to inspect safe houses. Tumwine told MPs on the human rights committee that there is a need to improve their methods of work in order to avoid casting parliament in a bad light.
Tumwine was appearing before the committee for a third time over its investigation into alleged torture at safe houses run by the military. "You had no right to go to those houses. I will blame you and continue to blame you," Tumwine said
Tumwines statement provoked an angry response from the Kawempe North MP Latif Sebaggala who asked the chairperson of the committee Janepher Nantume to rule Tumwine out of order for criticizing the committee for carrying out its mandate. Sebaggala also pointed out that the deputy speaker Jacob Oulanyah had given the committee the green light to inspect the alleged safe houses.
Tumwine shot back by asking the MPs to apologise for trespassing on private property but the chairperson Nantume ruled him out of order by stating that the committee has the powers to carry out on spot visits. She also slammed the minister for stubbornly refusing to provide the committee with a list of safe houses.
"As a committee we have a right to do on-spot checks, as a minister and member of parliament you know that. We don't have to seek permission to do that." Nantume added, "The last time you where here, you denied us access to the safe houses"
Tumwine stated that he has never denied access to safe houses and said that there are procedures and methods to be followed. He announced that he was willing to provide MPs with the locations of safe houses that they could inspect.
However when pressed for a list of safe houses Tumwine backtracked and said he would never provide a list of safe houses owing to the sensitive nature of their existence in providing safety for various assets.
He only acknowledged the existence of the Kyengera safe house, one of the three that MPs were blocked from accessing.
Tumwine told the committee that some of the people who are accusing ISO of torture are known criminals. He however informed members that the cases of torture are there in the agency however any caught abusing the human rights code of conduct is disciplined.
Members also questioned why he didn't come with the director of ISO Kaka Bagyenda and the commandant of SFC. He said the clerk to the committee should write a letter stipulating what they need Kaka to answer, for SFC commandant he said his not under his command.
MORE WITNESSES
Earlier the committee met some of the people who alleged being tortured by ISO operatives.
These victims include Abdul Mulindwa, Bashir Mukungu, Magoba Moses, Ssegawa Deo and others. They narrated the ordeal they went through from the time they were arrested by unknown people and taken to Kyengera safe house.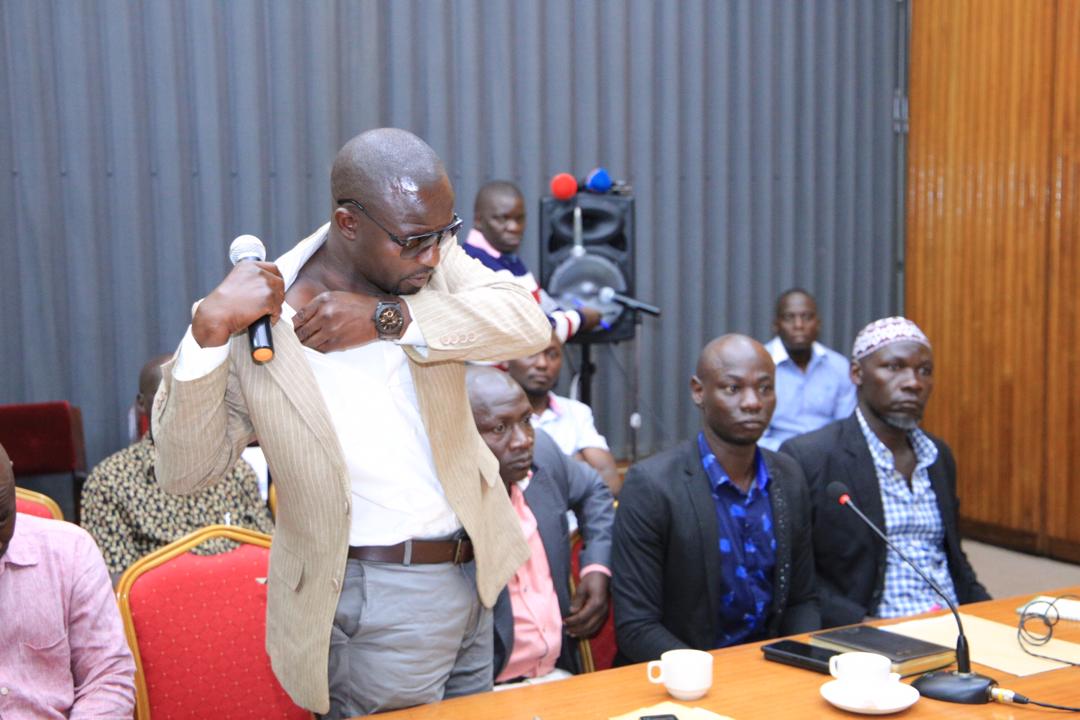 Many of these spent a year and half in incarceration until recently when their relatives met the committee and asked for help.
Abdul Mulindwa could barely finish a sentence when telling the members how a stone was tied to his genitals and is still in pain.
Magoba Moses can hardly move his right hand because it was broken during interrogations.
Ssegawa was shocked the security agencies released a picture of him saying he was a serial car robber yet they had arrested him in May last year.
The parliamentary human rights committee is conducting its final inquiries in torture allegations and will write a report of the findings to parliament.