A group of city lawyers led by Abdullah Kiwanuka have petitioned speaker of parliament Rebecca Kadaga imploring her to institute a fresh investigation into the activities of the central bank, following reports of theft of old currency at one of its currency centres.
The lawyers also want the report into the closure/sale of seven commercial banks that was written by the Committee on Statutory Authorities and State Enterprises (COSASE) to be implemented.
According to the petition dated September 12, the lawyers want immediate action to be taken against the central bank.
"It is the duty of Bank of Uganda to collect all the old and damaged currency from circulation, to destroy the same and replace it with new currency…however of recent it was discovered that bank of Uganda officials tasked with the destruction of the old notes have been going against the guidelines and instead they have been stealing the notes," reads part of the petition.
The lawyers also want to recommendations of the COSASE into the investigation of Bank of Uganda to be implemented saying a delay will lead to further misuse of taxpayers' money by the central bank.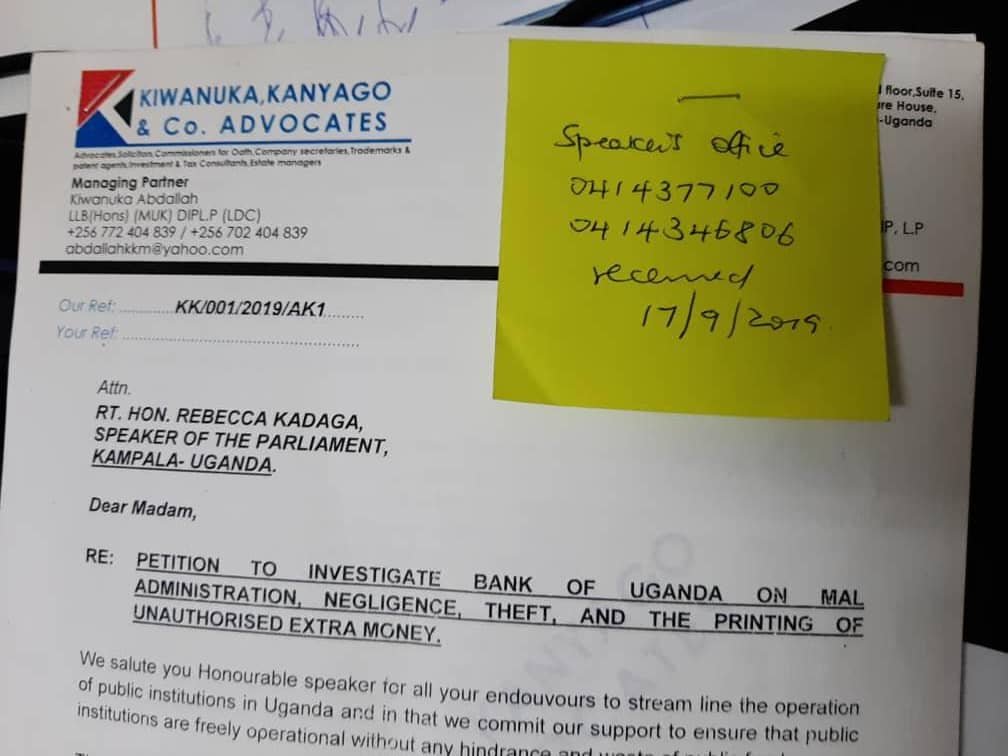 The report notes: "As earlier stated Bank of Uganda illegally closed Crane Bank, Greenland Bank, Teefe Bank, Cooperative Bank, International Credit Bank, Global Trust Bank…Most of the banks were illegally closed/or put into receivership and surprisingly all this happened without the knowledge, consent or approval of the governor…"
The lawyers warn that the taxpayer could lose more money if the central bank is allowed to operate the way it does.
They cite a recent legal dispute where the bank lost a case to business tycoon, Sudhir Ruparelia.
Although the bank has appealed, the lawyers warn that "billions of shillings" stand to be lost in the legal drama.
The petitioners also want Kadaga to ensure that investigations into the activities of Justine Bagyenda, the former executive director Bank of Uganda in charge commercial bank supervision be made public.
"Hon Speaker during the COSASE investigations by Parliament, Bagyenda's name was heard in every scandal and she was captured the CCTV cameras taking out important documents from her office in Bank of Uganda without consent from the governor of the Bank of Uganda," reads part of the petition.