Murders, murders and yes, more murders..
Over the last couple of weeks, murders have dominated the social media space and mainstream media.
The most foul being that of Maria Nagirinya and her driver Ronald Kitayimbwa.
The two were kidnapped from Busega and killed. Their bodies were later discovered in Mukono. Seeing Nagirinya and Kitayimbwa's family grieve was tear-inducing.
How can someone be so cruel, so heartless?
What goes through the mind of killers as they slit the throats of their victims?
Is it a feeling of contentment?
What do they feel as their victims plead for mercy?
It is my proposal that once convicted by a competent court, murderers should be executed there and then.
There should no room for appeal neither the privilege of stepping into Luzira.
After court pronounces itself, the murderers should be paraded in the compound of the court and executed in full view of the public.
This may not bring their victims back to life but In my view, at least it will restore some order.
*********************************
On Tuesday morning a cartoon showing the Bank of Uganda building being fitted into a pair of knickers was circulated widely on various social media platforms.
On top of the building was governor Emmanuel Tumusiime Mutebile who appeared to be looking on shocked by the mess around him.
Unfortunately, from the cartoon, the knickers, too, have holes.
And something stinking is seen spewing from the holes given the sight of houseflies.
I did not know what to make of the cartoon.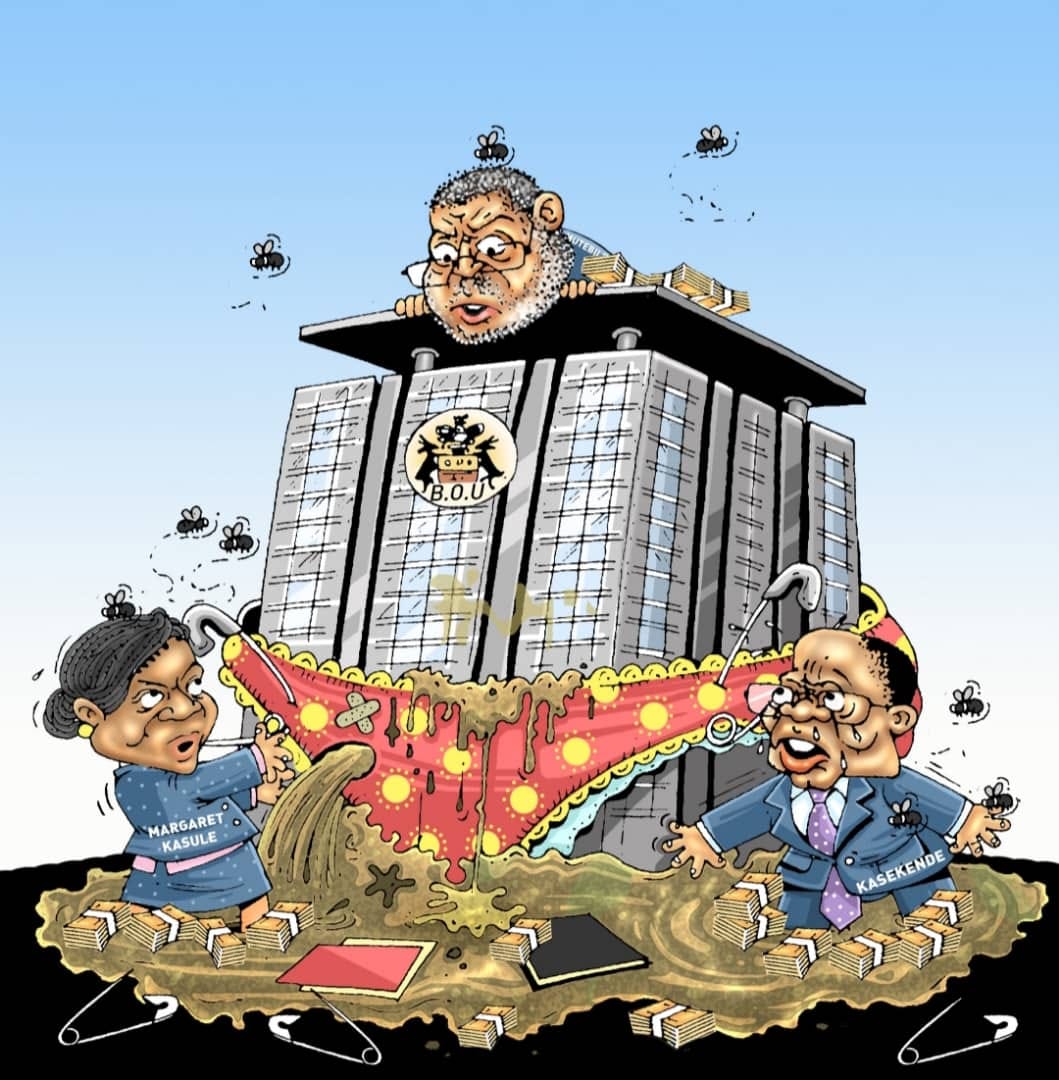 My suspicion is that the cartoonist, whoever it is, intended to capture the mess at Bank of Uganda and did so in unflattering terms.
Bank of Uganda has had its fair share of scandals.
Last week the bank admitted that it was investigating the theft of old currency notes at its Mbale currency centre.
A number of staff have been questioned in relation to the theft.
Add this to the currency saga that happened in April, the investigations by Parliament and a host of other probes including one by the president.
A breath of fresh air is needed at the central bank to steady the sinking ship.
To state it differently, the Rouge thinks that the central bank needs to get a fresh pair of knickers.
The Rogue is a satirical column that runs once a week on The Nile Post once a week.
Contact the author on +256-788179369/+256-752195226