Entebbe Road residents on Tuesday morning witnessed a spectacle that left many in stitches after a traffic police officer identified as Charles Atiak jumped on the bonnet of a moving vehicle to stop it.
Witnesses say that a Toyota Noah knocked a motorist near Kibuye roundabout on Entebbe Road and the traffic officer moved in to stop the driver as part of his duty.
The driver of the Noah UAP 100D reportedly tried to drive away, ignoring the police officer's instructions to stop. When the police officer stood infront of the car to force the driver to stop, the driver seemed unperturbed and tried to drive forward nonetheless.
Kampala Metropolitan Police Spokesperson Luke Owoyesigire explains what happened next. Owoyesigire says, "The officer was actually trying to save his life . The driver of the Noah was lawfully stopped and he kept moving towards the officer , he just used his reflex to jump onto the vehicle . To save his life. We are actually glad he is alive because the intention of the driver was to knock him. Even after realising the officer was on his vehicle he kept on moving ahead."
He adds that the Noah driver only braked after, "Boda boda riders had to stop him."
Owoyesigire says, "The rider is currently in Police custody at Katwe Police Station , he had previously caused an accident along Kibuye and that's why the police officer was trying to stop him."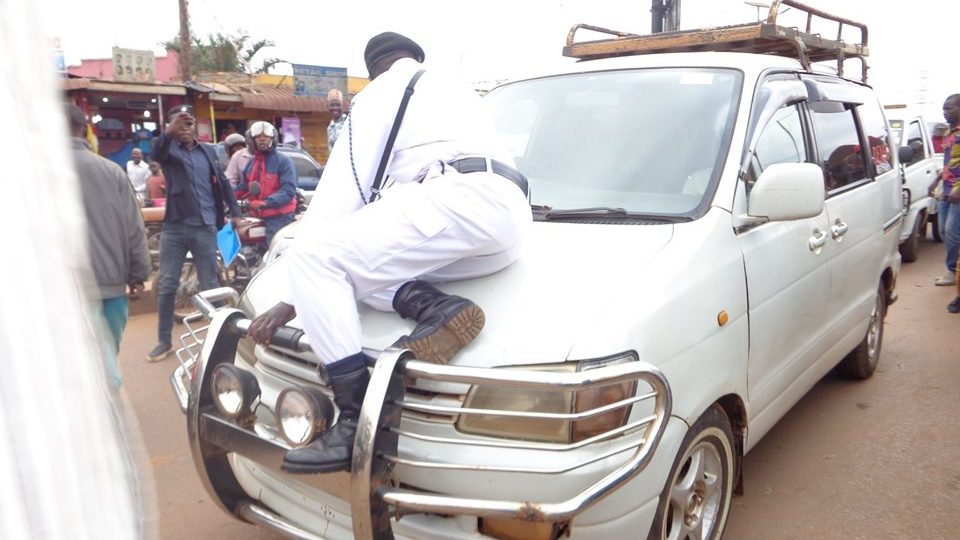 The driver, Isaac Bogere (35), is likely to face charges of driving recklessly and causing an accident.
Police indicates that they are also investigating the possibility of charging the errant driver with attempted murder of the police officer Charles Atiak.
A case file CRB 1413/2019 Katwe has already been opened against Isaac Bogere.
Photos of the incident are currently circulating on social media attracting comments of admiration and condemnation for the officer's actions. Some commenters commend the officer for his bravery while others say his actions were uncalled for and risky.
The KMP spox concedes, "It's risky and that is the job. Many of our officers have been knocked . But we also expect drivers or road users to be disciplined on the road. What does it cost you to stop when told by a traffic officer?. He is mandated by law to stop any vessel , motorcycle , motor vehicle."