It is about four hours to Uganda's first game at the AFCON 2019 finals in Egypt against the Democratic Republic of Congo and the travelling fans have gathered at the lobby of the Amarante Pyramids hotel in Giza to put their cheering act together for the upcoming game at the Cairo International stadium.
I notice that one of Uganda's most outstanding supporters Kassim Kyazze is missing and so I quickly I rush to his room to find out what is holding him.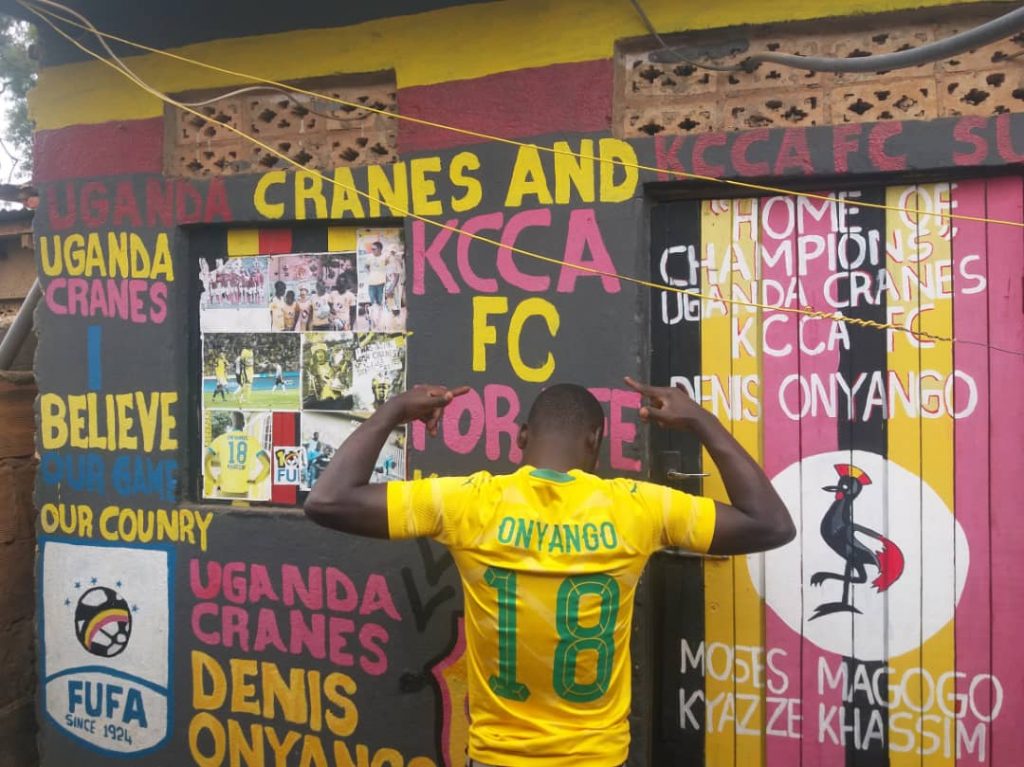 Inside room 288 on the second floor, Kassim is busy with his usual pre match routine, painting his body with the Uganda national flag colours, black, yellow and red unperturbed by the pressure from his impatient colleagues who want to set off to the stadium but can't leave without their lead fan.
He has done this for close to seven years, and has now mastered every bit of it. Inside the hotel room's bathroom, Kassim has caused a mess that am sure the house keepers won't enjoy cleaning up.
I sit him down to find out how it all started. In his local language Luganda, he reveals to me that his inspiration came from a South African fan years ago, but he personalised it with his own art.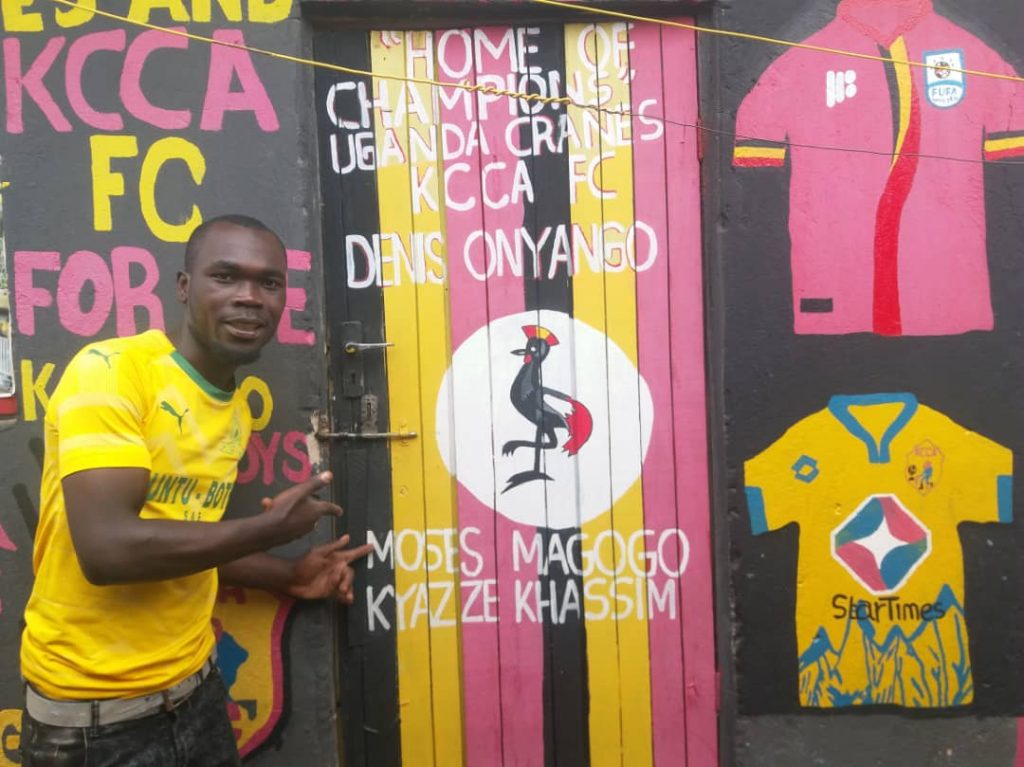 "One day while watching a football match between Uganda and South Africa at the Mandela national stadium, I saw a south African supporter who had painted his body with their national flag, I liked it. I looked around and noticed there was no Uganda with the same style, so I decided to do the same with the Uganda flag and made it my trademark." Said the cheerful Kassim.
He adds that the little art he learnt in school comes in handy while making his design.
"Painting the flag involves a lot of art. I first have to draw sketches on the front and in the back then fill them with the colours in their correct order, Black, Yellow and Red," he explains.
2017 is the year Kassim first reaped the biggest fruits of this passion. After seeing him at the Mandela national stadium supporting the national team with his all, the Federation of Uganda Football Associations (FUFA) funded Kassim to go support the Uganda Cranes in Gabon as they returned to the AFCON finals for the first time in 39 years.
It was Kassim's first time on a plane and he recalls it like it was yesterday.
" It was the first time I was meeting the FUFA president, I also had no passport, it was the first time I acquired one. I never thought in my life that, I, a son of a poor man would ever sit on a plane."
This senior six drop out is an organised man. He drafts a budget at the start of every season, and presents it to potential sponsors to fund him. For example, for the 2018/19 startimes Uganda premier league season, Kasssim needed approximately two million Uganda shillings to support his beloved KCCA FC in the league alone.
At the AFCON finals, Kassim got more selfie requests from non Ugandans than anyone else I saw. He is a star in his own right.
Upon return to mother land Uganda, I interest my self in finding out more about his roots.
Kassim is the 4th born child of Nalongo Namutebi Zewuliina a resident of Kirombe village in Luzira a Kampala suburb.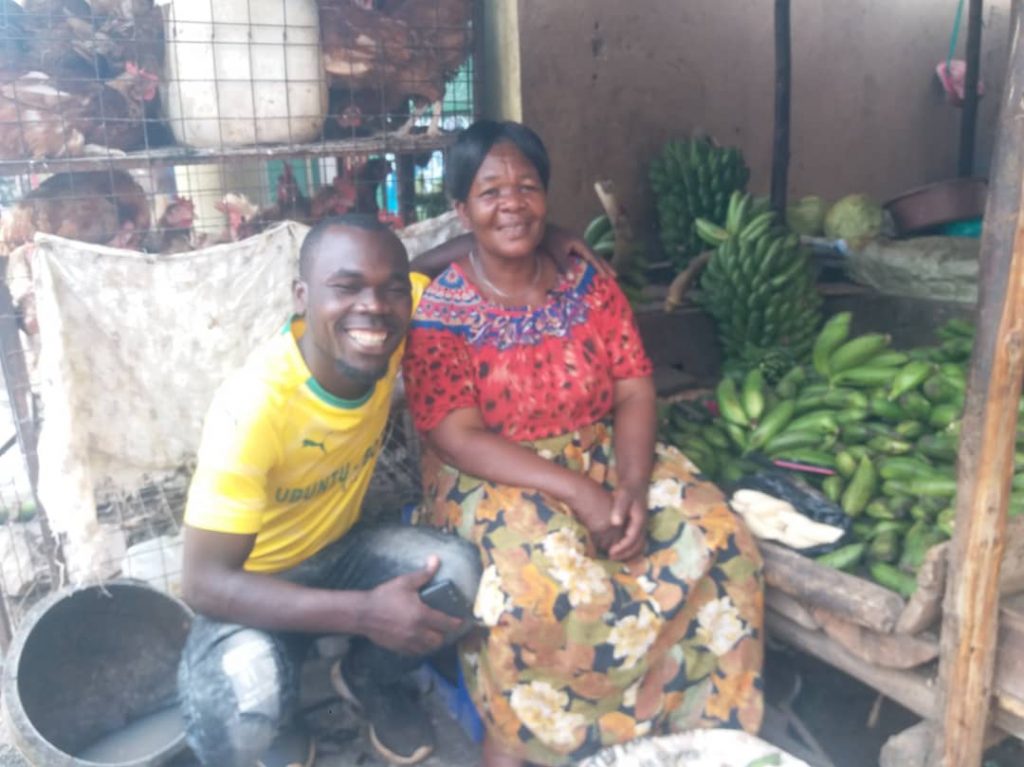 Nalongo, as she is popularly addressed here, works in a simple grocery shop, dealing in bananas, charcoal and most recently expanded to local chicken, thanks to her generous son who handed her a juicy purse upon return from the AFCON finals in Egypt.
She labours to hold back her tears as she narrates the story of Kassim and how supporting football has changed their family's being.
"At first I never supported this body painting idea, but later I realised that he was too passionate about it and he had started earning from it. The day he first boarded a plane I never believed it. I escorted him up to Entebbe international airport and had to wait until I saw the plane take off to believe that he was indeed going abroad," says the teary lady.
Nalongo's dream for her son was to be a teacher, but in the vuvuzela and paint, Kassim found life.
The recent trip to Egypt was probably his son's most successful one. Upon return, he told his mother to start looking for a plot of land he can buy, Nalongo revealed.
"When he came back from Egypt, he told me that I help him look for a plot of land to buy. I couldn't believe it."
Not so far from mummy's shop is Kassim's rented home. Upon entry into the small gate leading to his single room, graphite welcomes you.
From outside, the wall and the door to the room are littered with words and pictures of his beloved National football team, Uganda Cranes, KCCA FC, the local club he supports, his idol Dennis Onyango the goalkeeper, and FUFA president Moses Magogo.
He is literally single, but metaphorically Kassim is married to the beautiful game. Hanging from the centre of the roof with the centre light is an old ball. The walls all covered with photos highlighting some of his best moments as a fan.
The walls in his house give you a loud description of what he is all about. Pages of old news papers with stories about him and the multiple awards he has won as KCCA FC's best fan.
Hanging from the centre of the roof is a ball, while the special gloves he received from his idol Dennis Onyango in 2016, are safe in the side board, next to the award he won in Gabon as the fan of the match as Uganda took on Egypt in the 2017 AFCON finals.
Inside this not so single room, lies passion, and memories of an ex goal keeper who failed to make it on the pitch, but broke through in the stands and is now a continental star in his own right.
He works as a taxi conductor between luzira and Kampala and this adds on his income. No wonder he can afford to own two scooters, One of which, I found him pimping as he readies for the upcoming season.
All covered in yellow, paint and photos of him and his club. With the words 'Uganda Cranes, Onyango and Kasasiro boys (the nickname for his beloved KCCA FC), this bike he says his strictly for trips to watch the national team of KCCA FC.
Am a lucky man to get a chance to ride on it as he took me around this busy Village of Luzira, Kirombe.
Kassim Kyazze must surely be a happy man. I mean… Isn't it every one's dream to do what they are passionate about and get paid for it?