Villa Park, the home to one of Uganda's most successful football teams, Sports Club Villa has been demolished to pave way for the construction of the Kampala Flyover project.
On Friday, the second and final phase for the clearance of the right of way for the Kampala Flyover project was done by the enforcement team from the Uganda National Roads Authority.
According to UNRA media manager, Allan Ssempebwa, Villa Park is one of the structures to be razed down to pave way for the project.
"The buildings near Villa Park belonged to Uganda Railways and have been razed down. A part of the pitch(Villa Park) too is to be demolished," Ssempebwa told the Nile Post.
He explained that by demolishing part of the pitch, it would render the remaining part useless for football purposes.
"In any case, they can't train from the remaining part as our construction works for the flyover project go on," he added.
Other structures along the way that are to be demolished are found at Mukwano road, Nsambya , Kitgum House and Centenary park where the flyover will be joining.
The clearance of the right of way according to Ssempebwa is being overseen by the head of enforcement at UNRA, John Ssempbwa and noted that after the final phase today, they will hand over the site to the contractor for works to begin.
The project financed using a  Shs224 billion loan from the Japanese International Cooperation Agency(JICA) will see a flyover cover  Clock Tower, Shoprite, Nsambya to Mukwano junctions.
This project will be handled by a joint venture between Shimizu and Konoike, both Japanese contractors.
The project will also entail improving the existing road structure including widening of the 0.5 kilometre Queen's way and widening of Nsambya road.
New pedestrian bridges are also expected to be put in place at Clock Tower, Kibuli and Shoprite whereas the two junctions at Clock Tower and Shoprite will also be worked upon as part of the first phase of the Kampala flyover project.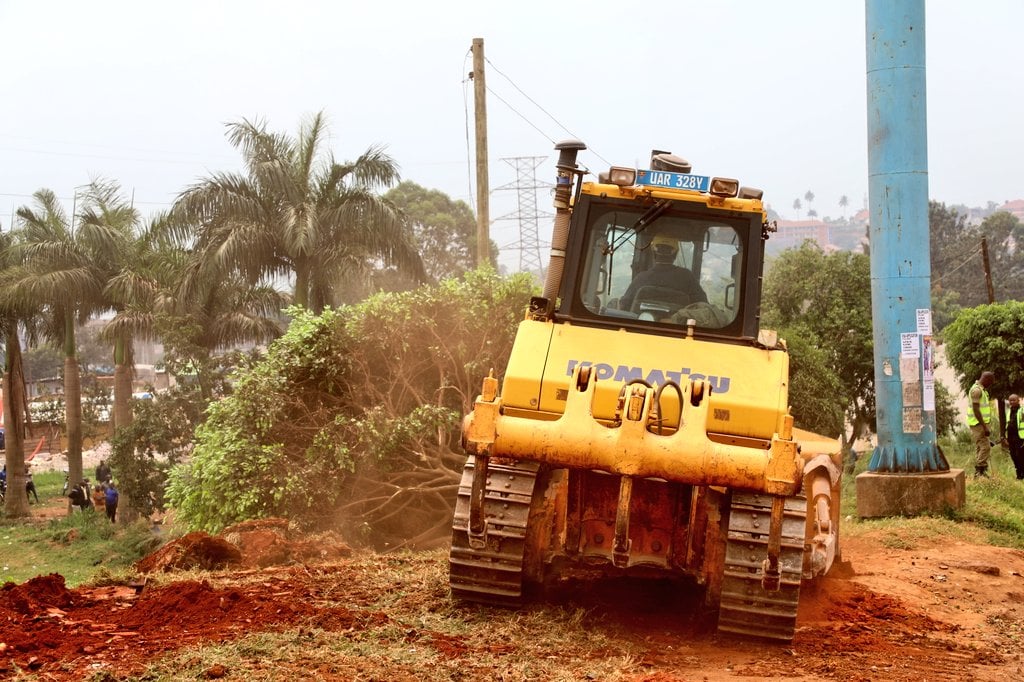 The second phase of the Kampala flyover will see a 2.9 kilometer flyover constructed from Kitgum House to Jinja road junction.
This phase will also see Mukwano, Jinja, Yusuf Lule, Access and Nile Avenue roads widened.
According to government, the flyover project will help to greatly reduce traffic congestion within the Central Business District and the greater Kampala Metropolitan area.
The project will take 36 months before being completed.
Speaking during the ground breaking ceremony for the construction of the flyover, President Museveni said after its completion, travelers going upcountry will no longer need to come to the city centre where they are inconvenienced by traffic jam.
"When such infrastructure like the flyover and the Standard Gauge Railway are completed, the traffic jam will be no more. Those going upcountry will no longer need to come to the city centre,"Museveni said.