Democratic Party (DP) president Norbert Mao has apologised for his late arrival for the DP press conference held on Tuesday August 13.
On Tuesday, journalists who were deployed to cover the DP press conference which happens weekly at City House walked out in protest saying that Mao, who was supposed to address the conference is a habitual late comer and they couldn't afford to wait for him any longer.
Mao however came in shortly after almost all the journalists had left.
In a statement that has been accessed the Nile Post, The DP president apologised for coming late saying that his delay was because of 'events' beyond his control.
" I sincerely apologise for coming late for the Weekly DP Press Conference for Tuesday, August 13, 2019 at 10:00am. I was informed that you left the building in protest before I arrived. This is understandable and we have noted your concern. You made your point. While my delay the result of events outside my control, I truly regret that I arrived late. I value your time and it was never my intent to inconvenience you," he said in part.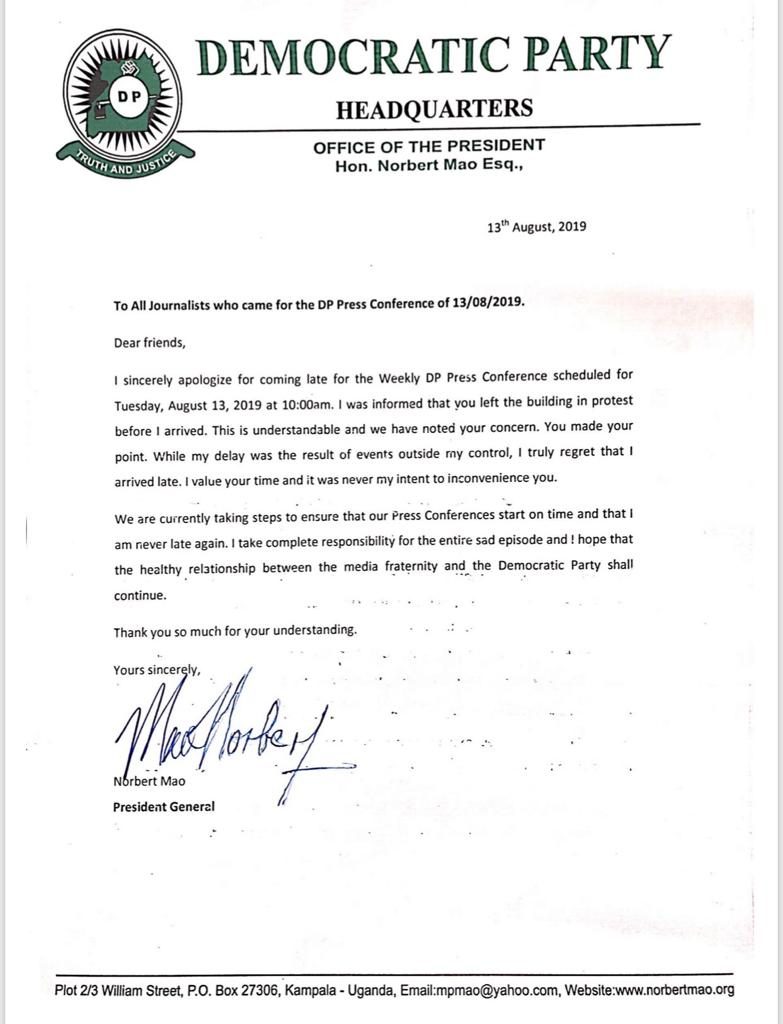 Mao said that he takes responsibility of what happened and promised that they were to take steps to make sure that what happened never happens again.
DP holds a weekly press briefing on every Tuesday starting at exactly 10:00am. Journalists however say that for a long period of time, none of the party leaders are at the venue by that time.