A Rev Deacon who was due to be ordained fully into a priest has passed on with barely six days to realise his vocational calling.
Andrew Brian Mayega, born in Nakawuka Parish and an architect by profession, was part of a group of deacons awaiting ordination this month, passed on at St Francis Hospital, Nsambya where he had checked in by himself following complaints of an 'itching throat'.
The news of Rev Mayega's death was confirmed by the Episcopal Conference in a statement on Friday evening.
'The Archdiocese of Kampala has lost Deacon Andrew Brian Mayega who was to be ordained on 10th August 2019. May his soul rest in eternal peace."
Rev Mayega graduated from Kampala Polytechnic Institute in Mengo with a degree in architectural engineering in 2011, from where he joined St Mbaaga's Major Seminary in Ggaba until he completed his theology studies last year.
On completion of theology studies, Rev Mayega was ordained deacon and incardinated to Kampala Archdiocese, where he would be ordained priest after 8 months (August 10) of diaconal pastoral service.
In an invite to friends and relatives for his ordination ceremony, Rev Mayiga wrote; "Come on 10th August 2019, the lord has manifested His will through this. I will be ordained a priest. Thank you for being of such great support and encouragement to me."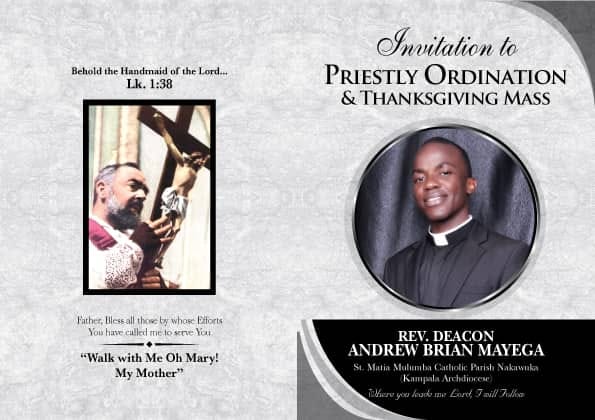 The day was never to be, and indeed the Lord called him to serve him elsewhere just six days short of what he has been looking forward to all his life, an ambition he has held for over a decade.
Several years ago, Mayega wrote on his Facebook of the same ambition. He said:
"I have an ambition of becoming a Roman Catholic Priest within a few years to come in order to serve the Lord my God and my creator. I wish everyone had an innocent heart, just like a Lamb, then there would have been an equilibrium world free of any kind of violence. I appreciate myself always and thank God for creating me the way I am."
One of his clergy colleagues and a deacon as well, claims that the deceased had made several complaints of an itching throat.
"One Sunday as we were going to Lubaga for our diaconal pastoral work, he complained of his throat, claiming it was itchy. The pain persisted. I last talked to him when he came for my Thanksgiving Mass at Katungulu where he requested for my prayers, as the pains in the throat were irritating," the colleague who didn't identify himself said.
"Today (Friday) morning, he walked by himself to Nsambya for a check-up before proceeding for his retreat that precedes his ordination to the priesthood, scheduled for 10th August, next Saturday. I just received the sad news of his passing," he added.
Rev Mayega's brother, Remegio Kasozi said his brother's death is 'confusing'.
"It's confusing and unbelievable that your jokes are no more. Andrew Mayega my brother and friend. 10th August 2019 priestly ordinations seemed far for you. Rest in peace dear brother."
Friends, relatives, and colleagues are grieving the death of Rev Mayega, with many referring to him as a lively, brilliant young man, full of jokes.
Henry Lubulwa, a journalist with Uganda Radio Network and an acquaintance with the deceased said his death 'cannot be easily contained'.
"The death of Andrew Brian Mayega, a priest on trial, an old boy and more less a brother is one that cannot easily be contained. Too bad he died even before I fulfilled my pledge."
A classmate of Mayega's at Kampala Polytechnic, Maria Nakalanzi said she was anxiously waiting for the first mass from Mayega but it was never to be.
"So sad losing a soul that was going to nurture many more souls. I can't believe it that you are no more Andrew Mayega. 10th August was to be your best day on earth as you were going to be ordained as a priest after a long journey from 2011 when we had completed our engineering course at KPM. Anxiously waiting for the d- day for our first mass from you and this is what happens. I envy you death. May your soul rest in peace dear, Brian."