On Monday, a total of 19 UPDF generals were cleared for retirement from active service of the Ugandan army at a function held at State House in Entebbe.
By 4 pm, the retirees who were clad in their ceremonial army fatigue with a number of robes and medals had started arriving for the function escorted by their wives and other family members.
They were later led through a mock ceremony by officials from the UPDF protocol team led by Col. Naboth Mwesigwa.
"Walk slowly while holding her hand," Col.Mwesigwa was heard telling one of the generals.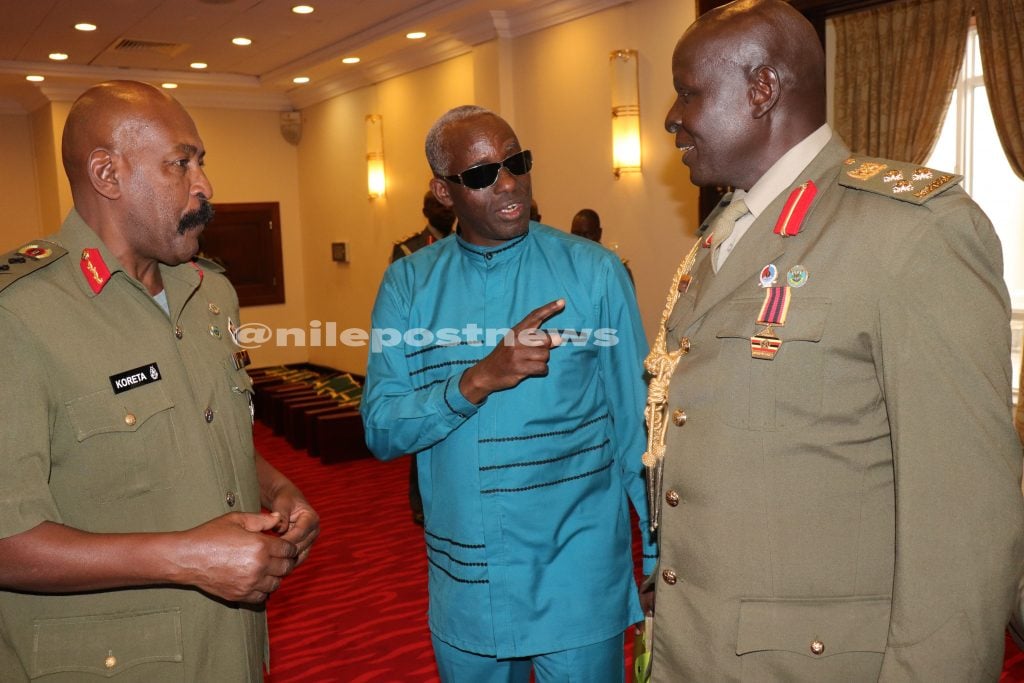 Meanwhile, in the background, the UPDF brass band kept playing good tunes that brought back some of the bush war moments for the retiring generals.
At one time, a song titled "Kaazi eyiyotutuma mzee tutamarisha" loosely translated as "Mzee, the work you asked us to do has been accomplished" was played and all the generals in the room were seen humming along.
Meet up
The event was an opportunity for the National Resistance Army and subsequent Uganda People's Defence Forces old guard to meet and crack some jokes about their times in the army.
Many were seen hugging and cracking all sorts of jokes as they waited for the function to kick off.
It was also another moment for the young generals and senior officers of the UPDF to meet with the old guard and get a word or two from them on how they had managed to serve their country for such a long period of time.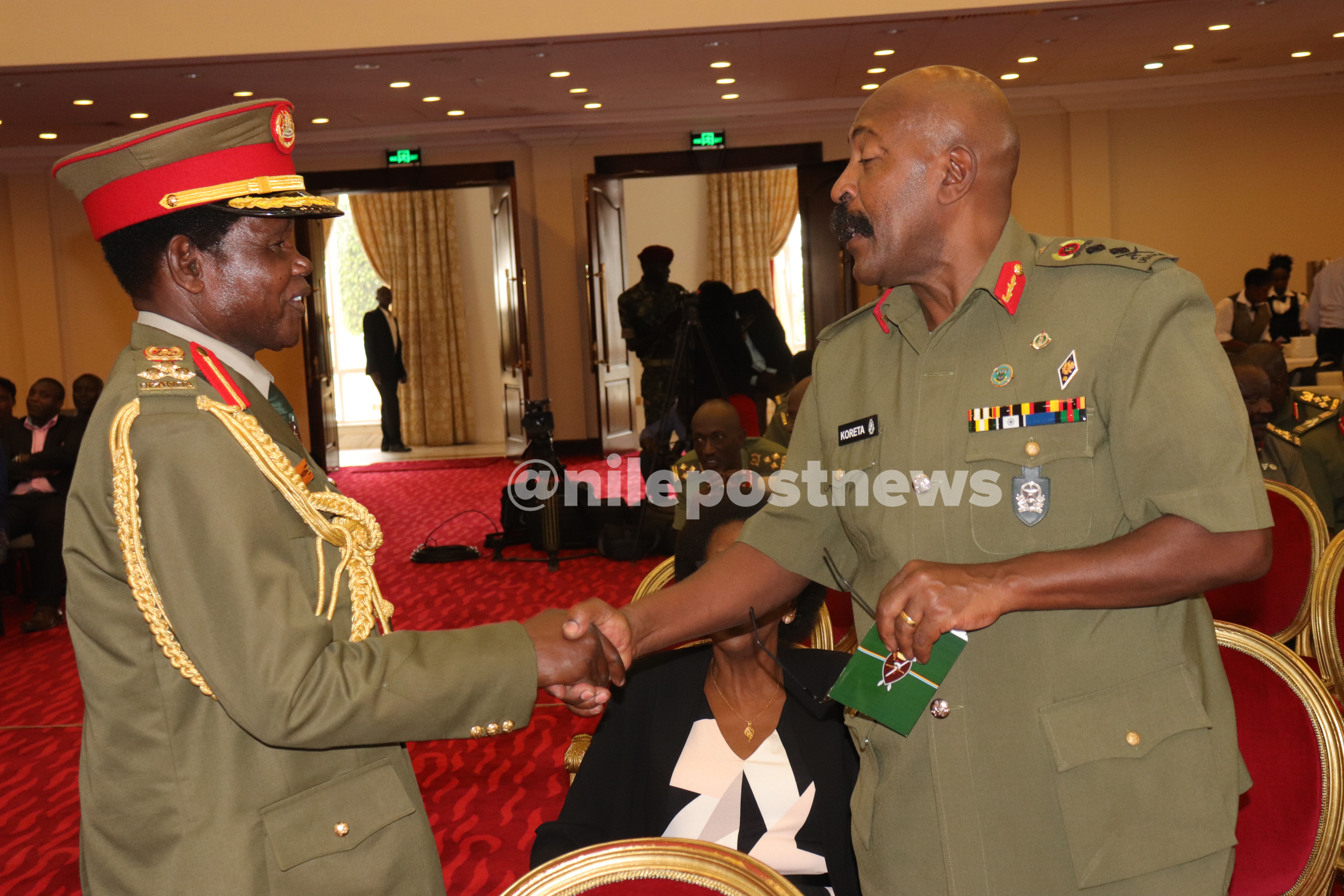 At one moment, the senior UPDF officers made fun out of an injury on Maj.Gen.Muzeeyi Sabiiti hand which had been bandaged.
"You man fell off a Boda Boda," they said before they broke into laughter.
The good old friends who seemed to have spent a long time without meeting were seeing going along well with each other and could be seen exchanging pleasantries.
They occasionally called each other by nicknames as they reminisced the good old days of the bush war.
Intake 17
The retirees always prided and reminded themselves of how they were of intake 17.
According to Brig. Sam Kakuru, intake 17 was a group of army officers who were sent to Monduli in Tanzania for a training course.
"We were the first officers trained in Monduli after 1979 and we were 340 in number," Brig. Kakuru told the Nile Post.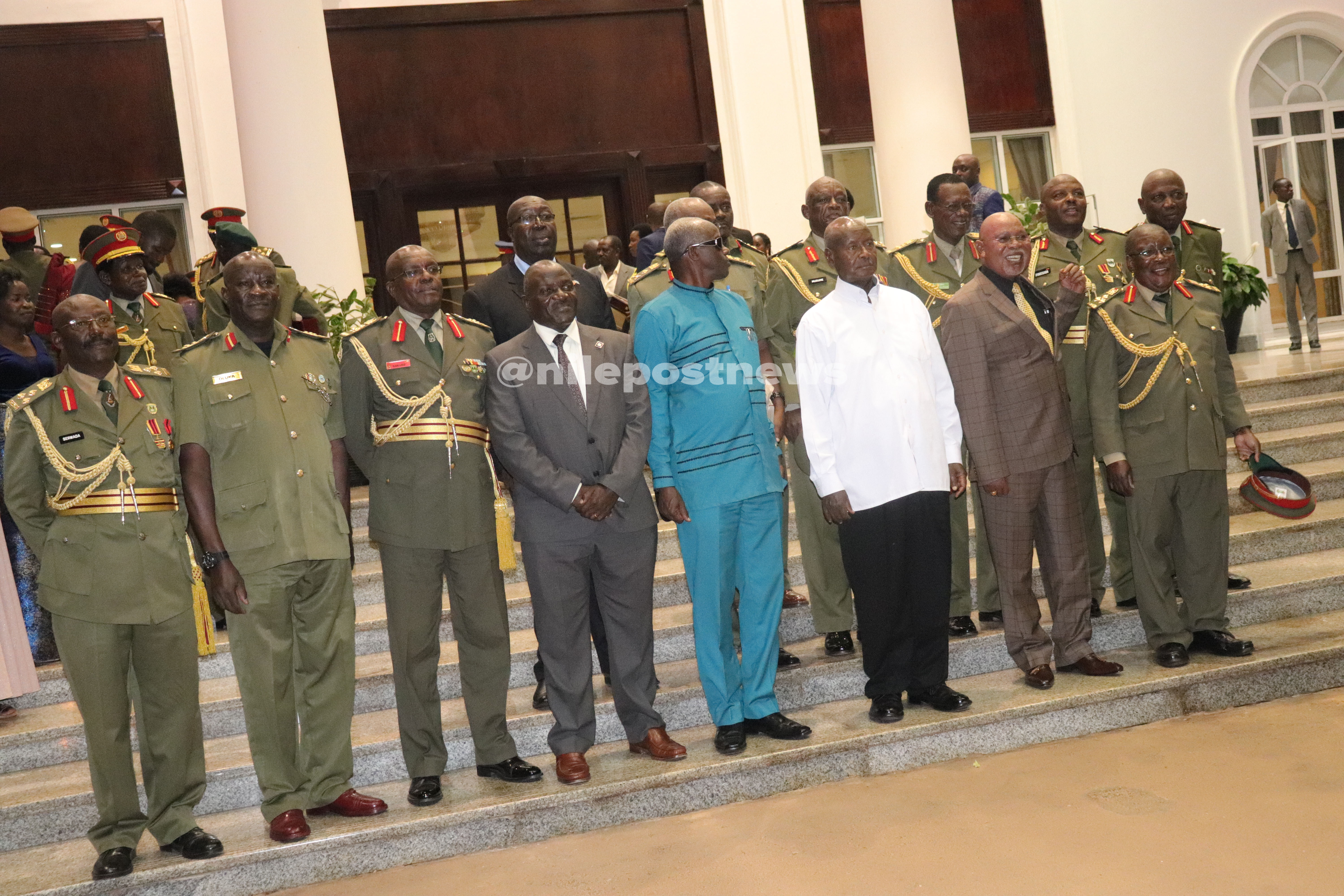 The army spokesperson Brig. Richard Karemire who also doubled as the event's master of ceremonies reminded the group that Lt Gen Pecos Kutesa was their coordinator and custodian of documents.
The group of intake 17 later requested for a separate photo with President Museveni and the request was gladly granted.
Applauded
Each of the 9 retiring UPDF generals was on top of a plaque and certificate of service awarded with a certificate of recognition, sword and generals' field stick.
"These are symbolic of the services offered to the country. This gesture is a deserving honour for their service," the Chief of Defence Forces, Gen.David Muhoozi said.
After reading each retiring officer's name, Brig. George Igumba the Chief of Personnel and Administration in the UPDF would then recite their biography before presenting them to the Commander in Chief for presentation of their certificates of service.
Museveni never disappoints
Later, President Museveni who is also the commander in chief of the armed forces arrived to grace the function.
As usual, he began his speech with a historical background of the UPDF dating way back to the days of the National Resistance Army.
"What I see is a small representation of the story of the Sowing the Mustard Seed (his book). I can see (Gen) Ivan Koreta from the group of 28 we trained within Mozambique between 1976 and 1978 and we had planned to infiltrate back in Uganda but Amin started war with Tanzania," Museveni started his speech.
Toning his speech with a number of jokes that had everyone in the room break into laughter, Museveni teased that he single-handedly picked some of the retiring generals to join the bush war.
"Like for (Brig.Emmanuel) Musinguzi, I found him walking on the road and when I asked where he was going, he said he was going nowhere. I told him to join us," Museveni said throwing his audience into laughter.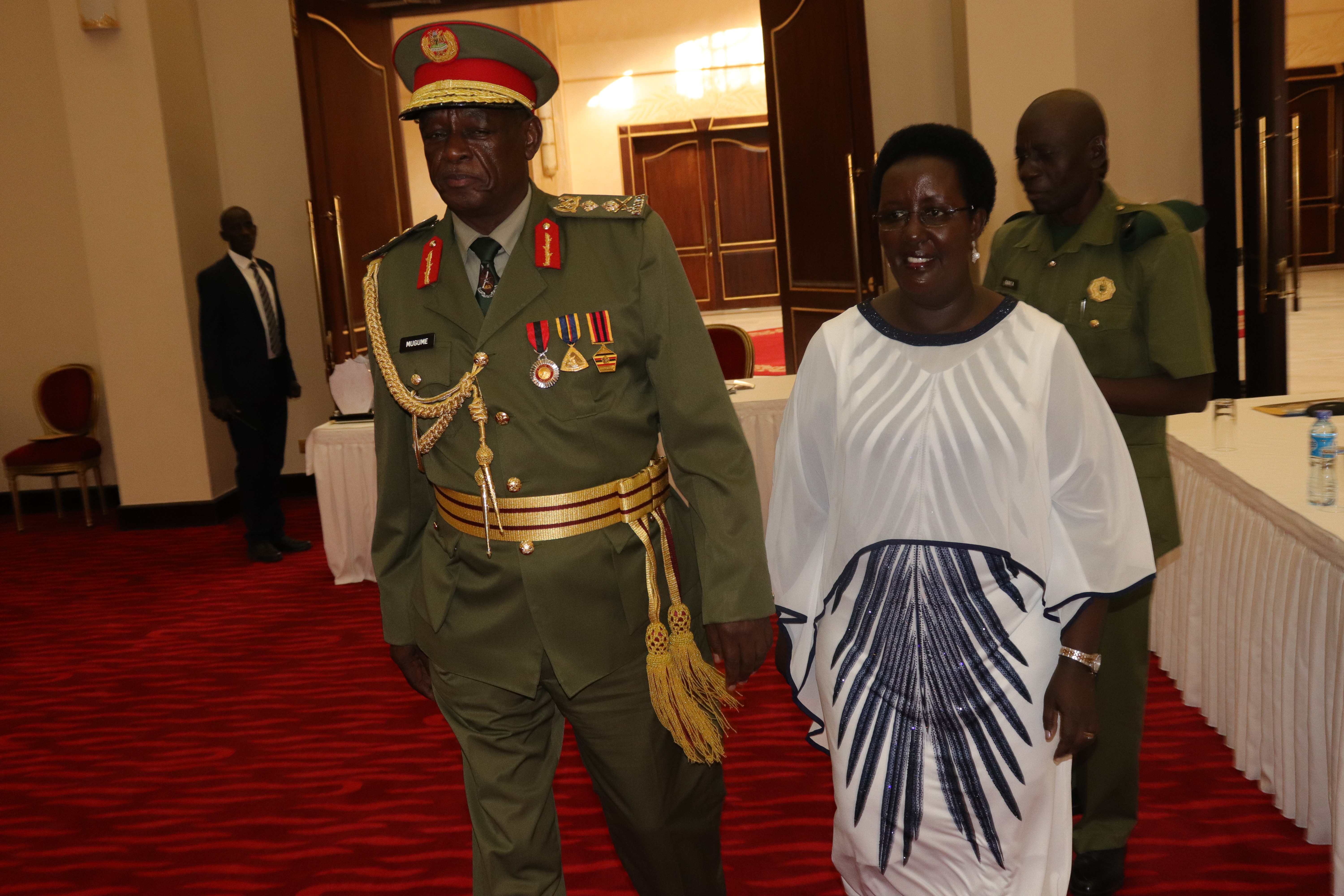 He applauded the retiring generals for accepting to serve their country with no pay during the bush war but also with little pay after capturing power.
"I am happy to belong to these people because we did what Uganda needed. We hope the country will remember us for helping so many people," he said.
Museveni joked that because of the peace brought about by the bush war generals, many Ugandans are rich and obesity due to too much money which is killing them.
On a number of occasions, he could relive moments and personalities during the 1986 bush war as he spoke to his comrades.
He told them of a story of a UPDF commander in Northern Uganda who was always drunk but one day he turned out to be a hero by giving a chase to Kony rebels and forced them to drop the loot they had taken.
"Heroes are not perfect people but those who do one extraordinary thing," he told the audience.
Wealth creation
The President asked the retiring generals to ask locals in the areas they are going to stay in for the rest of their time to embrace the concept of wealth creation other than subsistence farming.
Gen.Koreta
Gen.Ivan Koreta who was presented at the function however missed out on being retired prompting many journalists to quest the reason behind the development despite being on an earlier list of the generals to be retired.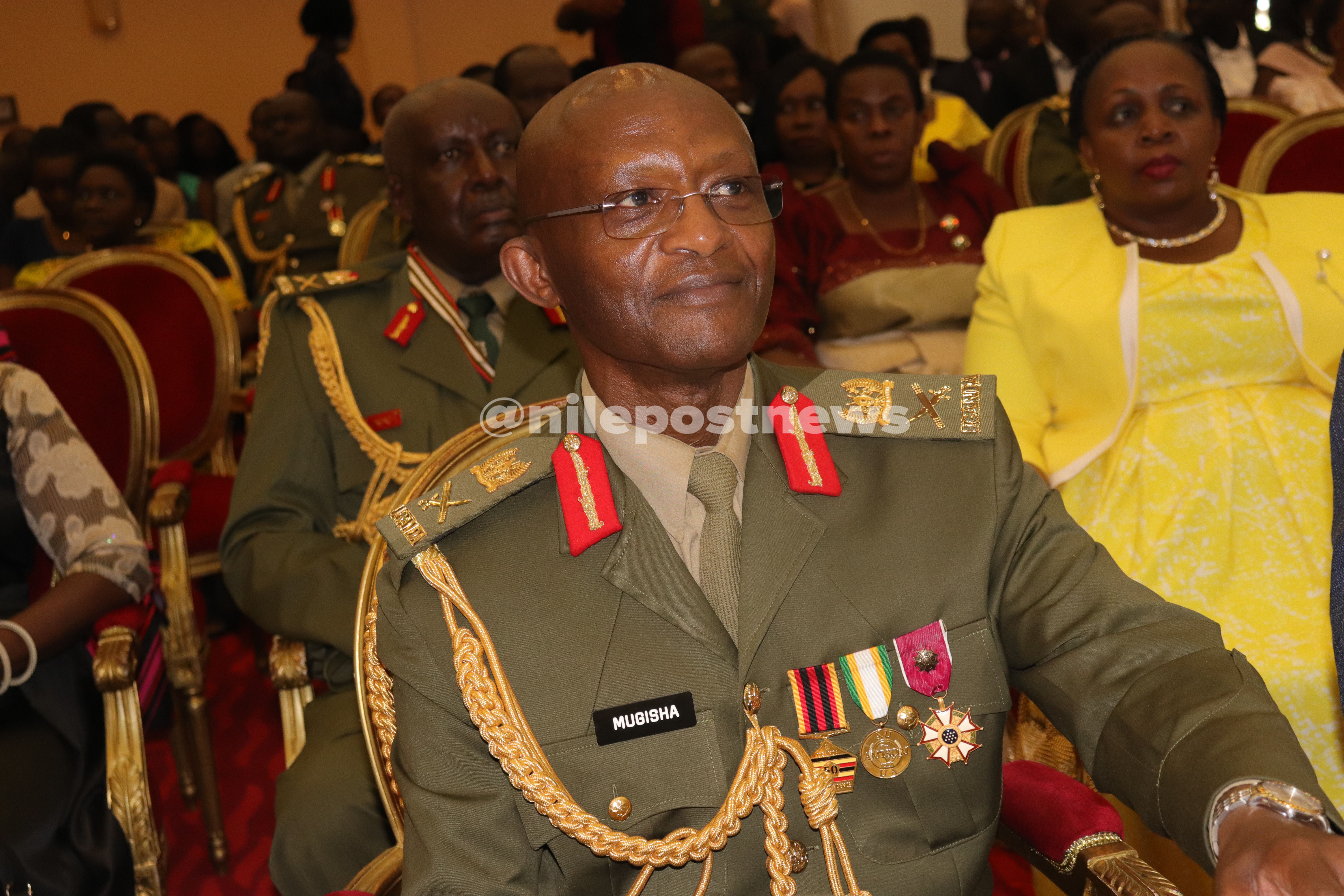 The Nile Post, however, learnt that Koreta had applied and approved for retirement while still at the rank of Lieutenant General but after being promoted to full general in February this year, he had run out of date and had to apply afresh for retirement.
Retired
The UPDF generals who retired on Monday included Gen. Joram Mugume, Maj. Gen. Nathan Mugisha, Maj. Gen. Sam Turyagyenda, Maj. Gen.Jimmy Wills Byarugaba, Maj. Gen. Timothy Sabiiti Mutebile, Brig.Ramadan Kyamulesire, and Brig. Charles Angulo Wacha.
Others are Brig. Sam Kakuru, Brig. Matthias Ssewankambo, Brig. Gyagenda Kibirango, Brig.David Kaboyo, Brig.Tom Tumuhairwe, Brig. Emmanuel Musinguzi, Brig.John Mugogo Tumwebaze, Brig.John Mulindwa, Brig.Kenneth Ocen Obwot, Brig. Adolf Sserwadda, Brig.Francis Achoka Ongom, Brig.Charles Anywa and Brig.John Mary Kaganda.
The number brought to 30 of UPDF generals who have retired from the army's active service in the past year.
Retirement process
The UPDF Conditions and Terms of Service provide that it's illegal to keep army officers in active service once they clock a certain age but are not promoted to the next rank.
For example, it's illegal to have an officer at the rank of captain or major, aged 50, in active service.
At the age of 40, if a captain is not promoted to major, the army must retire the officer.
Regulation 28, Cap 307 of the terms of service specifies at which age an officer should be promoted to another rank if not be retired from the service but according to army sources, the UPDF continues to flout section of its own regulations.