The Miss Uganda crowning at Sheraton hotel was climaxed with an ugly stage fight between socialite Zari Hassan and her protégé and show host Anita Fabiola, much to the shock of the audience that had braved the night to see Oliver Nakakande wear the crown.
The event was all smooth until Zari was summoned to announce the winner among the top three. With accent in check, and red gown enticingly held, Zari delivered an impromptu 'motivation speech'.
'…..people can look up to you and they are like, you know what, I wanna be like her, are we together…." She was adding to her speech when Fabiola cut her short.
'…Fantastic, alright, so clearly the judges were not only looking at the beauty, but looking at intellect, ability to answer questions under pressure. So we have our last three, Maama are you going to do us the honors or…" Fabiola said.
Alas, this must-have rubbed Zari completely wrong, she was done and not going to take more.
"oh you are supposed to be the one doing the admin work, hello," she said, snatching a paper containing the winner's names from the Miss Uganda CEO Brenda Nanyonjo, and shoving it in Fabiola's ribs.
Fabiola let out a cry: "No, be Nice."
The organisers were able to mediate by taking a microphone from Fabiola, but Zari continued loitering all over the stage, making case for her actions and shooting voice high in forgotten accent. She went about how women should uplift each other and the likes, and the boos stated.
Her voice raised, the boos from the audience drowned her, she would later calm down and opt to read the winner….. and then again she went on to pick on Fabiola once more.
What was this drama about between Zari and Fabiola?😳

Posted by Kakensa Media on Friday, July 26, 2019
"Maybe I was pulling a stunt on her to see how she would react…" Zari mumbled amidst boos
In the end, Fabiola got to read the Miss Uganda winner who walked to make her queen wave while Zari, organisers and later Fabiola continued to 'fight' in the background.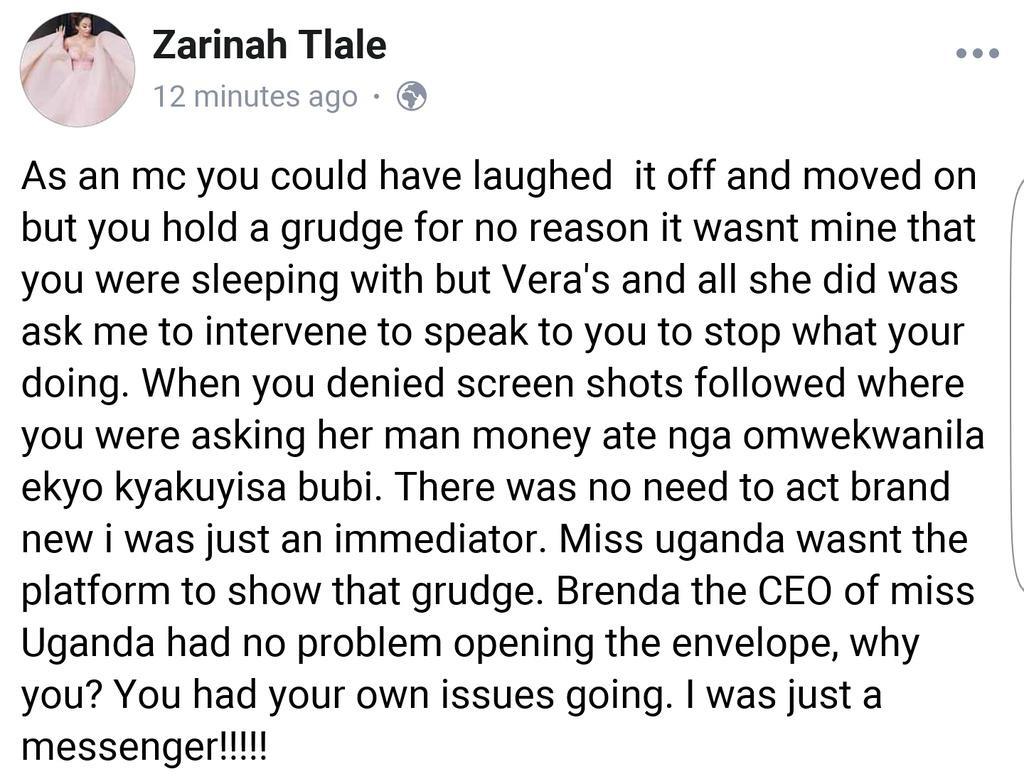 It is believed that Zari went off on Fabiola for allegedly calling her 'mama' which could have insulted her age. However, Zari in a Facebook post this morning claimed that their grudge comes from a scenario in which she was asked to tell Fabiola off another woman's husband.
Zari has since deleted the post.