DFCU bank has announced its sponsorship towards the top 100 mid-sized companies' survey 2019 initiative for a consecutive third year. The survey that dates back in 2009 aims at identifying Uganda's fastest-growing medium-sized companies in order to showcase business excellence and highlight some of the country's most successful entrepreneurship stories.
This year's SME Top 100 comes on the back of a positive trend in terms of Uganda's economic growth; which is projected to grow by over 6%. The 2019 theme – "shaping the future business landscape" emphasizes the significant contribution of SME's in driving this growth.
This year's main objectives include enabling medium-sized ('mid-sized') companies to benchmark themselves against their peers as well as highlighting to policymakers the mid-sized companies' contribution to economic growth.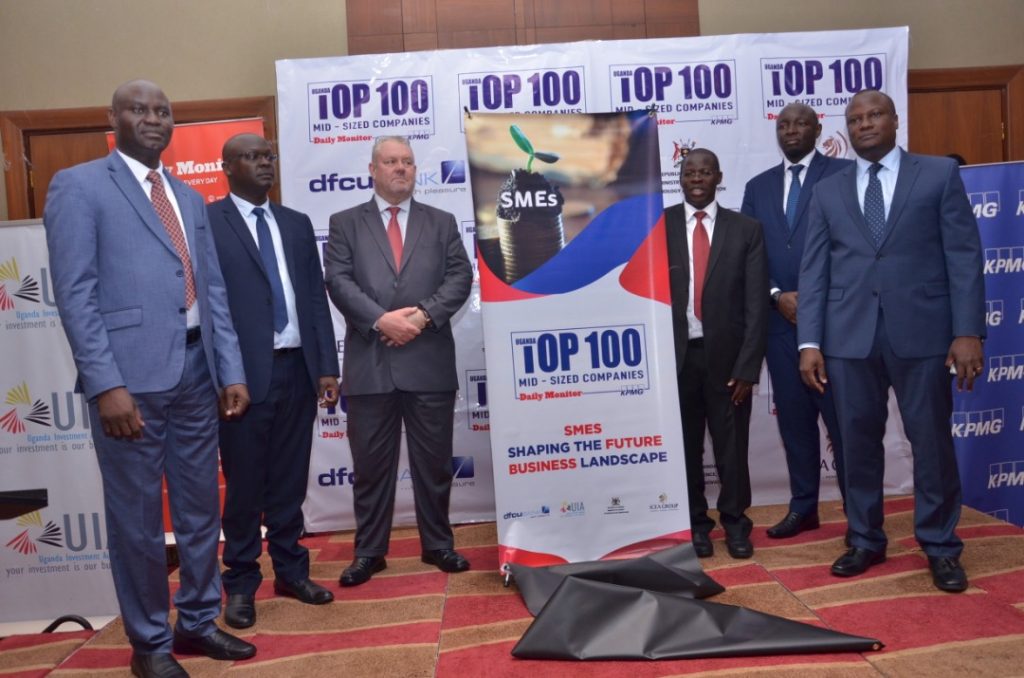 Supporting mid-sized companies in their growth by linking them with key service providers. Some of these service providers will form relationships with the companies by sponsoring the survey and/or special forums for the Top 100 companies
Addressing the challenges faced by SMEs in the evolving economic environment, facilitating networking amongst the Top 100 companies and creating platforms for the Top 100 companies to engage individually and collectively in activities, particularly those related to promoting entrepreneurship in the country.
During the launch, dfcu bank's CEO Mathias Katamba said, "As dfcu Bank, we are pleased to be part of the SME Top 100 initiative again, for the third year running.  This initiative resonates with us because it brings to the forefront the outstanding achievements of some of Uganda's most successful and dynamic companies and the people who have been instrumental in driving their growth."
Participation is voluntary and any company can participate (with the exception of banks, insurance companies, or accounting /financial consulting firms) as long as it meets the turnover range of Ushs.360m to Ushs. 25 billion, audited financial statements for three years and Is not listed on any stock market.
"There is need to press on and build on existing efforts to transform and to prepare for the future economy. This is against the backdrop of two key shifts in this coming decade: first, a rising technological disruption including digital technology; and two, an increasingly young population in Uganda (77% of the population is below the age of 30). These shifts will have a profound impact on the business environment."
Katamba added that, "This program provides a platform for knowledge & skills-sharing as well as deliberation on innovative financial solutions. We have a diverse product portfolio that businesses can take advantage of for access to credit facilities without necessarily providing collateral (which is a challenge for many businesses).These include Short Term Loans, Overdrafts and Guarantees etc. The Bank also structures customers financing requirements around expected cash-flows, supported with written undertakings."
"Participating in this annual competition is critical to business process improvement that ultimately helps entities gain access to new sources of financing, enhance their business management skills and acquire new partners they need to move to the next level."
In his speech, Uganda Investment Authority's Kaweireku, who represented Ag. Director General, Lawrence Byensi, said the Agency uses the Survey to get clear feedback which it uses in its policy advice to Government.
Kaweireku also urged Ugandan SMEs to get investment licenses from UIA in order to grab investment opportunities like setting up shops in industrial parks upcountry. He appealed to SMEs to also pick interest in setting up private industrial parks and free zones.
The 2019 survey begins on 24thJuly 2019. It will aim at countrywide participation by both Kampala based companies and those operating from upcountry.
The survey will culminate in a conference for the Top 100 companies and a Gala Award Dinner to be held on 28thand 29thNovember 2019 respectively. The conference will provide networking, marketing and educational opportunities as well as an opportunity to listen to other successful entrepreneurs.
Awards will be given to each company that makes it to the list of the Top 100 companies. There will also be additional awards for special categories including Leading Woman entrepreneur, Innovative company, Revenue Growth Champion, Shareholder value Champion, Best rural based company and Working Capital Management Champion.