Property worth millions of shillings has been destroyed after fire gutted a boy's dormitory at Namirembe Hillside in Gayaza caught on Thursday afternoon.
According to reports, the fire started from the roof of the boy's dormitory at around midmorning before spreading and destroying students' property in the process.
By the time of compiling this report, the source of the fire was still unknown and no casualties had been confirmed.
According to Kampala Metropolitan deputy Police Spokesperson Luke Owoyesigyire, the fire brigade responded quickly to a distress call and was able to contain the fire from spreading further.
Owoyesigyire says that at the time of the incident, all students were in a class by the time of his update.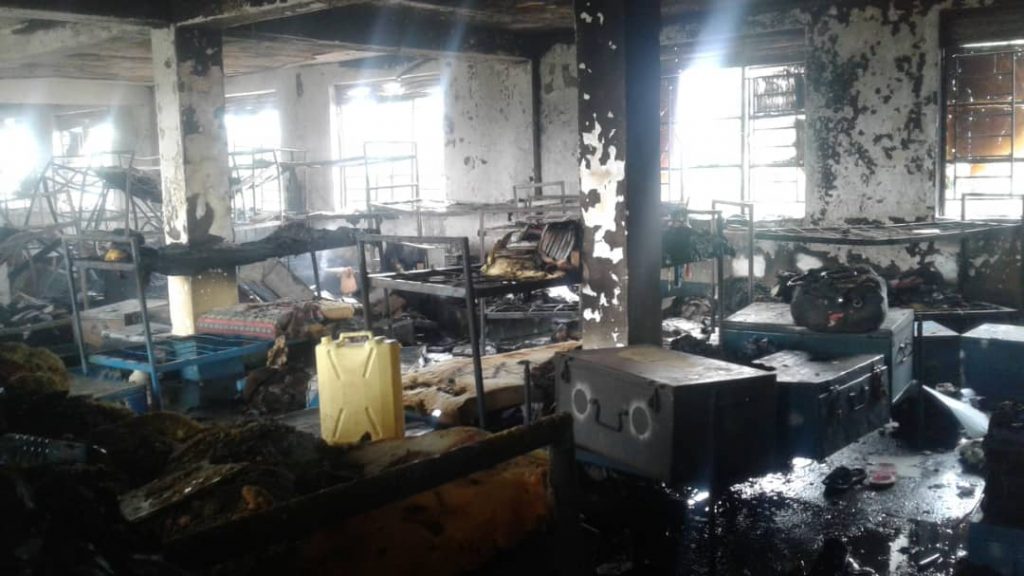 "The fire that broke out today at Namirembe Hillside in the senior two dormitories has been put out. The exact cause of the fire is still being investigated and when we have it, we shall be able to inform you, "Owoyesigyire said.
"Property on three floors was saved, while the property on the other two upper floors where it's alleged the fire started from couldn't be saved. No causality or death registered."
Past incidents
In the past few years, there has been a number of incidents involving fire gutting schools around the country.
In April 2008, fire that gutted a girls' dormitory at Buddo Junior School leaving 20 pupils dead.
In November 2018, 10 students died after a fire broke out at a boys' dormitory housing at least 50 senior three students at St Bernard Secondary School, Manya in Rakai District at night.
On June 2, 2018, fire gutted a dormitory at Bishop Ddungu Primary School in Lwengo District and pupils' property worth millions was destroyed to ashes.
In March, the same year, fire gutted a dormitory at Greenhill Primary School in Kifuuta village, Kitanda Sub-County in Bukomansimbi District, destroying pupils' property also worth millions.
There have been more fires at Bishop Ruhindi High School in Rukungiri District, Bukoyo Secondary School in Iganga District, St Mary's College in Buikwe District and St John Bosco Primary School –Katende.
Cases of fire outbreaks have also in the past few years been reported at Kawempe Muslim SS, Merryland High School, Kibibi Junior School, Light College Katikamu, Moyo SS and St Leo's Junior School.