Aggrey Nyondwa
There has been a significant upsurge in the number of DRC refugees crossing into Uganda since the month of June.
Fighting and tensions have continued to grow in North Kivu and Ituri, the eastern provinces of DRC Congo where about 70 militia groups have continued terrorising people with abductions, rape, and gross human rights violation.
This has forced over 350,000 people to flee this violence into neighbouring Uganda, majority of them, women and children.
In June alone, over 8,000 refugees crossed to Uganda mainly through Sebagaro landing site on Lake Albert into Kyangwali and Kyaka II refugee settlements.
The growth in the numbers has led to a shift in the daily average number of refugee arrivals from 145 in the previous month to over 350 today. The refugees attribute this to the continued tribal crashes between the Hema and Lendus in Congo.
Most refugees flee with nothing in their possession, hoping to start a new life here in Uganda.
"When the year started, we thought it was going to remain peaceful, then the election came in and after that violence started to grow again, I had resisted the idea of running to Uganda but I was left with no choice when my family was attacked. I had to run with my children for safety" said Hilda Miremo, a refugee from DRC Congo.
From the landing site where they first arrive on boats, refugees are carried on a truck for about four hours to the reception Centre to be registered biometrically and allocated a small plot of land.
At Kagoma reception Centre in Kyangwali refugee settlement, over 3,000 refugees are stuck, awaiting registration and relocation.
"This reception Centre has a maximum capacity of 2,000 people but the numbers we have today supersede this figure. We are a bit overwhelmed especially after the large numbers that came in in the month of June. Refugees mostly come in on weekends and it will take us almost a week or two to clear this place and register everyone to start getting relief items and other services. They mostly don't carry anything and they suffer a lot in the coldness because they don't have blankets and enough clothing before completing registration. We are hoping numbers don't grow more than this in the next couple of weeks," said a UNHCR official at Kagoma reception centre.
At the reception centre, new arrivals get hot meals for the first time in many hours, but there is still need for Clean and safe water, proper hygiene and sanitation and a number of children come separated from their parents.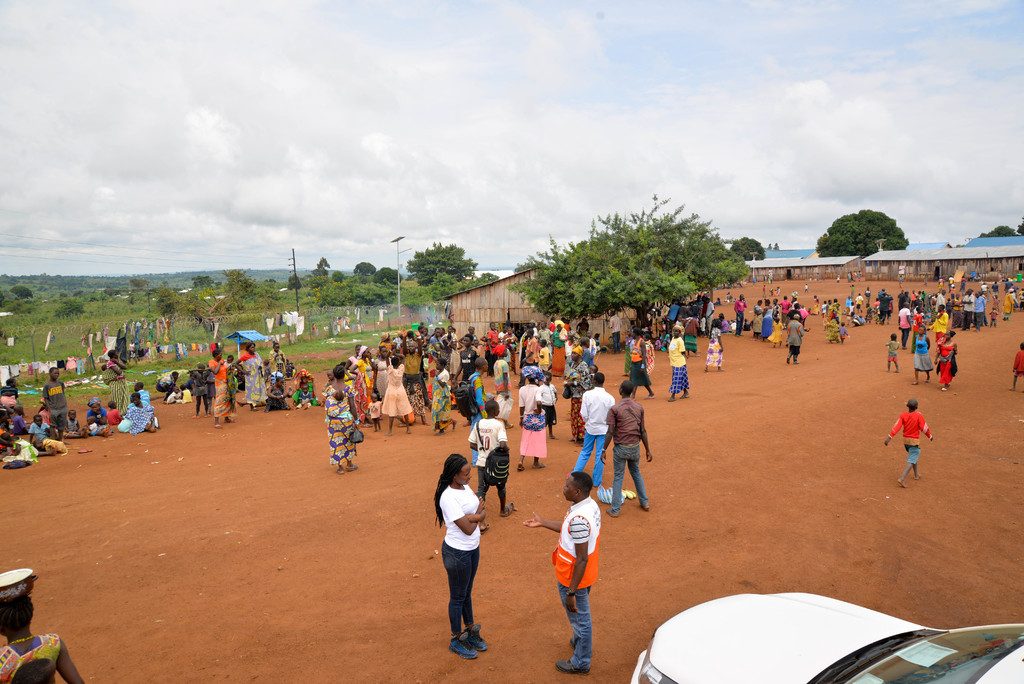 OPM and humanitarian agencies like World Vision are on ground to address some of these issues, but with limited funding and resources.
"The number of refugees entering Uganda from the DRC has surpassed the number entering from South Sudan this year. This is stretching the resources of aid agencies to ensure adequate protection of refugees, especially children and more needs to be done to address their needs. On the other hand, in spite of this influx, World Vision and WFP have been able to provide food or cash assistance to refugee families to ensure that no one goes hungry and that everyone receives adequate nutrition," said Jennifer Neelsen, the Refugee Response Director World Vision Uganda.
With the Ebola outbreak in DRC Congo, and Uganda being on high Ebola alert, there have been concerns of the virus spreading to Uganda. Ministry of Health and partners have doubled efforts across borders and especially at all entry points.
"Ebola does not discriminate and everyone has to be on the lookout. We are working with Ministry Of Health and partners to strengthen our Ebola preparedness. We have a health working group conducting Ebola screening at all entry points, we are doing awareness campaigns, and we have carried out hand washing demos across the settlement and positioned hand washing kits at the reception centres. There hasn't been any suspected cases in the settlements," said John Julius Muwereza, the Assistant Settlement Commandant Kyangwali.
According to UNHCR, there are still major funding challenges with only 16% of the refugee response budget funded so far, which leaves a huge financial gap to assist these refugees.
Uganda currently hosts close to 1.3 million refugees and 27% of these are from the Democratic Republic of Congo.