As the country continues to grapple with wide spread criminality, a group of six fresh graduates in Computer Science, software engineering and electrical engineering have come up with a security work that will help address the problem.
The 2018 police annual crime report released in May 2019 indicated that 238,746 cases were reported to police last year.
On Monday, the group of youths met with locals of Kigoowa LC1 in Nakawa division during a security meeting in a bid to introduce to them a new network.
"We are here to introduce to you Yunga, a new digital community network that connects more than five people together and each is notified in case of any attack, intrusion or emergency,"Anatoli Kirigwajjo, the company Chief Executive Officer told locals.
"This network will be of great benefit to you in fighting criminality in your area."
How Yunga works
Derived from a Luganda word to mean bring together, Yunga connects people on a network for easy coordination.
According to Kirigwajjo, the network has a series of devices that are installed in people's homes and these do the job.
"We set devices app and join them on one network. A press of a button from an installed device will send alarm to everyone on the network," the 29 year old Computer Science graduate explains.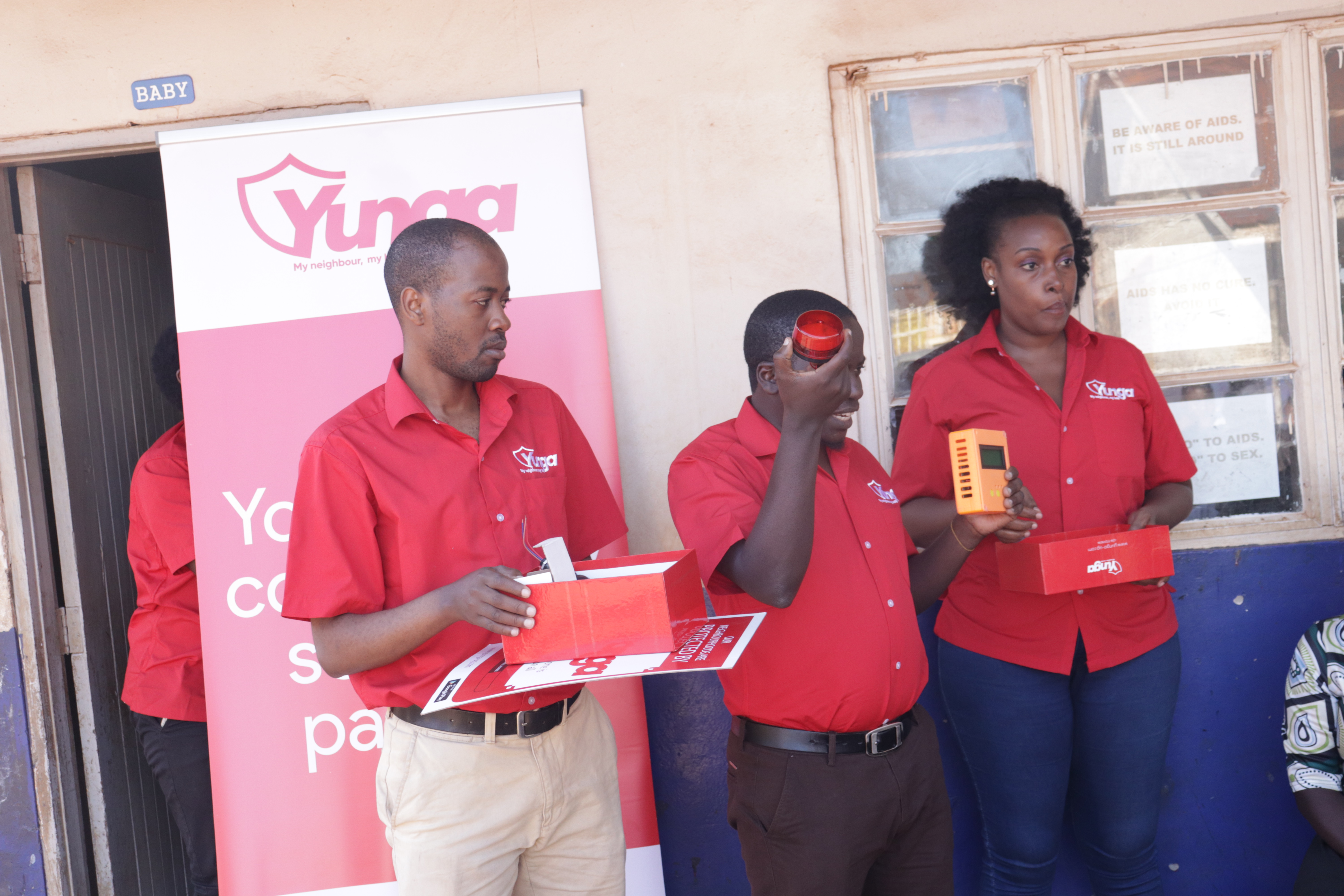 The unit has a panic button that an individual presses in case of any incident that an alarm and a beacon on top of their house are switched on for everyone to hear and also see.
The light given off by the beacon is visible by everyone near the house but also at the same time, when the panic button is pressed, a notification is sent to everyone on the system alerting them of the same including the name and photo of the person who needs assistance.
"The system is also connected to the nearby police post or station that police is also alerted at the same time. This way, response from neighbours and police is instant because they all get to hear the siren making noise and also notifications on their systems."
Phones
The innovation does not necessarily need one to have internet but one can either have the system installed directly in their house or on their phones that in case of emergency, the notification comes to the phone or they receive a phone call.
According to the brains behind the new security system, it rechargeable that it can work even when power is off.
The installation is also not limited to only smart phones but every kind of phone can be used.
Kirigwajjo says that the system is not limited by distance that someone in Masaka can be added onto a network in Kampala that in case of any problem, they can be notified through their phone.
A number of people have in the past been either robbed or killed as they wait at their gates to be opened for but according to the brains behind Yunga, this has also been solved.
"You can install it in your vehicle that when you press the button while approaching home, someone at home is notified as by the time you arrive, the gate is already opened,"Kirgwajjo explains.
He adds that the system can be installed at home that while the owner is away and someone wants to break in, the other people on the system are notified and they come to see what is happening.
"We install motion sensors in areas where robbers can access the home that in case they come, the alarm goes off automatically. The sensors are set in such a way that when something comes near, they make alarms two times as a way of scaring them(robbers) away but if they don't take off, they alarm becomes louder and other people on the system are notified to come to the rescue," he says.
Reactions
The locals in Kigoowa welcomed the innovation that they said would help them fight criminality in their areas.
"Even if we say that everyone buys a CCTV camera, it will not be possible but this (Yunga) will help us do miracles," said the Kigoowa LCI Vice Chairperson, Gerald Tumwine during the meeting.
The Officer in Charge of Kigoowa Police Post, ASP Moses Wegulo welcomed the idea as one that will make their job easy.
"It is a good idea to replace the system of every person calling police for assistance yet some of them might not have our phone numbers. It will make it easy for us to respond to emergencies,"Wegulo said.
According to Krigwajjo, they realized that on many occasions, when emergencies happen, the first people to come to the rescue are neighbours, they decided to design a system that would notify them easily and fast.
"We decided to pilot it in Kigoowa because the area is organized but also has a high crime rate. We want to get feedback from the locals and see how to modify it before rolling it out to other areas," he says.
Cost
The system costs shs300, 000 for installation and all devices but every person connected is asked to pay another shs15000 per month to help run the system.
The Yunga security innovation runs like the Mayumba Kkumi system introduced by police recently as one of the ways for emphasizing community policing.
According to the proprietors of the system, they hope it will be adopted by communities around the country to help fight criminality.