President Museveni has seemingly ignored State Minister of Privatisation and Investment, Evelyn Anite's call to replace Bemanya at Uganda Telecom, ordering that no contrary actions should be taken against the cabinet decision to find an investor in a bid to revamp UTL.
In statement dated 26th June 2019 titled "Removal of Administrator of Uganda Telecom limited, Anite instructed the Attorney General to apply to court to have Bemanya Twebaze removed as the Administrator of Uganda Telecom.
However in their response, both the Attorney General William Byaruhanga and the deputy Attorney General Mwesiga Rukutana said that any interference in the administration of UTL could undermine the on going efforts of sourcing for investors.
On June 29, Anite wrote to President Museveni saying that despite his directive asking the Attorney General to take action in regards the replacement of Bemanya Twebaze as the administrator for UTL, the same had not been heeded to.
Now the President in a letter to Justice Minister Kahinda Otafiire has ignored Anite's call and appears to side with the Attorney General.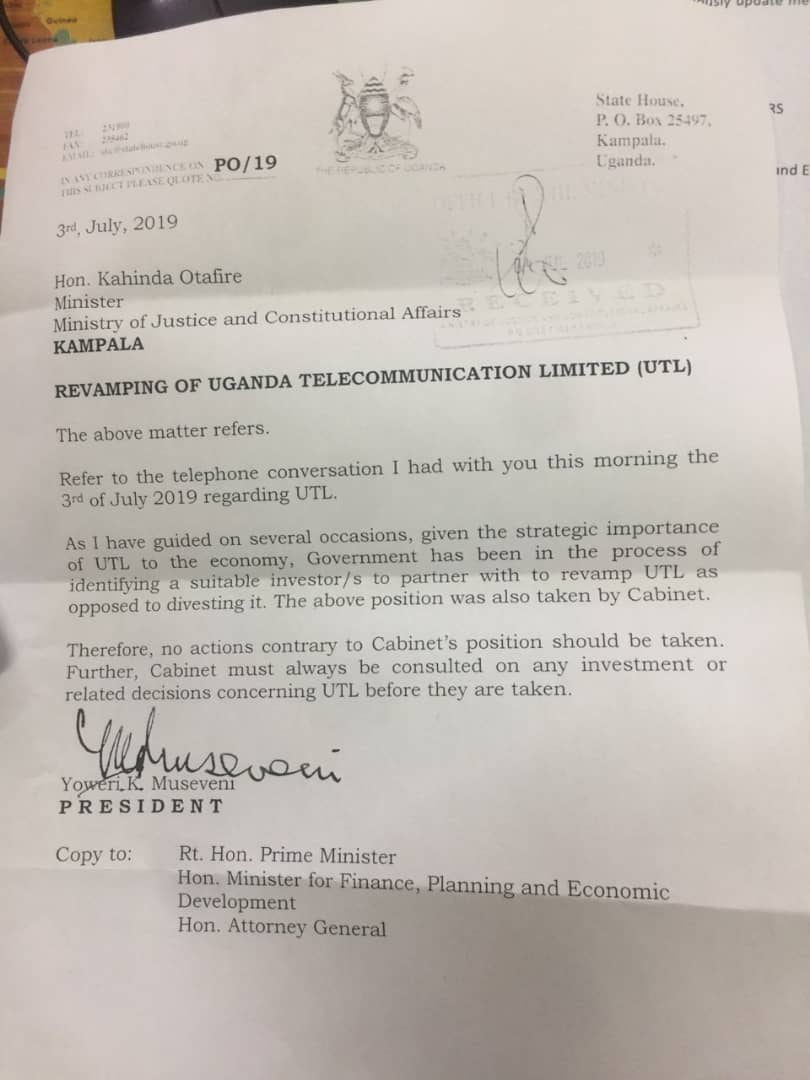 Museveni said that cabinet must be consulted at all times before any decisions pertaining UTL is taken.
"Refer to the telephone conversation I had with you this morning the 3rd of July 2019 regarding UTL. As I have guided on several occasions, given the strategic importance of UTL to the economy, government has been in the process of identifying a suitable investor/s to partner with to revamp UTL as opposed to diverting it. The above position was also taken by cabinet," Museveni said in part.
In a quick response, Otafiire has written to UTL administrator Bemanya directing him not to liquidate the company and continue sourcing for a strategic investor.
Otafiire asked that Bemanya continuously updates him on the progress to enable him report to cabinet accordingly.