Health minister Dr Jane Ruth Aceng has rushed to Arua after an Ebola patient who had travelled for 400kms died barely 8 kilometres from Arua town.
The woman who passed on is said to have travelled by a taxi for a long distance mixing with many people along the way.
Ebola virus disease lead agency World Health Organisation confirmed the death of the Ebola patient on Wednesday, July 3, 2019.
@JaneRuth_Aceng and @tegegny at Oudramacaku border point, 7 km from Ariwara in #DRC where an #Ebola case was detected yesterday.@MinofHealthUG with support from @WHO is strengthening preparedness in the entire district. #Uganda #Arua pic.twitter.com/2IEqkBMELN

— WHO Uganda (@WHOUganda) July 4, 2019
Two fatal cases were reported in Uganda last month, marking the first confirmed cross-border cases of the virus in the current epidemic and prompting major fears the outbreak could be about to enter a new phase of wider regional transmission.
Addressing local leaders from Desert Breeze Hotel in Arua, Aceng asked the leaders to know that death is at their door step and can take any one.
Aceng said, "I want to speak the truth that looking at the movement of the woman, you can tell that danger is at your door step."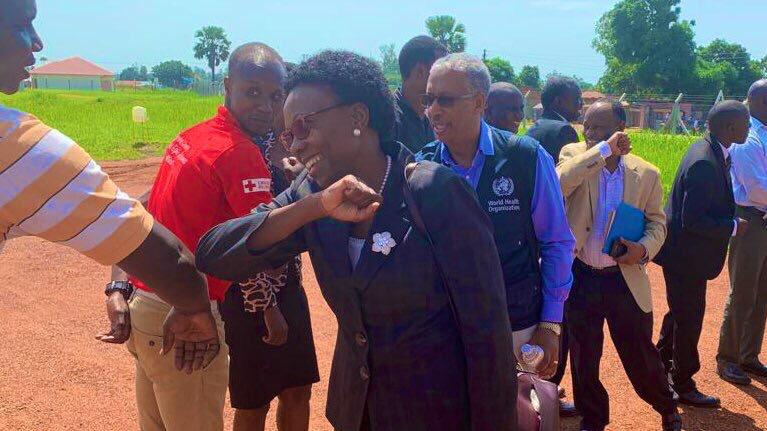 The death occurred in Ariwara which is a big market utilised by people from Uganda and the Democratic Republic of Congo.
The minister went on a tour of border posts to check how prepared the health teams are.
Aceng's visit comes on the heels of World Health Organisation raising a red flag about preparedness to handle an Ebola outbreak in the area.
The minister revealed that, "What we saw today was beyond what we imagined. We didn't see a point of entry, we just saw a step, there is just a road separating the two countries ,there is no designated point; people just cross."
Aceng added that, "If this lady was determined she would have easily crossed and God forbid what the consequences would have been."
When the Nile post did spot checks at some of the designated border points, no serious precautions were being taken
At Vura post there is free movement in and out of the country with efforts heightened when the minister was said to be headed there
At Salia Musala in Koboko district that shares border points between three countries, only the International Organisation for Migration South Sudan branch is carrying out screening.