Rebecca Kadaga, speaker of parliament, or Becky with the good wig, the Uganda's legislative Thor (she's the only one worthy to hold the hammer… I should move on before I alienate readers not familiar with these pop culture references).
The Speaker of Parliament Rebecca Kadaga has warned legislators against communicating with President Museveni on matters concerning Parliament without her express permission.
You have mixed feelings, compatriots and I do, too.
The legislature and executive should have open and unfettered communication: the right hand must know what the left doeth, such that when the executive decrees, "Let there be twitter tax" and caveats that this should not tax educational social media content, the legislature doesn't blindly bumble through the session and end up charging me sh200 to read @educativestuff and @howtodevelopyourcountry.
I know there are better examples than OTTT but I can't access them because I am not on public wifi and cannot whatsapp Raymond Mujuni.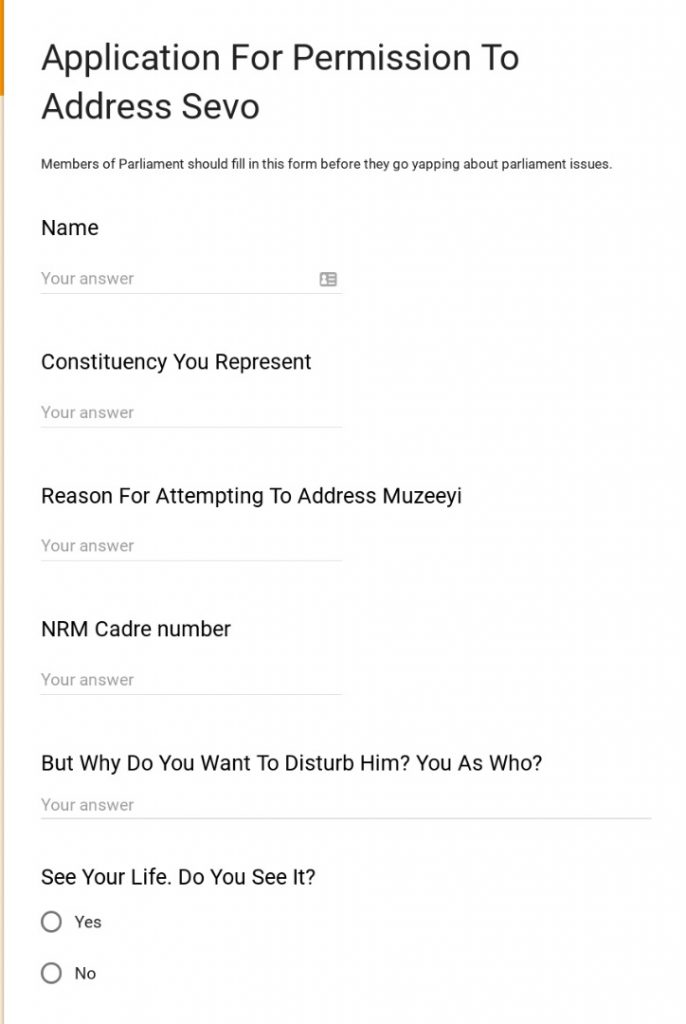 But How?
But you should probably be more concerned with how the bureaucracy will work?
MPs will presumably have to fill in applications for the permission slip:
Name of MP:………

Constituency: ………..

Age: …..

Sex:

NINI:

NRM Oyee: Yes

What gives you the right to disturb muzeeyi?

You as who?

See your life.
After handing in the form, it will be returned to you by a twenty-two-year-old who looks so weary of life that you want to grab them and yell, "How can you possibly be so tired of life? It has barely even started! Do your kids hate you? Does your spouse keep pretending the affairs never happened? You think you know what it means to die inside? To see failure and despair and hopelessness in the mirror day after day after day for years? You think you know? You know nothing! Cheer up, you insolent brat or I will break your neck!"
They will spit the form back at you and tell you to go get it stamped by police, LC, KCCA and the noisiest church in your residential area. After you get the stamps, you will have the paper thrust back at you because it cannot be deemed worthy until it is accompanied by copy of parents' marriage certificates, love letters and stool samples. When these have been finally acquired, and the form accepted, then you will be allowed to wait for eight months before the permission comes in, with typos and errors, and therefore only allowing you to address the president of Uruguay.
I just finished my NIRA application so now this is how I assume govt works.
On The Other Hand:
I can see Kadaga's point, though. I kind of understand why Old Sevo could do with a bit of protection. We have all heard MPs talk: this one said kids flunk school because of their cornrows. This one said they should arrest rappers who are not adults. This one said nweekk, this one said nyooink, this one said pfffuuu, that one said chweee… kwegamba, I would not want them permitted to talk to me either.
Maybe Mrs Kadaga, Madam Speaker Sir, Your Mightiness, maybe they should not be allowed to talk at all. Just shush them. Let them sleep. Tell them to pretend it's the state of the nation address. That was the best performance we have seen from Parliament in months.
But real talk, MPs should not need permission to address their president. No one should. Parliamentary proceedings are not secret or privileged or confidential, and so the prez can easily hear about parliamentary business from some dwanzi on twitter. Why not let him hear it from some dwanzie in an actual parliamentary seat, too?
Just allow
A citizen should not need permission to address his/her head of state. We should just have the right to.
Talking to Sevo would be like going to Amuria from Acacia Mall on a Friday evening. The traffic jam there is tight as fresh braids.
The reasons for this? You are an idiot and bought a Prado, believing that Kampala's two-lane roads have room for two vehicles passing. They do, but only if the vehicles were donkeys.
So you have 23,456 cars crammed onto a thread of road, plus bodas. There is no situation you put a boda into that does not instantly become more chaotic.
What I'm saying is, you have the freedom and the right as a Ugandan to go to Amuria at any time you want. But there are always circumstances– some your fault, some the fault of others– that may prevent the activation of this right.
That is what talking to the president should be like. It may be inconvenient, difficult, time and energy consuming… but bottom line, it should be possible for every citizen, even if they are MPs, to address the head of state.
So let me demonstrate by doing so now in this article:
Good day Mr President. I hope you are doing well. Welcome back from China. Hope you had a great trip.
Well, I was just checking on you. So let me just sign off here. Big up Rwakitura!