Kenya's telecom giant, Safari has appointed a new interim boss following the death of Bob Collymore who succumbed to cancer on Monday morning.
Robert (Bob) William Collymore, now the former CEO of Safaricom PLC, succumbed to cancer on the morning of Monday, July 1st 2019 at his home.
Now according to a statement from the Safaricom secretary Kathryne Maundu, a Special Board meeting of the Director's that was held yesterday resolved to appoint Michael Joseph, a board member of the company as the interim chief executive officer with immediate effect.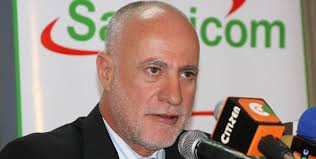 "Following the passing on of the Company's Chief Executive Officer (CEO), Mr. Robert (Bob) William Collymore on 1st July 2019, at a Special Board meeting of the Directors' that was held on even date, the Board resolved to appoint Mr. Michael Joseph, a Board member of the Company, as the interim Chief Executive Officer of the Company with immediate effect," the statement reads in part.
According to the statement that was accessed by Nilepost, the new interim boss, Joseph is a former CEO of the company and the current Chairman of the Board of Kenya Airways.
He is expected to provide necessary guidance and leadership of the company and its employees during the transition.
Bob Collymore went to the United Kingdom in October 2017 to receive further treatment for Acute Myeloid Leukemia (AML) and returned later in July 2018 to resume his official duties.
Since then, he was receiving treatment for this condition in different hospitals and most recently at the Aga Khan University Hospital in Kenya's capital; Nairobi.
His condition worsened in the last few weeks and he succumbed to the cancer at his home in the hours of Monday, July 1st.
Collymore left behind a wife and four children.