Last week, officers from the police Crime Intelligence unit in charge of Kampala Metropolitan received a tip off from one of their contacts of a suspicious person residing in an apartment in Masanafu.
According to information, a tenant at the apartment had told the landlord that he was renting it for his wife but on being asked to present his national Identification card in order to sign the tenants' agreement, the man became evasive.
Fast forward, on Tuesday, a joint security operation led by the Police Flying Squad stormed the apartment in Masanafu, Lubaga division but on knocking on the apartment's gate, they were welcomed by a hail of bullets from the occupants of the apartment.
One Field Force Unit officer, was shot and injured in the leg.
Meanwhile, one of the two occupants of the apartment identified as Richard Kasirye suspected to be a UPDF soldier shot his way out of the house and escaped but the operation led to the arrest of Stanley Muluuta alias Frank Jjumba alias Ssalongo.
Two Sub Machine Guns and two magazines containing 32 rounds of ammunition were recovered and according to detectives, the guns had serial numbers for UPDF.
Detectives also recovered several court documents that would later prove vital in their investigations..
More arrests
Following Muluta's interrogation by detectives, he divulged information he was working with a group of other people led by Emma Onechan and Denis Magusho who had participated in earlier robberies in which a number of people had been shot dead.
According to police spokesperson, Fred Enanga, the group and others still at large are to be connected connected to the multiple shootings in Masaka in which a Toyota Harrier was robbed and later sold in South Sudan.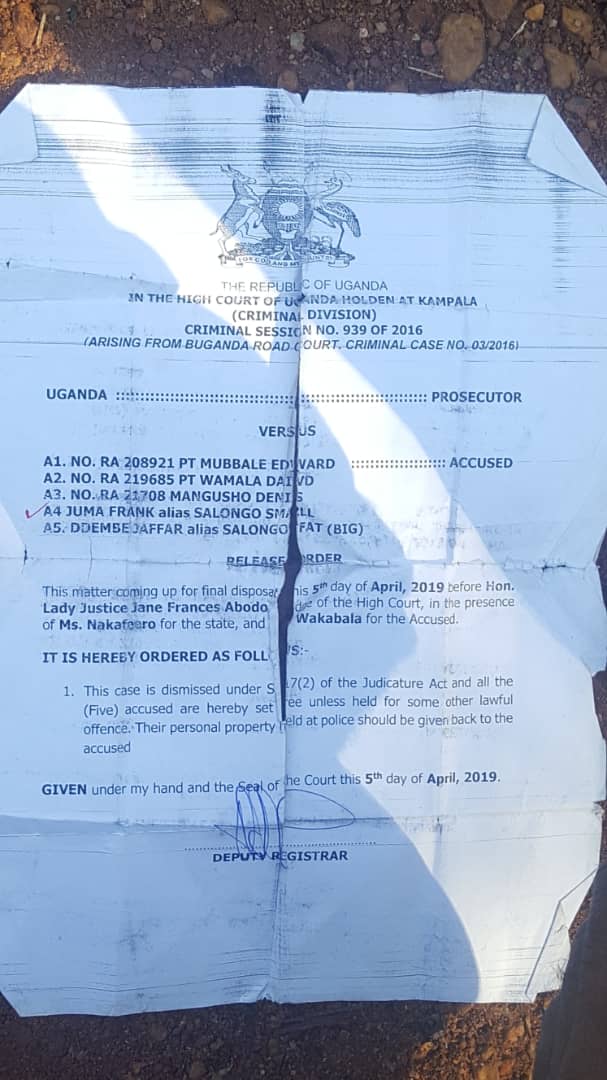 He said the group on May 4 robbed a bag containing a pressure machine and clothes after mistaking it for cash.
"On May 14, at Nateete, Church Zone, they robbed Mr Dennis Mwesiwa and his wife of Shs610, 000 and other items before shooting dead Rachael Walugembe whereas on May 17 at Kitende A cell, they robbed Sanyu Nalukwago a mobile money dealer of Shs17 million,"Enanga said.
According to police, by the time of their arrest, the duo and others still at large were planning to rob a mobile money shop at Mutukula in Rakai district.
Guns link them to scene
According to the police spokesperson, the suspects were linked to all the crime scenes in which they killed their victims before robbing them of huge sums of money.
Police in October last year started the process of fingerprinting of all guns around the country and this was used in the process of linking suspects who had been arrested with guns to the crime scenes.
According to experts, investigators using ballistic fingerprinting analyse a fired bullet or casing for scratches under the microscope and the markings, just like for fingerprints are unique to each weapon.
In case of any incident of shooting, the bullet shell is picked by investigators and analysed to find out the details of the gun used and its current owner.
The fingerprinting process involves firing various guns in a controlled area and each gun's unique print is captured, recorded and stored.
Enanga confirmed the suspects were linked to the various scenes of crime.
"All the guns were tested and ballistic evidence linked the suspects to the three murders and five robberies after the guns matched with the shell castings exhibited by their detectives,"Enanga said in a statement on Saturday.
Suspects had just left prison
More evidence got from the Masanafu apartment indicated that the three suspects had just been released from prison where they had been sent over similar charges related to armed robbery.
The court documents indicated that Muluuta, Onechan and Magusho, a private in the UPDF had just been released from prison after their charges were dropped by the High Court in Kampala.
In a release order dated April 5, 2019, it was indicated that the three suspects together with two others had been released from Luzira after the High Court dismissed their case.
"This case is dismissed and all the five accused are hereby set free unless held for some other lawful offence," said Justice Jane Francis Abodo in her release order.
This meant that the suspects had resumed their activities just one month after being released from prison where they had been since 2016.
The police spokesperson said the force has since increased its intelligence on former convicts released from prison in a bid to create a hostile environment preventing them from committing crimes.