They say no heart is too small to give and this rightly explains the life of Robert Larubi, a 33 year old freelance journalist who has given his life to fighting for rights of albinos.
A story of a 40 year old man in Kayunga district who was murdered by unknown people for refusal to sell them his albino daughter is still ringing in Larubi's head and was his turning point.
"During one of my expeditions during my investigative journalism, I was led to a scene where a touching story had happened. John, a father to a daughter was killed by people including his friend for refusing to sell his daughter to them for ritual sacrifices," Larubi starts his story.
He says, on the fateful day after many attempts to ask John sell her daughter, the 40 year old man was lured to a nearby drinking joint from where he was later killed.
"When the police sniffer dogs were brought, they led detectives to one of the shops where a bucket of blood was recovered. Another man was arrested who confessed that he was with a group of other who killed John for refusal to sell them his albino daughter. The man said since John could not give them his daughter, they should kill him and suck his blood because it was similar to his daughter's," Larubi narrates.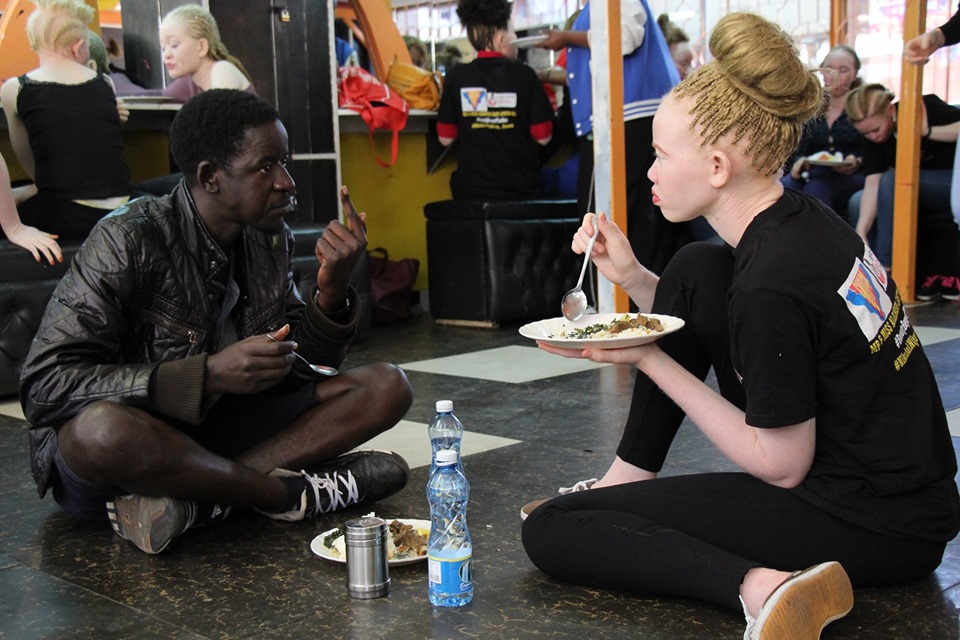 He says, as he continued investigating more on such stories, he found out untold stories of hope, resilience, hard work and contribution by the less advantaged groups in society but were being witch-hunted for ritual sacrifices.
The 33 year old freelance journalist says he later found out that albinos were being raped by certain people as an alleged recommendation to cure some diseases including HIV/AIDS and cancer.
"I realized I had to do something to change this situation. My mind changed for good and I started fighting for rights of people with albinism."
He says he wrote a story titled, " Rape for Cure" about the plight of albinos that he adds not only won him an award but also opened for him international doors to start advocating for rights of people with albinism.
"Slowly by slowly, I was able to understand that albinism was not the problem but wide spread level of ignorance that I had to do something to change people's mindsets,"Larubi adds.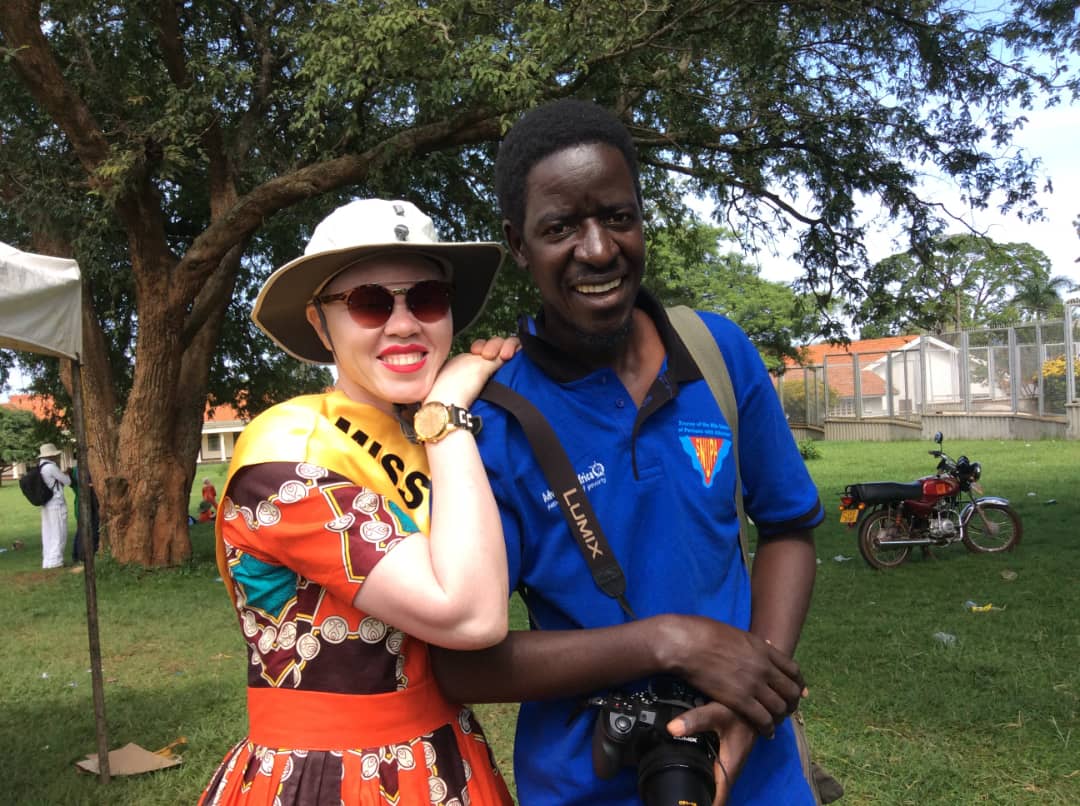 Last year, together with the Source of the Nile Union of persons with Albinism (SNUPA), Larubi organized the inaugural miss and Mr albinism where 30 contestants participated in auditions held in Jinja.
Olive Auma, a health practitioner emerged winner of Miss Albinism Uganda 2018/19 while the Mr Albinism title was scooped by Simon Peter Okwi, a lawyer.
The pageant was organized under the theme, "Beauty beyond the skin."
In the resultant East African albinism pageant held in Kenya a Ugandan representative emerged as the runners up.
Success
Larubi speaks about albinism with a beaming smile on his face as he says his two year journey has been a success that he never regrets.
"Yes, the attitude and perception of people in our society towards persons with albinism is slowly changing. It's one thing that haunted me as I begun the journey but I am happy to report that so far so good," the 33 year old journalist says.
"I have contributed to reducing negativity towards albinism by educating people on the language to use and sharing inspiring stories on albinism. I even regret the decision I made to quit my high paying TV(BBS Terefayina) job to become the voice of the over 20,000 persons with albinism."
He says, through his Pats-Journal The Albinism News Network, people comes to listen to stories on the plight of albinos.
He says he managed to catch the eye of the speaker of Parliament, Rebecca Kadaga who launched his initiative on June 13, 2018 during the International Albinism Awareness Day Celebration with support from Source of the Nile Union of persons with Albinism (SNUPA).
"To date the initiative has helped create public awareness in Uganda, across the East African Region and the world at large on facts about albinism, ending oppression and discrimination of person with albinism through increased visibility online and in the mainstream media."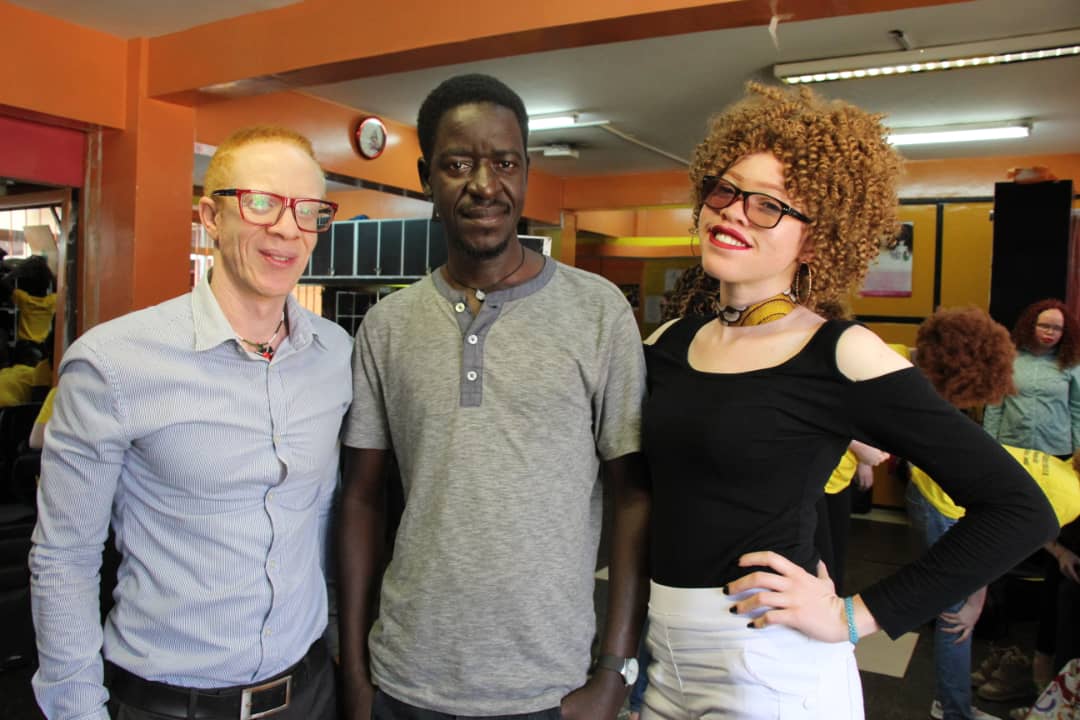 He says he is also propagating UN Sustainable Development Goal Goal16 for Peace, Justice, and Strong Institutions.
Larubi says his emphasis is on promotion of peace, protection and promotion of the rights of persons with albinism including the right to life, liberty and security.
"I am advocating for an end to the senseless killings of persons with albinism through initiation of punitive laws and strengthening the justice system to have a robust plan to handle cases regarding persons with albinism always."
He however says more is still needed to help raise the unheard voices of the people living with albinism.
Advice
Larubi however urges members of the public not to discriminate against people with albinism because they are normal just like other people.
"Albinism is a genetic condition which comes from both the father and mother so parents should embrace children born with albinism. It is part of us and we hope you can join our advocacy campaign, amplify voices and enable us continue shining light on albinism in and across Africa."
Background
Born Pat Robert Larubi, the 33 year old is the first born of the eight children of Alex Otim, a retired police officer and Cecilia Aber, a businessman residing in Kati Kati village Lacor in Gulu district, Northern Uganda.
He attended Masindi Army Primary School, Kabalega SS, Kajjansi Progressive School, and Highland High School in Kisaasi before joining UMCAT school of Journalism and Mass Communication.
Larubi has previously worked at Chimpreports, Daily Monitor, NTV, BBS TV and Soft Power news.