When Amin assembled heavy weapons at the palace to smoke out Kabaka Mutesa on the orders of Milton Obote, it was the last nail President Obote wanted to hammer in Mutesa's coffin.
Part 2: Obote sends Amin after Buganda; Kabaka's palace is shelled after hours of fighting
Indeed, it would later be (arguably), because with two loud explosions, the palace was down, smoke was bellowing from inside, voices heard wailing and pandemonium at its peak, before looting by government soldiers took over.
From outside the walls of the palace, a former aide to Obote claims that following the two loud blasts, Amin reappeared at State Lodge in his jeep, with Kabaka's trophies, a flag and his ceremonial cap which marked him commander in chief of the Ugandan army.
However, for Amin, when asked, he had no idea if the Kabaka had gone down with the explosions, or he had escaped. It was the latter.
The Kabaka had used the confusion and the rain to flee. From inside the walls of the palace, Mutesa was low on men, he was supposed to be constitutionally guarded by 300 men but Obote had given him only 120 men, most of whom were absent on the day.
"We did not know how many men had been sent against us, or from which angle they were attacking and our equipment was much inferior," Mutesa wrote in his book later.
"The Special Force that had been sent against us was not very subtle. They had foolishly used lights to burn some thatched huts just inside the wall, and, thus lit up from behind, made themselves into very easy targets. When one lot did break through the gate called Kalala, they ran across an open sports ground to join others who had come through the main gate. A pocket of my men commanded the open ground and held up their much larger force for some time, inflicting heavy casualties,' he added.
The Special Force continued squeezing in on Mutesa and his men, some breaking into the rooms the Kabaka used as if to personally put him out of action. It is him they wanted and they showed it, firing through his room just in case he was hiding anywhere.
Mutesa claims that he was nearby and heard one of the armed men asking; "has he a safe" as they continued to fire at every thing and every corner of his room.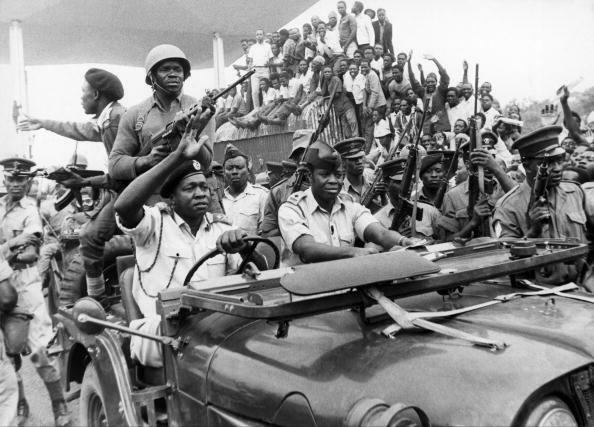 Meanwhile, Obote continued to send through more troops for reinforcement. The Kabaka and his men were completely circled and finished. However, just like luck, the rain started pouring heavily.
"It rained, as it can in Uganda, with a violence that made fighting impossible. For an hour visibility was reduced to a minimum and the main noise was the water thudding on to the roof and hissing in the trees. Though the kraal would have been a useful place to hold, to save ourselves from being encircled, we decided we were not strong enough, and moved out into the rain to go a little to the north. Many thought we had escaped at this time and it would have been an opportunity, but we were surrounded and had not prepared a route. Nor had we yet taken the decision," Mutesa reveals in his book.
The rain and quiet of fire might have given some people the courage to walk out and surrender, these included a group of women headed by the Kabaka's wife, sister and maid who led a procession of women through the gates. They were followed by the two loud explosions.
"Now they walked slowly towards the gate we were defending. I piously hoped they would stop, but they did not hear me and continued out of sight. A moment later, there was a burst of fire and I exclaimed, "It can't be true," certain that they had been massacred. I am still not sure what happened, but they were allowed through and later put in prison."
The Special Forces increased their attack and rendered the weapons by the Kabaka and crew very ineffective, leaving them only one option- escape.
Mutesa and a group of about 9 men sprinted to the gate of death. The said gate earned its name from a tradition that if a commoner died within the walls of the palace, their body should not be taken through the gates of the palace, but that specific rare gate.
Mutesa and his men dashed towards the gate, and found it locked. They took about ten miutes trying to make a hatch in the brick wall and jump over.
"The wall, which had seemed quite low as a defence, suddenly loomed large when we stood beneath it. It is in fact ten or twelve feet high. Luckily, the bodyguard are trained to scale such an obstacle, and by standing on each other's shoulders we could haul ourselves on to the top, still slippery from the rain."
"Speed was essential. I threw my rifle down, and as I jumped I eagerly bent over to reach it. It was a mistake I was to regret every day for a month. Landing unevenly, I dislodged a bone in my back from its place and I felt a sharp pain. There was no time even to swear then, and we ran across the road into a plantation of banana trees, horribly aware how conspicuous we had been on the wall and unsure whether we had been seen."
Our next article will review Mutesa's escape from palace..
The writer is a private contributor to Nile Post