DFCU Bank Limited on Thursday, June 13, held their Annual General Meeting (AGM) at Hotel Africana graced by shareholders to review the 2018 performance and lay strategies on how best the institution can lead the banking sector in Uganda.
The bank highlighted the 2018 performance where they noted that;
•
Loans and advances grew by 5% as focus was set on the asset quality of the consolidated book, which resulted in reduction in impairment expenses by 61% from shs.49 billion to shs.19 billion
•
Customer deposits remained stable at shs.1.9 Trillion as focus was put on growing the current and savings deposits that are a more cost-effective source of funding, which resulted in a 11% reduction in the interest expense from shs.88 Billion to shs.78 Billion.
•
Total assets reduced by 5% from shs.3.1 Trillion to shs.2.9 Trillion due to repayment of borrowed funds and subordinated debt. This resulted in a 39% reduction in our interest from shs.44 Billion to shs.27 Billion.
•
Non-refunded income in terms of fees and commission grew by 29% from shs.40 Billion as they continued to harness the benefits of the investments in technology and growth in the customer base.
•
The group also posted total profit after tax of shs.60.9 Billion which was lower than the previous year that included a one off item of shs.119 Billion which arose from the business combination.
2019 Key Focus areas lie on staying ahead of the rapidly changing market with annual goals that are based on three priorities to keep the momentum on the delivery of the strategic plan. The first priority is to increase business momentum with focus on customer acquisition, entrenching cross selling model, new products and drive in new income strategies.
Secondly, enriching customer experience with basis on enhancing quality of relationship management, drive operational efficiency initiatives like instant account opening and pin, improved system stability across channels and consistent customer engagements.
Lastly, digitalisation and channel optimisation which bases mainly on internet and mobile banking enhancements, customer utilisation campaigns, agent banking commercialisation and a dedicated innovativeness team.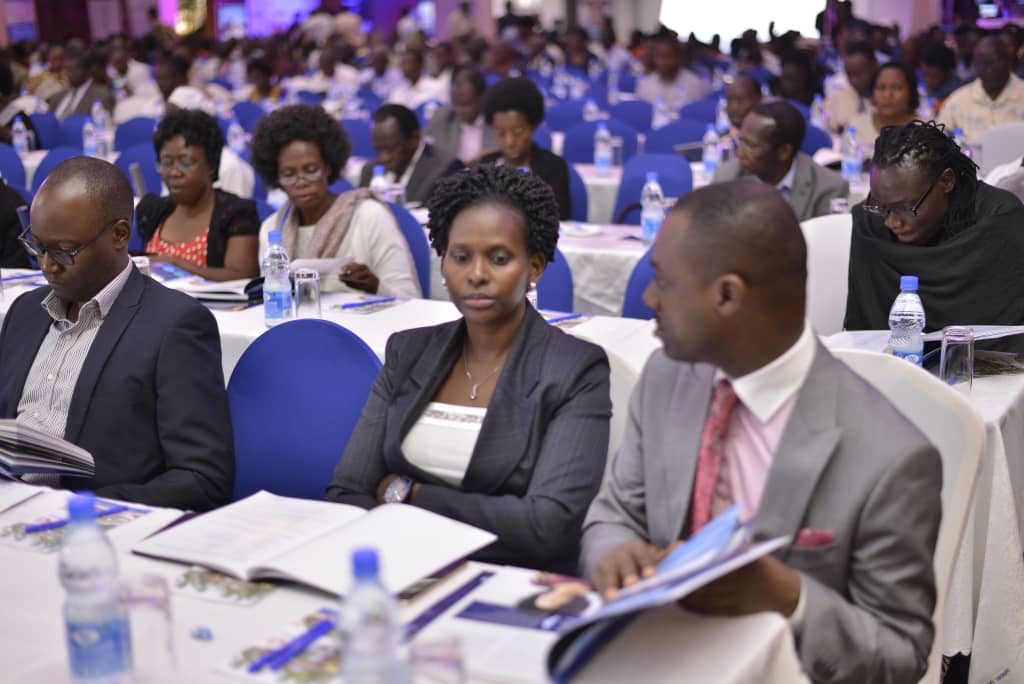 DFCU bank has continued to make major impact in transforming women entrepreneurs in the country through initiatives such as the 'dfcu women in business,' which provides solutions to meet the unique financial needs of women. With over 230,000 women registered for the program, at least over 6,000 have benefited from it.
Farming practice is given a lot of consideration, with the agricultural sector employing over 70% of the population and contributing at least 23% of Uganda's GDP. The bank invested over shs.1.2 Billion in the best farmers program reaching and providing knowledge to thousands of farmers.
The chairman, Board of Directors, Mr. Elly Karuhanga in his statement said, ''As we celebrate 55 years of existence, we look back with pride at the number of individuals and businesses whose transformation journey we have been a part of through provision of short and long financing.''
''All these ongoing initiatives are aimed at delivering on our financial objectives of growing shareholder value and positioning DFCU as the leading financial institution.'' He noted.
Declaration of Dividends
Shareholders approved a dividend of shs. 33.01 Billion per share less withholding tax for the year 2018 and shareholders who never received dividends for the previous year shouldcontact the company's secretary office in writing and valid identification.
Re-appointment of Board of Directors
Mr. Michael Turner, He formerly worked in investment banking in London for LehmanBrothers and Klienwort Benson, he also worked with Actis, the leading growth markets Private Equity investor since 1988 mainly in Eastern, Central and Southern Africa., having started his carrier in PricewaterhouseCoopers.
Mr. Fred Pelser, a chartered accountant and a senior investment manager with Arise BV withover 15 years of experience in the African private equity and financial services sectors. Heformerly worked for Norfund as a member of the Financial Institutions department.
Ms. Arimi Barbra Teddy, She is currently the Head of Marketing and Communications at NSSF, a member of the Board of Directors of the CEO Apprenticeship Program Alumni Association. She is a member of the Chartered Institute of Public Relations (CIPR) and also a seasoned Marketing Professional.
Mr. Albert Jonkergouw, He is an Accountant with more than 20 years of experience in retail and wholesale banking internationally and within Rabobank Netherlands. He is currently the Managing Director for Achmea Africa Insurance in Kenya. He is a member of NOREA (Netherlands Order of Registered IT Auditors) and the South African Institute of Professional Accountants (IPA). He is also a certified member of the Nyenrode Business University Non-Executive Director Board.