The 56th Africa day commemoration has been held with the theme: "Africans, Not for sale: Stop slavery and human trafficking."
On 25 May 1963, Africa made history with the foundation of the Organisation of African Unity (OAU) the precursor to the African Union (AU). This movement came into force to fight against colonialism and apartheid that had escalated in the years of the British rulers.
Africa Day is intended to celebrate the progress that Africa has made while reflecting upon the common challenges that the continent face in a global environment. With focus on modern day slavery and human trafficking, there is an estimated 21million people in forced or coerced human trafficking worldwide, women and girls make the most coerced or exploitation cases in the world.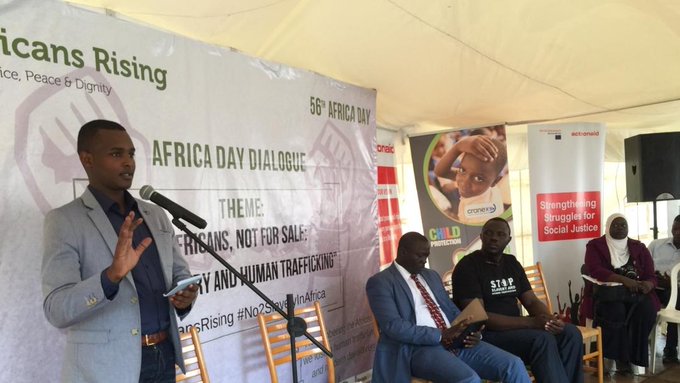 The 2017 annual police crime report on trafficking persons indicates that 177 cases were registered in 2017 as compared to a total number of 125 cases registered in 2016, indicating a 41.6% increase, but only 24 traffickers were convicted in that year.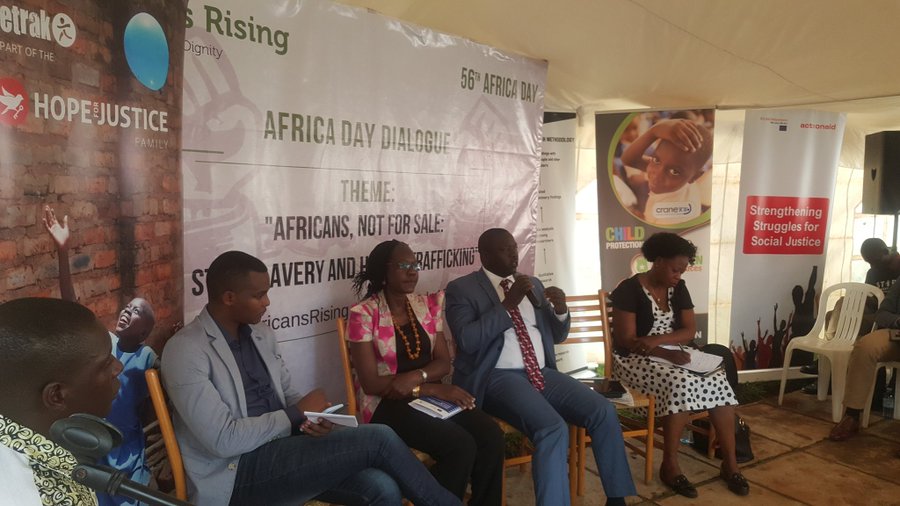 In a dialogue hosted by Restless development organisation, the key note speaker Canary Mugume who carried out an investigation into human trafficking acts in Uganda shared his insights, he noted that, "At Ushs.100,000, we got ourselves two girls, whose only concern was 'talk to my mother' and we go. We bargained directly with the girls. The parents readily consented." He adds that neither of the girls asked where they were to be taken neither what they were to do."
"My only regret is that my report did not expose the cartels behind these acts of human trafficking." Canary added.
The chief guest, Hon. Bernard Atiku, MP Ayivu county and chairperson parliamentary forum for children (PFFC) says they have been working hand in hand with local governments in far districts to sensitize parents and children about trafficking. He adds that the high rates of unemployment have led to the vice, where mostly young people are illegally trafficked out of the country as they struggle to look for green pastures, only to end up as sexworkers and slaves.
Atiku noted that "The committee drafted the private members bill and the anti-human sacrifice bill after receiving authentic reports of human trafficking and we are still making consultations before we table it in parliament for first reading."
A vigil was then carried out in remembrance of the souls that passed on in the struggle for Pan-Africanism.