For most of Cyril Ramaphosa's inauguration event at Loftus Versfeld Stadium in Pretoria. President Museveni and his Rwandan counterpart Paul Kagame were engrossed in a deep chatting.
The heads of two states currently unable to trade across border were sat next to each other as if with intention to have them keep talking.
Indeed, during the introduction of foreign dignitaries and heads of state, the programs director Jessie Duarte introduced Paul Kagame as the president of Uganda before apologising and correcting the mistake.
Museveni himself arrived much later after former Prime Minister, Amama Mbabazi was introduced to the audience amidst cheers and ululation.
In the end however, it was Museveni who would get the lavish of praise, as he was introduced as Africa's charismatic leader, his introduction coming last just like his entry.
Museveni and Kagame found themselves seated together and they used the opportunity to chat time and again, only interrupted thrice; during anthems, and to shake hands with Ramaphosa towards the end of the event.
A picture of Museveni and Kagame chatting would later be shared by Museveni's handler with caption; "let peace prevail'.
.@KagutaMuseveni with @PaulKagame at @CyrilRamaphosa #Inauguration2019 at the Loftus Versfeld Stadium in Tshwane, Pretoria. #LetPeacePrevail pic.twitter.com/8guFVX4iZ3

— Nabusayi L. Wamboka (@lindahNabusayi) May 25, 2019

Kagame in February this year claimed that his problem with Uganda was made in South Africa, the same place where the two leaders are currently holding on event conversations.
In a detailed interview with Daily Nation, Paul Kagame named Uganda and South Africa as problem countries. According to Kagame, some people in South Africa prefer to talk to Rwandan dissidents based there — whom Uganda is using to destabilise Rwanda.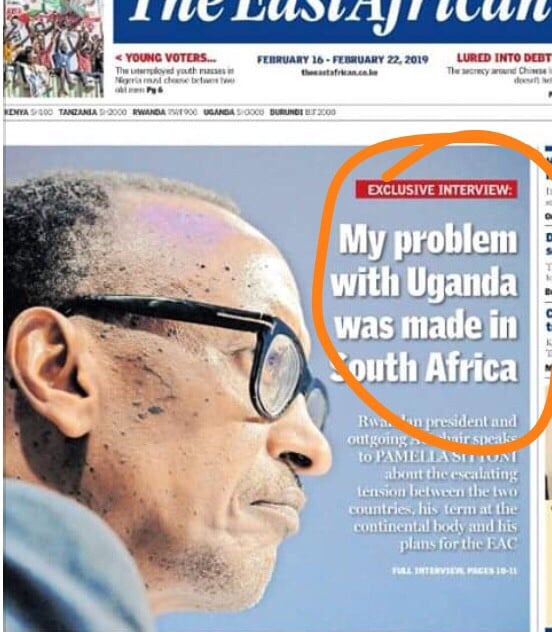 On the same day, the Kagame government blocked Ugandan cement exports to Rwanda at the Katuna Border as relations further deteriorate.
The chit chats between the two leaders comes just hours after Rwandan security shot two people inside Rwanda.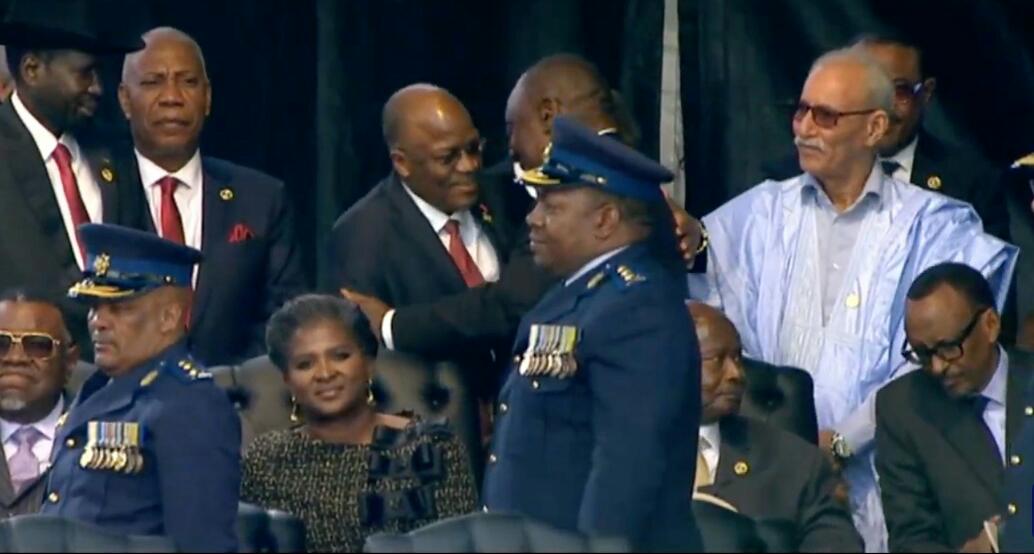 According to the Police spokesperson CP Fred Enanga, the Rwandan national was shot as he tried to resist arrest after being intercepted as he tried to cross into Rwanda.
"The Rwandan citizen attempted to cross into Rwanda on a motorcycle loaded with his merchandise but turned back upon noticing security presence across the border. He was chased and intercepted by two armed Rwandan soldiers, a distance of about 80 meters into Ugandan territory. He resisted attempts to arrest him and was shot and killed instantly," Enanga said in a statement.
Enanga said that the Ugandan trader, Alex Nyesiga tried to intervene but was also shot at and killed instantly.