Transport paralyzed at Fika Salama along Mbale-Soroti road as Christians welcome Bishop Elect Rt Rev Dr Joseph Eciru Oliach. Eciru is on his way to Soroti ahead of his consecration and installation slated for Saturday, May 25th.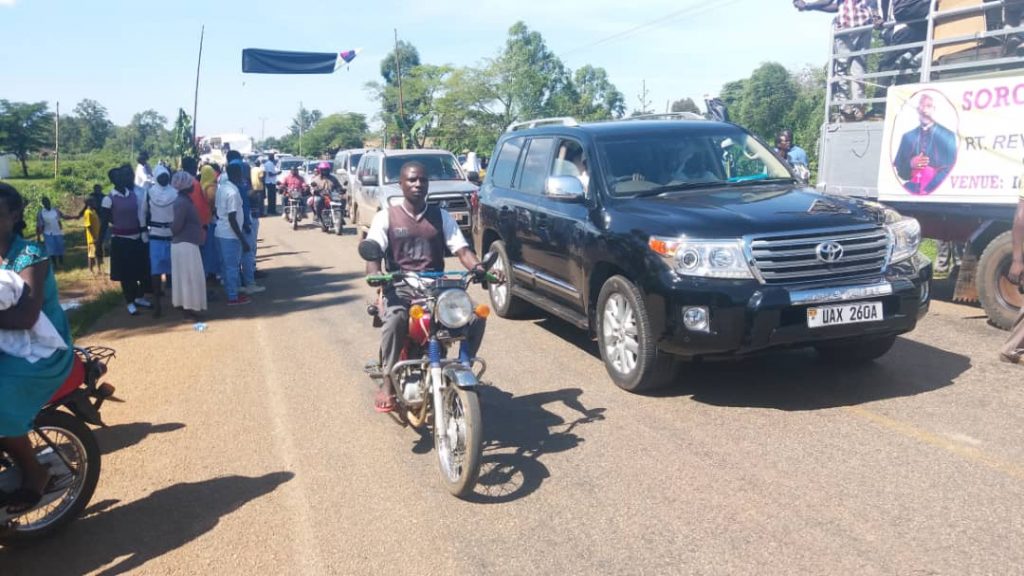 The Bishop-elect made a stop over at Fika Salama bridge where he made a symbolic walk to cross over from Tororo diocese to Soroti diocese.
Eciru is the third bishop chosen to lead Soroti diocese. The position fell vacant in 2014 after the then Bishop Emmanuel Obbo was elevated to position of Archbishop of Tororo Archdiocese.
The Woman MP for Bukedea district is among those who are present to welcome the bishop.
On March 19, Pope Francis appointed Rev. Fr. Dr. Joseph Eciru Oliach as the 3rd Bishop of Soroti Catholic Diocese. He succeeded the Most Rev. Emmanuel Obbo, A.J., who was elevated to the position of Archbishop of Tororo Archdiocese in 2007.
Archbishop Obbo himself succeeded Bishop Erasmus Wandera, who was the first Bishop of the Diocese when it was created in 1981.
The consecration and installation of the newly appointed Bishop of Soroti Catholic Diocese will take place on Saturday, May 25, 2019. Archbishop Emmanuel Obbo, the Administrator of the Diocese will be the Principal Consecrator; and the Nuncio to Uganda will be the Co-consecrator.
The ceremony will be attended by leaders of the Catholic Church from all over the country. The event is expected to be graced by President Yoweri Museveni, and will take place at the Immaculate Conception Cathedral in Soroti.