At the peak of his powers, he commanded so much powers that no police officer in the force's set up, including the then Inspector General of Police never feared him.
Likewise, the once feared man was relegated to being equated to a chain which they say is only as strong as its weakest link.
This is Abudallah Kitatta , the once feared patron of the Boda Boda 2010 association that terrorised  motorcycle riders in Kampala and its suburbs.
The General Court Martial in Makindye sentenced Kitatta and his former police bodyguard, Ngobi Sowali to eight years and eight months imprisonment after being found guilty of unlawful possession of fire arms and ammunition.
Though details about his early life and education remain scanty, Kitatta rose so fast through the ranks to become not only the NRM party chairman for Rubaga but also a police vigilante who commanded a lot of power.
Desderio Byamukama resisted Boda Boda 2010 and he lost his hand
It is said that Kitatta rose to prominence following the 2011 general elections as he helped police quell the walk to work protests started by FDC and opposition strongman Dr.Kizza Besigye.
However, according to former commander, police Special Operations Unit, Nixon Agasiirwe, following the infamous 2009 Buganda riots in which he helped police so much to diffuse the chaos, Kitatta was seen as a great asset to security and had to secure him.
"I was directed by then IGP Gen Kale Kayihura to give Kitatta protection in form of armed policemen after the infamous Buganda riots,"Agasiirwe, now incarcerated at Makindye told the army court in March this year.
All in all, Kitatta's ability to help police quell uprisings using his boda boda network earned him respect from the then police boss and started working closely with him.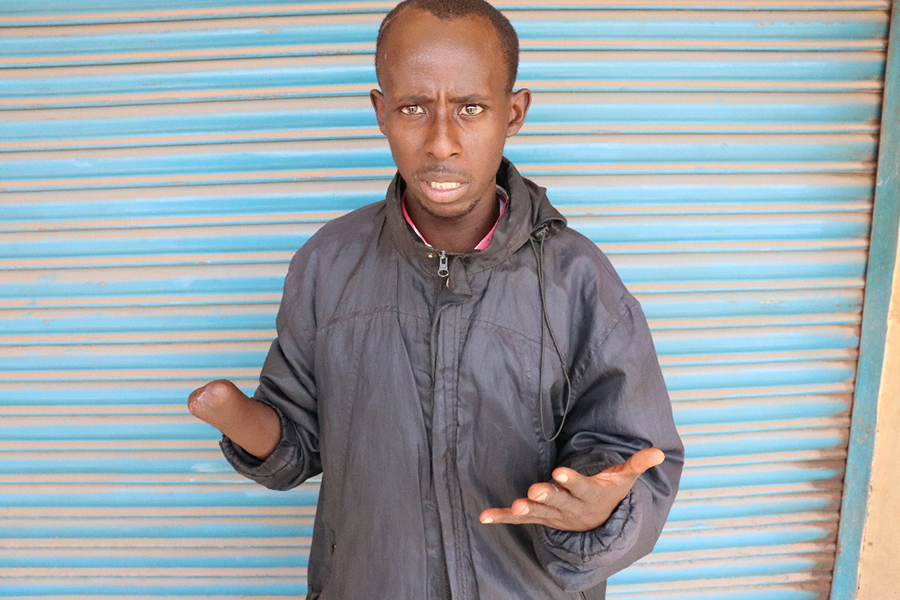 The man who came from nowhere was now, according to Agasiirwe, reporting to Kampala Regional Police Commanders and occasionally to the IGP and the Special Operations Unit was in charge of securing him as a great asset to the set.
Hobnobs with power
Kitatta's abilities to help calm the security situation in the city now earned him trust of the president and had a direct contact to the head of state.
He proved to be a good servant to the ruling NRM party and the president in terms of mobilisation.
One such scenario was in 2014 when President Museveni returned from the United Nations General Assembly following the sacking of Amama Mbabazi as Prime Minister.
During the grand historical welcome for Museveni, Kitatta was on that rainy Saturday with all clothes soaked seen leading Special Forces Command jeeps as he cleared the way for them from Entebbe Airport to the State House.
For one to be allowed to stand in front of the presidential convoy and directing its way shows how powerful  and special they are for it is a security threat under normal circumstances but for the man of that period, Kitatta, is was ordinary.
He was also seen donning his trademark yellow attire during the passing of the sole candidature motion at Kyankwanzi in 2015 and rallying NRM MPs to support the move.
In 2016, when Makindye magistrates court summoned Kayihura over beating opposition strongman supporters, Kitatta mobilised his men and put their back for the then police chief.
They invaded the court threatened to beat lawyers and the magistrate as a show of might that they couldn't allow Kayihura, their hero be dragged to court.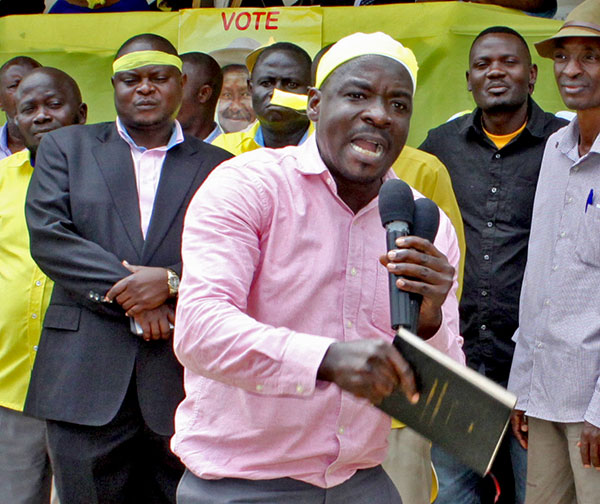 Kitatta continued gaining power and in the police force, he directly gave orders to both junior and senior police officers.
He never feared to take a swipe at the Inspector General of Police in case he felt what he (Kayihura) had done was not good.
In his show of might, Kitatta never spared ministers and other government officials who he publically blasted.
When the then security minister, Lt.Gen. Henry Tumukunde promised to restore sanity in the boda boda industry, the 'powerful' Kitatta responded to the minister.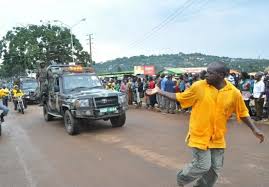 "The Security minister does not have powers to decide the leaders of the boda boda fraternity. I appeal to the President to train his ministers on the limit of their roles so that everyone can know his or her role," Kitatta said.
On many occasions he bragged about having empowered many government officials including ministers and among them was Kampala Minister Beti Olive Namisango Kamya whom he said had helped to get the ministerial job.
In one meeting for taxi drivers at Nakivubo regarding KCCA and police operations against vehicles in dangerous mechanical condition and drivers without valid permits, Kitatta assured them that no one could touch them while he is still alive.
"If anyone stops or impounds your vehicle, just make a phone call to me and the problem will be solved,"Kitatta assured drivers.
The man wielded so much powers that he gave direct orders to senior police officers and commanders in the city that whoever didn't heed to them, he would influence their transfer.
Atrocities to his name
In line with his methods of work, Kitatta, the patron for Boda boda 2010 association terrorized riders from other rival boda boda groups.
In one incident in 2017, at least one person was killed and several others injured when Kitatta's group attacked a rival faction, Century boda boda.
Armed with clubs, Boda boda 2010 members beat up the other faction claiming they were the only group authorized to lead motorcycle riders in the city.
To them, every boda boda rider had to be a member of their association.
I have never been leader or member of Boda boda 2010- Kitatta
For Desderio Byamukama, when he resisted being part of the group, he was amputated.
"At around 9pm, I was attacked by three members of Boda Boda 2010 in Makindye as I returned home and they demanded to know where my stage was before asking that I present my membership card," a teary Byamukama, a born of Gomba district told The Nile Post in January 2018.
"When I told them I didn't have Boda Boda 2010 membership card, they ganged against me.
According to the 29 year old boda boda rider, a scuffle ensued. His attackers tried to grab his ride while he tried to hold firm, gripping it tightly.
"Before I could know, I had been cut several times in the head. I then turned to see who was cutting me and in a blink of the eye, I saw someone ready to cut off my head. I lifted my hands to try to stop him but unfortunately the panga got my hand and it was chopped off."
Byamukama says he fell to the ground and his attackers took off with his motorcycle thinking he was dead.
Many other motorcycle riders attested to the wrath of Boda Boda 2010 Association under the leadership of Abdalla Kitatta and it is not surprising that when he was arrested, many jubilated and burnt the group's offices all over the city.
Downfall
Like they say, a man who lives by the sword will be killed by the sword, Kitatta who lived by wielding immense power was brought down due to the same powers.
According to evidence produced before the army court, Kitatta was only unfortunate to have been arrested in January 2018 at Vine Tea hotel because Chieftaincy of Military Intelligence never intended to arrest him in the first place but can be attributed to his immense powers.
Maj.David Agaba, the commander of operations in the Chieftaincy of Military Intelligence (CMI) told court that when his operatives went to arrest Huzairu Kiwalabye, the key suspect in the murder of Case clinic accountant Francis Ekalungar, they were obstructed by Boda boda 2010 members forcing them to arrest some of them.
During interrogation, it was later found out that Kitatta had instructed his group members to stop the army from arresting his brother.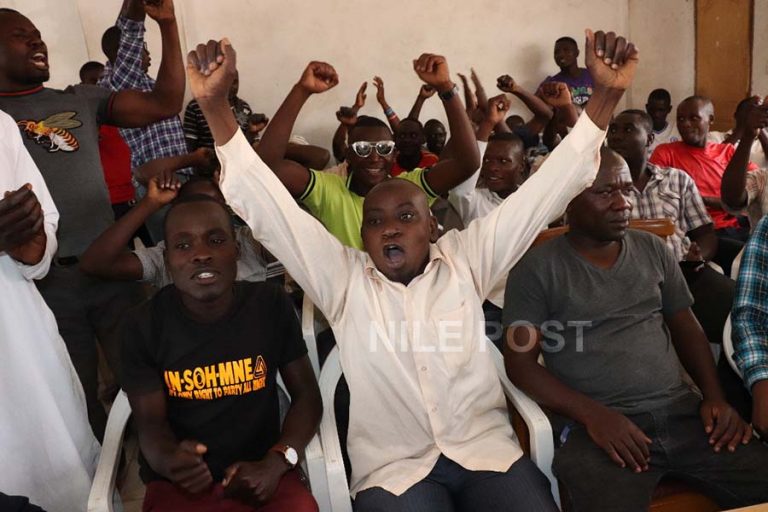 Later, using a phone tracker, the army later located Kitatta at Vine Tea Hotel in Wakaliga where they stormed and arrested him.
Following the arrest, Kitatta was found with a golden pistol whereas his bodyguard was also found with a pistol and SMG rifle.
Denies group members
Like they say, a drowning man can cling onto a serpent, Kitatta who was now powerless and toothless as his downfall went on told the army court that he was not a member of Boda Boda 2010 group.
He told the army court that he has never been a member or leader of Boda boda 2010 but his only position was being the chairman of the National Union of Drivers, Cyclists and Allied Workers (NUDCAWU).
"I am not a member of boda boda 2010 neither am I a leader of boda boda 2010,"Kitatta told the army court in January to the amazement of everyone.
He said that he should never be asked about operations of the notorious group.
"For anything regarding boda boda 2010, ask Joel Kibirige, the chairman for boda boda riders in Lubaga division."
By denying the group he had led for many years, Kitatta thought it would save him from the jaws of the prison but this turned out fruitless.
Sentenced to 8 years
Following a rigorous trial that lasted more than a year, Kitatta was convicted and sentenced to eight years imprisonment for being found in illegal possession of fire arms and ammunition.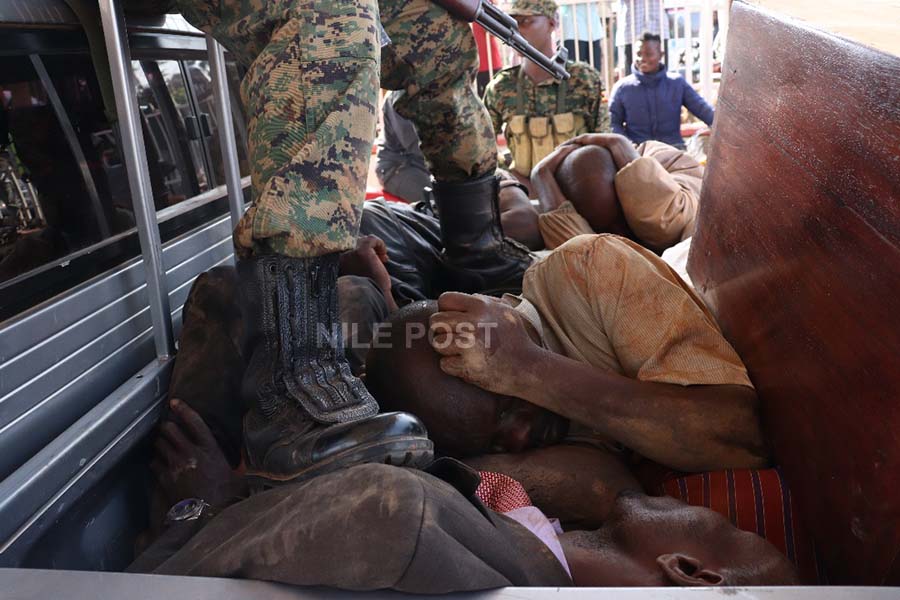 Reading the sentence for Kitatta, the army court chairman, Lt.Gen. Andrew Gutti alluded to the submissions by the prosecution side led by Lt.Col.Raphael Mugisha to conclude that cases involving use of fire arms that are in hands of unlawful people are on the rise and there is need to reduce them through giving a deterrent sentence to the duo.
"It is true there is no proof that the guns they hold were involved in any crime but such offences of using unlawful fire arms and ammunition are rampant,"Lt.Gen.Gutti said.
In such a manner, Kitatta who had immense power was in the same measure brought down by the same sword he had helped sharpen.