Police at Entebbe International Airport has Tuesday afternoon intercepted and arrested seven suspects over drug trafficking charges.
According to the Kampala Metropolitan Police Deputy PRO, Luke Owoyesigyire, the suspects were in possession of 16 and a half kilograms of heroin and narcotic drugs which have also been recovered in due process.
The suspects have been identified as: Nansamba Zam Salim (28) a business lady and resident of Kawempe Kulukadde in Kawempe Division, Kampala, Luwemba Andrew Kwagalakwe (32) a clearing agent with Confanent Consult Co. Entebbe, Musinguzi Elly (53) whose also a clearing agent at Answer Agencies Clearing Firm, Matcha Lobato Manbacar, a Burundian National holding a Belgian travel document among others.
Police said that on 9th May 2019, they received information from Dad Cargo Export that there is a consignment of plastic shoes, craft open shoes, craft lady's handbags, beads etc that they suspected to be containing narcotic drugs and this led to the arrest of the first suspect Nansamba Dam Salim, a shipper and Luwemba Andrew, the clearing agent.
"The consignment was forwarded to the aviation police where it was opened and out of which 30 pairs of craft open shoes were found to contain approximately 6 KGs of suspected heroin as per the preliminary tests conducted," Owesigyire noted in a statement.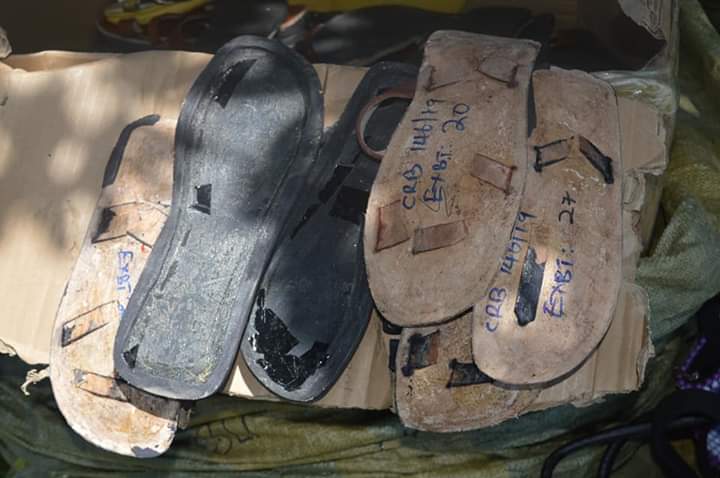 He added that the same happened two days later on 11th May, 2019 when they received information from Dad Cargo Export about a suspected consignment destined for Liberia  of ladies' money purses, back pack bags and ladies hand bags.
"It was being cleared by a clearing agent one Musinguzi Elly and the shipper was Agnuwa Theopius, a Nigerian national. The consignment was opened on 13th May 2019 and out of the 60 lady's clutch bags, 45 contained hard paper envelopes containing substances suspected to be narcotic drugs. These weighed a gross weight of 6kgs of suspected heroin."
He added that on the same day, the suspect who was intending to travel to Europe aboard Qatar Airways was intercepted at the departures while in possession of narcotic drugs concealed in false bottom of his coffee brown canvas suit case.
He would later be forwarded to the aviation police where this was opened and 4.5kgs of suspected narcotic drugs and heroin were recovered.
Owoyesigyire said that all exhibits are going to be forwarded to Wandegeya for analysis and the suspects will be charged for unlawful possession of narcotic drugs c/s 4(1) and 2(a) of the narcotic drugs and psychotropic substances (Control) act of 2016