ROBERT ATUHAIRWE 
The double dealing Members of Parliament who won elections on the National Resistance Movement (NRM) ticket did not take lightly to an administrative decision to bar them from the caucus retreat in Kyankwanzi in March.
The retreat was graced by President Museveni. In reaction, the estranged legislators drafted a document haranguing the President on a wide range of issues, a copy of which Nile Post published.
Before responding to or addressing the issues they touch on, ones need to understand the mind of the concerned individuals. As noted, they are members of the NRM, which ticket hoisted them to Parliament.
But they have overtime distinguished themselves as mavericks that use NRM's graces to bite back at it. One can safely call them members of the opposition, working with and for opposition.
What shows? At the start of the second paragraph in their critical document, they give away their allegiances when they raise the issue of MP Robert Kyagulanyi who was criticised by the public on his lack of grasp of "fiscal policy" issues when he was hosted on a city talk show.
Did the MPs mean to say that Kyagulanyi cannot be questioned or that he is now their idol as far as policy framing is concerned? And it is not a one off.
There is no record of the same guys finding fault with opposition leaders; all the time their ire is against NRM and government at large.
Therefore, they do no portend a fair assessment of the things they address and there is little value in getting them to understand because they can't.
On the issue of 68% of households lying in the subsistence economy, who in Uganda is the champion of economic revitalisation and stimulation except President Museveni?
How many times has he encouraged departure from traditional agriculture to commercialisation for those who can while others can use conventional methods like bottle irrigation to optimise their small acreage?
Poverty alleviation programmes like NAADS/Operation Wealth Creation, Youth Livelihood Programme (YLP), NUSAF, KIDP, LRDP, UWEP and restocking and mobilisation of people to form SACCOS financed through the Microfinace Support Centre (MSF), whose benefit were they championed to serve?
The President has not hesitated to intervene on behalf of youth and women groups using his meager State House budget to supplement central government efforts. What has been the contribution of the rebel MPs in that regard?
The only Ugandans that have been left behind at all are those who have almost deliberately refused to tap into available resources and to use the established cross crossing infrastructure to produce and make goods and services, of course in many cases due to the failure by mid-level officials to guide them on the correct thing to do and waiting for the president to do everything.
On education, it is ludicrous for the rebel MPs to allege that the President killed the education system which ensured equal opportunities in the country.
Was there an education system to talk off before NRM introduced affirmative action for girls, introduced mass education through UPE and USE, and expanded and increased the number of schools and educational institutions in the country?
Is there any region which was denied its fair share of this bonanza?
Makerere University which was the only university in Uganda in 1986 admitted 2000 students.
Today, a total of 190, 000 students are admitted under government sponsorship.
Many are not job seekers on completion because they have been skilled to create their own jobs and that campaign is heating up with industrialisation being the ultimate target to create more jobs and produce more while engaging in processing for value addition.
These are immense opportunities for wakeful Ugandans that they can compete favourably with investors from anywhere.
For anyone to claim favouritism of foreign investors is to display much ignorance of how a free market economy works.
Any imbalance is taken cognisance of and efforts taken to ensure that no Ugandan gets left behind, if they take the advice of the leadership.
On environment issues, why do we have a full Ministry responsible (Water and Environment)? What is the role of National Environment Management Authority (NEMA) and environment police?
If the establishment and existence of those institutions does not prove that degradation of nature is criminalised and discouraged by President Museveni, then let the rebel MPs try and violate existing ordinances in that direction?
The same with engaging in corruption; let them engage in bribery and such other corrupt dealings and see what happens?
For some, their noise is intended to silence or thwart investigations into their questionable dealings.
They are neither exemplary nor trustworthy to be entrusted with any serious responsibilities beyond taking voters for a ride.
Therefore, the so called rebel MPs are a disgruntled crop of politicians with no regard to their identity with NRM party ideals and who will find issue with anything done or said by President Museveni.
However, that has not stopped him winning previous elections through the very process which they also went through. What have they to show in their constituencies for their time in Parliament?
How many votes did they garner? Why have they not come up to challenge Museveni at the elections if they know national issues better than him? How many are they?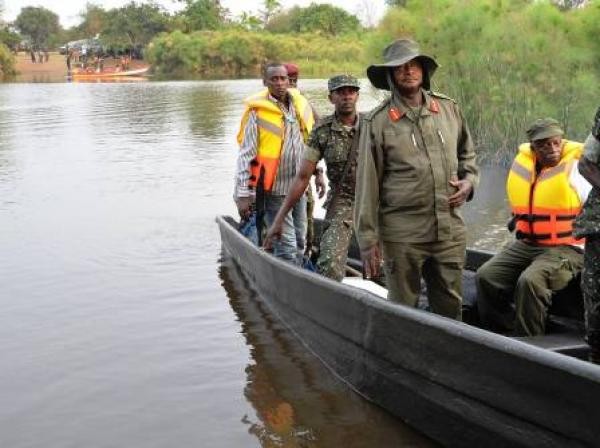 Whose views do they attempt to impose on the great and populous NRM caucus which represents the largest section of Ugandans, while taking a route they believe to be safe for them by continuously harassing President Museveni?
Museveni does nothing on his own but works with other officials and Ugandans to achieve national development goals. These lost MPs are mere mouthpieces of the opposition; they do not make contributions to the party's coffers like other MPs.
They wanted freebies at Kyankwanzi, indeed as it is their intention to benefit from every side while confusing Ugandans to lose trust in politicians at large.
The issue of transferring power is not for the rebel MPs to decide for Museveni or the caucus. NRM structures have been through it before and even on this occasion they are already underway in satisfying that cause.
The demand for Museveni to identify a successor is not democratic and the plan cannot be supported because that role is for all Ugandans to play. Is that fact so difficult to grasp?
Only they will decide to let him go when they deem fit.
The MPs should have addressed the resolutions that the caucus reached which deal with more issues than what their critique covered since they were responding on the basis of rumours without establishing who said what, how, why and in which spirit.
For those who have never been to Kyankwanzi or NRM caucus sittings, let no one be deceived that decisions are reached without participation of the membership. There is always robust debate that puts opposition pretences to shame.
Every sector, every matter of a policy nature is considered, debated effusively and pro-people resolutions are reached.
Experts are called in from far and wide to advice on technical matters to ensure compliance with best policy practices and realities.
Implementation is the question that should be asked because inability to think strategically has never been Museveni's problem.
Implementation is sabotaged by the groups like the ones in focus, considering, for a moment, how much they worked to try and detail the oil sector from setting foot but they were defeated but at the expense of some phase of development and services to the people.
Even now, the main aim of many of these antagonists is to slice off the oil cake and serve it to detrimental elements, local and foreign, but, yet again, they will be defeated.
That is they survive the NRM's renewed momentum which will sort out all internal weaknesses and contradictions and end up granting sanctuary to misfits.
NRM has the biggest membership of any party in Uganda.
It can shed off problematic actors and admit new ones who appreciate efforts by the leadership to transform the country and are willing to make their own authentic contribution.
Ugandans are advised to shun double faced politicians and stick to organized groups that can take their issues to the high table; or go fully independent and non-aligned.
An open political economy does not mean making a mess of the freedoms guaranteed by that dispensation.
These are realities anybody can see without belonging to NRM.
The author is a political analyst