President Museveni has donated a whooping shs1.7 billion to two women Savings and Credit Cooperatives in Kampala.
On Wednesday, during the women's day celebrations for Kampala district held at Kololo independence grounds, Museveni handed over a shs 1.3 billion dummy cheque to Community Driven Development (CDD)Sacco and shs417 million to Uganda Women  Entrepreneurs Program(UWEP).
Speaking at the function, Museveni said in the past, on top of the youth livelihood funds, NAADS funds and women fund, various Saccos were being assisted as one of the ways to ensure people especially women and youths get out of poverty but noted he has got a new formula.
"While in Kassanda recently, I was told these funds cannot easily be monitored as some of it does not reach its intended beneficiaries,"Museveni said.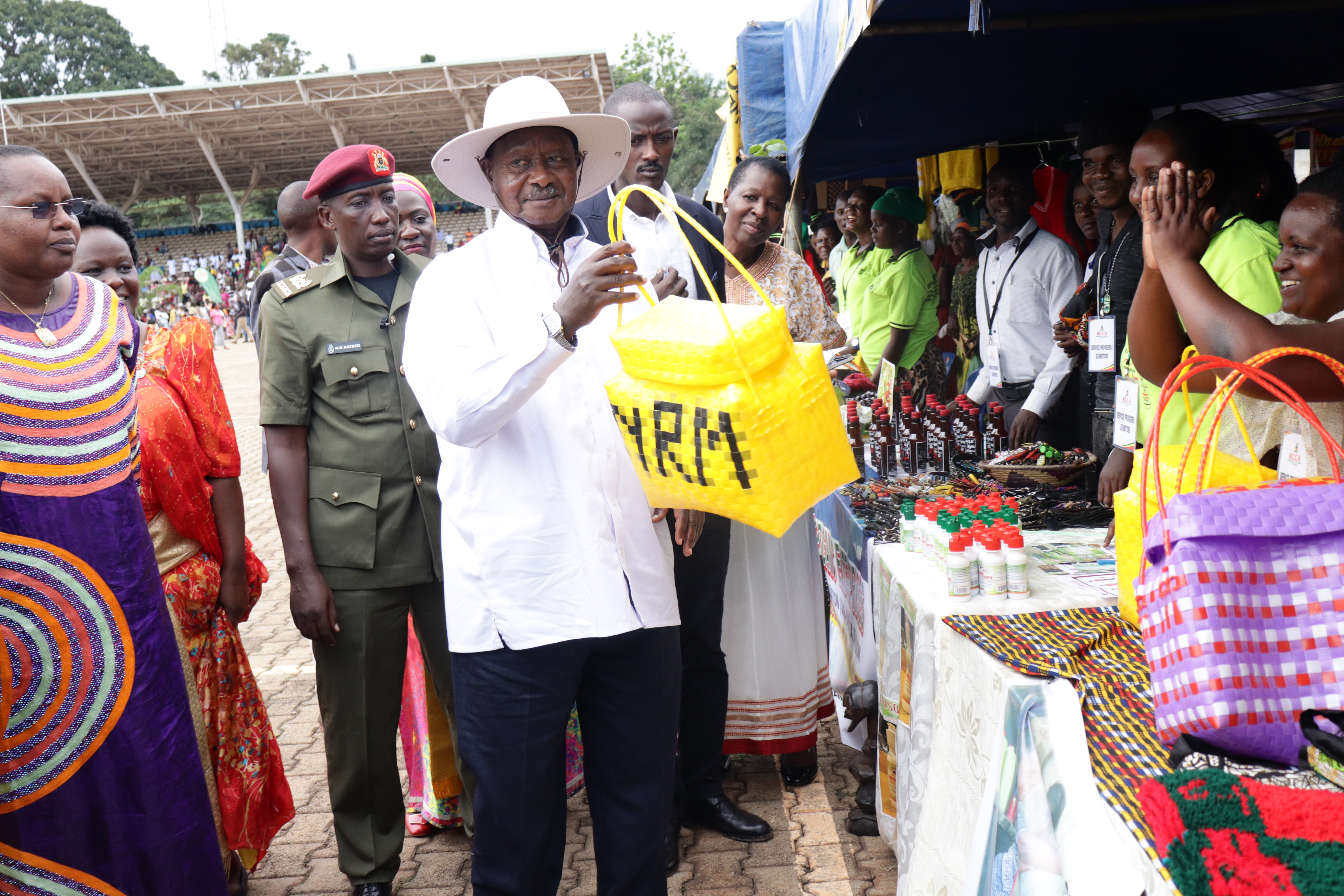 He explained that using the new formula people engaged in different income generating activities form their own respective Sacco through which they are assisted by government.
"For example hairdressers are registered from parish level to district level and have one Sacco. This can be easy to be supported by government and myself. This should be the same thing to be done in Kampala where people engaged in the same job in one division can join a Sacco from where they can access funds,"Museveni said.
Museveni however said that women and youths should be engaged in production of goods that have market both locally and internationally, and this way, they can earn some good money.
He noted that participating in shoe making, craft making and furniture making are some of the project that youths and women in Kampala can participate in and make a killing to get out of poverty.
Scoffs at Kampalans
Museveni however scoffed at the people of Kampala whom he said are still poor because of voting for opposition politicians like Moses Kasibante, Kato Lubwama and others whom he said have not lobbied for their voters.
"The problem with you is that when it comes to elections, you vote for wrong people and when you elect them, they don't come to me to lobby for you. You keep on waiting for them to return but in vain,"Museveni said.
Museveni however referred to a Runyankore proverb which goes; "ekyitita muhima tikyimaraho ente ze," and literally means that "what can't kill a cattle herder, can never kill all his cows," saying despite the earlier mistakes, the people of Kampala now know what to do and who to vote when it comes to elections.
He promised to fund a number of women Saccos whose details he asked his assistants to fine- tune and submit to the President's Office for consideration.
Museveni has since last year injected over shs10 billion in various youth and women Saccos in Kampala as one of the ways to support their projects and get out of poverty.