On Thursday, a Democratic Party (DP) Coalition was inaugurated, locked with a memorandum of understanding involving Uganda's oldest party DP, as well as other parties; Social Democratic Party (SDP), People's Democratic Party (PDP) and the Truth for Justice (TJ).
Norbert Mao was at the centre of DP again as the party chose to merge with others for the alleged good of this country and unseat President Museveni.
We take a closure look at Mao and his reign in the DP, which has been more outgoing that incoming.
Mao took over from Ssebaana Kizito as the DP President General in February 2010. In the results declared by the returning officer, Mr. Polly Mukiibi, Mao obliterated his competitor Nasser Ntegge Ssebagala, polling 708 votes against the latter's 302.
Ssebagala had invested considerably in this race, showering delegates with cash and even through his campaign speech, he did not mince his words, urging the party delegates to vote someone who will bring "money to the party'.
Mao, then Gulu LC 5 chairman on the other hand marketed himself as some one credible who had come to fulfil the "dreams of Benedicto Kiwanuka".
With a win on his face there after, Mao rose to speak and said: "today is the turning point. No more running around in circles because we have chosen a direction for the party."
Mao added and said that his candidature as DP president general was not limited to the party but for the hopes and aspirations of Uganda's young generation.
DP Bloc: A coalition or just one eyed man uniting with the blind?
DP delegates conference came at the time when opposition political parties were cooking a coalition they dubbed the Inter Party Corporation (IPC). However, the DP faithful had already warned any president general hopeful to keep his legs away from the IPC. This is where Mao's role as tinkerman starts;
Inter Party Corporation (IPC)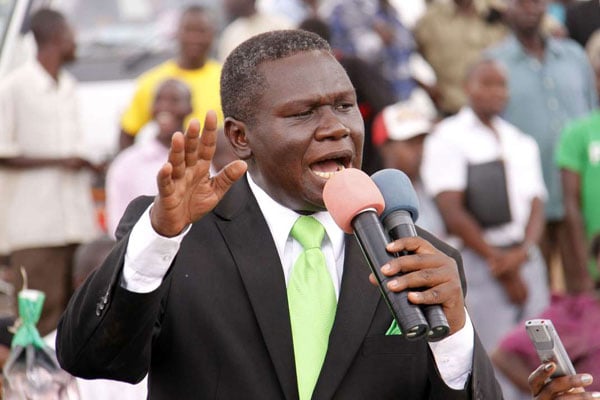 Fresh from elections within the party, Mao was faced with a hard situation on whether to jump into the wagon of the IPC , which already had the likes of Forum for Democratic Change, Uganda Peoples Congress, the Conservative Party and Justice Forum. These had agreed to field a single candidate against Museveni in the next year's (2011) elections.
The new DP leader made it clear the party was well ahead and new, hence was going all alone in the next general election. Mao added that he was the only capable contestant to defeat President Museveni.
However, a week later (February 28), Mao had a sudden change in heart, and promised to join the IPC.
"This IPA is not the first and only one coalition in the world. We are going to discuss with our team and inform the IPA summit. Negotiations are going to continue and I pray we come to a conclusion. We haven't rejected the coalition. We need to unpack and repackage the coalition. More importantly, the purpose needs to be clear and the issues need to be set in clear terms," Mao said.
Mao added and said that even if he was not given the opportunity to unseat Museveni, he would support anyone that the IPC would bring forth but reiterated, he was the best candidate to do the job.
Six months later (August 10), Mao took a turn and said he would defeat the cocktail of parties in the IPC, declaring the coalition "already dead'.
"I am waiting for the IPC to first finish their top most election then I will start to weaken them like I have done the NRM party. I told them before that the idea of the IPC would not work because there is already internal bickering in the coalition," he said.
Mao then went on the journey alone, but returned bruised, obliterated, dejected and completely shocked with a paltry 147,000 votes (1.86%) of the vote.
Joins Walk to Work (2011)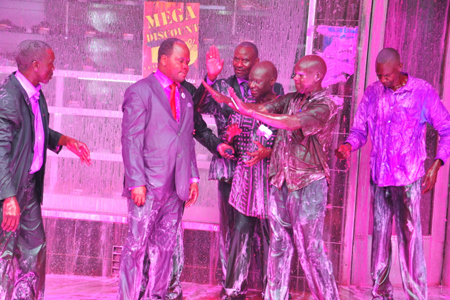 Following the defeat in elections, Mao then dashed into a quick convenience relationship with FDC strong man Dr Kizza Besigye, and other political heads in a campaign dubbed; Walk to Work.
The campaign was launched against the rising food prices and deteriorating health care in the Country, under a make shift NGO they called Activists for Change.
After getting his fair share of arrests, tear gas, including one time when he was totally pinked together with Otunnu and Samuel Lubega in Kampala, Mao wrote a book on the walk to work campaign in which he accused 'others of hypocrisy'.
"At inception, we agreed on strategies on how the campaign would be conducted but instead things turned out differently, which implies a likelihood of hypocrisy on the side of those who did not act as agreed," he said in 2013.
Mao takes break (2015)
Two years later, Mao took a break from active politics on advice of his doctors. However, by the time, he was stressed with internal bickering within the party and the break could not have come at the right time.
"I need to take a break for my own health and from the petty internal bickering and gain strength for bigger battles ahead of me to liberate Uganda," he said on February 24th 2015.
Mao however left a door of unity open, urging that members should be honest enough and those with interests in the seat are free to do so.
Mao voted President General again (July 2015)
In July 2015 at Katomi Gardens in Wakiso, Mao was resoundingly elected DP president general, beating Buikwe South MP, Dr Lulume Bayiga.
The conference was shunned by delegates with some choosing to organise parallel events in Luweero headed by Erias Lukwago. Mao still offered an olive branch for DP break away factions to return and work together.
However, he clearly earmarked Lukwago whom he called a Kitoogo (papyrus) and later would block him from accessing the next coalition- TDA. Mao however succeeded in persuading some of Lukwago's associates including; Betty Nambooze to join him, this completely weakened Lukwago's faction.
Mao joins The Democratic Alliance (TDA) August 2015.
After election in the party, Mao offered his candidature to then popular item, The Democratic Alliance (TDA), which had been formed in June by opposition parties to unseat President Museveni.
Mao swung the party to TDA and expressed himself again as the only candidate who can beat Museveni and not any other.
"As the opposition, we plan to have a joint presidential candidate to stand against NRM's sole candidate and I want to be that candidate. I believe I have more to offer," Mao said.
On how he would beat Museveni yet he had lost miserably to him previously, Mao said: "By my history, I don't lose more than once. If you defeat me the first time, I learn quickly and prepare adequately to defeat you the second time we face off."
The next part will be published by the Nile Post on Sunday.
The writer is a private contributor to Nile Post