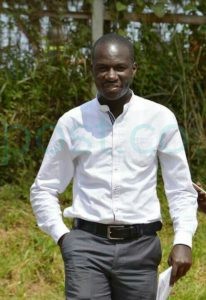 Africa has high levels of unemployment and our population remains youthful. With the challenges that come with these African countries are getting excited with oil discoveries and my country Uganda is inclusive.
Ten million young people will be entering the workforce every year over the next decade, requiring productive jobs and there is a talk on how these will get job opportunities in the oil and gas industry and my thinking is that actually it can't be the newly discovered oil but rather our soil potential that can give these numbers an opportunity to work.
To start off this debate, I will take the words of the President of the African Development Bank. While serving as Nigerian Agriculture Minister, Dr. Akinwumi Adesina, said; "Nobody drinks oil, nobody smokes gas, but everybody needs food''.
These were the words of a minister of a country that ranks as Africa's largest oil producer and the sixth largest oil producing country in the world and his words must be an inspiration for all the other countries that are looking up to oil to solve the unemployment and financial problems.
They must be at a loss because this could spoil our soil which is a real deal for Africa for we will always have our fertile land, our rivers, our youthful workforce, and a huge domestic market for food and agricultural products.
It should be noted that nearly two-thirds of global arable-land is in Africa, yet its agricultural output is the lowest in the world. Agricultural growth can reduce poverty twice as fast as growth in other sectors. A 1% increase in productivity of agriculture will give you more than four times reduction in poverty because it creates jobs at the bottom through an agricultural transformation that reaches tens of millions of people.
Africa has 10% of global fresh water, 17% of global forest cover, 25% of the world's mammal species, 22% of plant species, and one-fifth of global land it but  these precious resources are under severe threat from degradation often associated with natural resource extraction and climate change.
Climate change threatens to reduce by up to 70% groundwater recharge, and to cut rainfall by 20% in certain parts of Africa. It could shrink the growing area for 81–97% of African plant species and could cut crop yields by up to 17% for wheat, 5% for maize, 15% for sorghum, and 10% for millet, according to the UNEP.
With the extraction of oil if this is done carelessly without knowing that it's the soil that is more important than the soil it could actually be worse than these projections by UNEP.
So as all the above fears continue Africa is with 65% of its workforce directly dependent on agriculture for survival, and dire food insecurity in many places so it is Africa's soil that should be targeted for inclusive growth and development and not the oil. In other words, Africa's soil should be its next "oil" in a changing climate.
Across the continent, demand for food is soaring, especially in rapidly growing cities. The continent has a food import bill of more than $35 billion per year, and imports of food exceed exports by more than 30%. Existing fossil fuel and mineral reserves will run out, but Africa's soil and its ecosystems, including rivers and forests, will remain.
Therefore as the extraction of oil continues we need Climate proofing for we need the natural environment for sustained growth and we shall need shifting of oil revenues to agricultural and ecosystems investment. Investing revenue from the oil sector into harnessing the continent's largely untapped renewable resources for production, processing, and commercialisation of products will be critical in feeding and providing for the African people
This climate proofing will enable the ecosystems to enhance agricultural production by providing everything from water and soil resources to pollination and pest control services. Their maintenance underpins the resilient supply of the ecosystem goods and services that support the availability, access, and use of foods, both farmed and wild, strengthening the stability of food systems. By making cost effective investments in ecosystem productivity, many African countries will realise bigger benefits by working with nature rather than against
Working with nature and nurturing our soils is therefore the single biggest opportunity for inclusive growth rather than the oil mining. What we are talking about is not just the production at the farm level, but developing the entire value chain, which is immense, including packaging, transportation, exporting, input supplies, processing, transforming primary goods into finished goods, and so on. This is where the unlocking of the potential of agriculture lies, and unlocking this potential is a job creation pathway that if Africa will be on top of the world.
Brian Atuheire Batenda
Director policy and research at AIFE-Uganda.