The National Drug Authority (NDA) has kicked off the construction of a multi billion laboratory tower at Lumumba Avenue in Kampala with the aim of improving health care.
The Shs 32 billion Quality Control Laboratory tower will be the first of its kind in the country with capacity to test quality of food imported and exported, efficacy of traditional medicines, hospital equipment among others.
When this laboratory is complete, NDA shall be able to even check the quality of hospital equipment's like CT Scans.
To effect the ban and use bleaching cosmetics, NDA will also have to acquire a state of the art cosmetics laboratory.
The chairman board of National Drug Authority Medard Bitekyerezo noted that the efforts will be put to waste if parliament does not consider passing the National Food and Drug Bill.
Speaking at the launch, the minister of Health Dr Jane Ruth Aceng revealed that efforts to have this law in place are in advanced stages.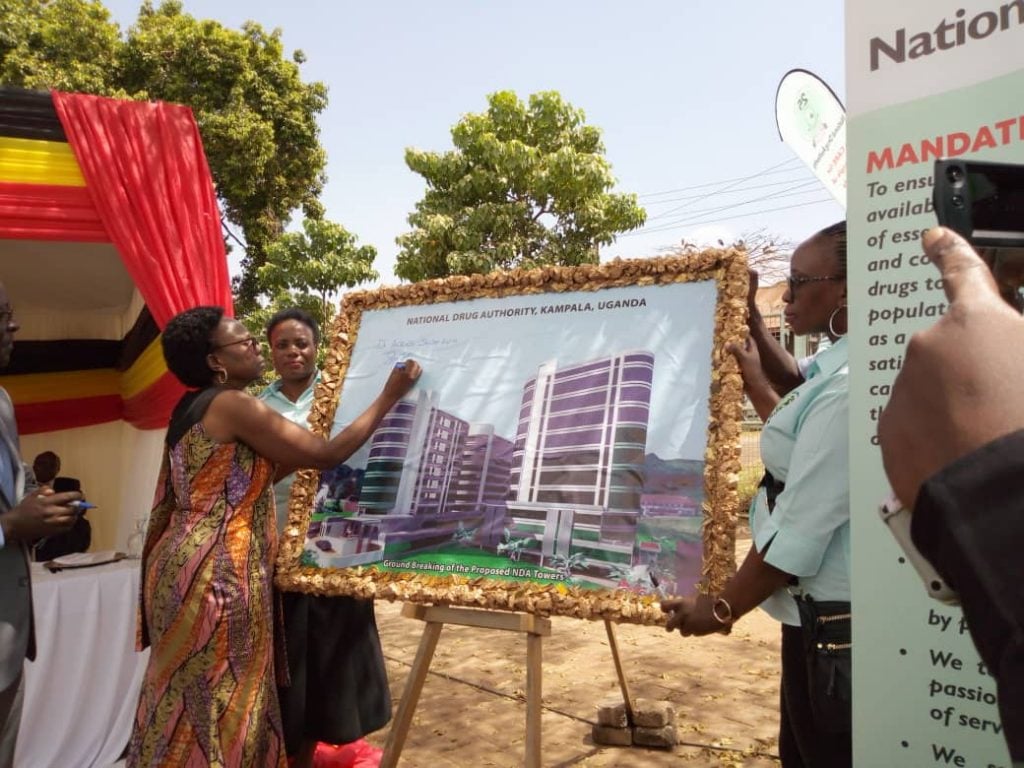 "The bill is in cabinet when passed it will be returning to parliament and expect the procedure to be fast," Aceng said.
Dr Bitekyerezo expressed disappointment with members of staff at National Drug Authority who wrote to the solicitor general contesting the construction of the laboratory tower in preference for office space.
"When I get to know these two kawukumis their contracts will not be renewed I tell you," he said.
Aceng commended the initiative that has been spearheaded by National Drug Authority with locally generated funds.
Those who think sub standard medicine will still find their way on the Ugandan market are in for a big shock
The quality control labaratory tower will be constructed for 24 months and its official opening shall coincide with NDA's 25 year celebrations.
The laboratory will be constructed by Seyani brothers a Ugandan firm.