BY ARNE DOORNEBAL
I read recently that Uganda tried to arrest German national Bernhard Glaser at Mwena landing site, at Kalangala town council.
A full decade ago, in 2009, I already wrote about Mr. Glaser in a Dutch publication called Nieuwe Revu. The headline was, translated from Dutch: 'Playing doctor in Uganda.' Let me stick to the exact situation which encountered back then in 2009.
When I interviewed Bernhard Glaser -who hails from Antwerp, Belgium, but who has a German passport- lived in a house with 15 underage Ugandan girls.
For some reason in Bwera this situation, which in many other places around the world would already be illegal or highly suspect, had been existing for some years.
During my visit I spent a couple of days interviewing people on the island, before questioning 'Bery' himself.
I spoke to local health workers, an international NGO and a brave female police officer. They had one thing in common: they were all convinced that what happened at 'Bery's Place' was undesirable.
I was told repeatedly that Bernhard, who called himself a doctor, ran an NGO that aimed to improve the sexual health of adolescent girls.
Girls had told them about 'vaginal probes' carried out by Mr. Glaser. When I walked into Bery's place on Sunday, April 19, 2009 and introduced myself as a journalist, he treated me as a welcome guest. He was open, and answered all the questions I asked.
He went straight into the issue of the accusations about him: "The people on this island don't understand me," he sighed.
"They think I am a pedophile, but the last thing I want is to hurt these girls. However, I want to change the sexual behavior of these girls. I prefer them living with me from the age of eight, so that I can warn them against Aids. I do not want them to get 'fucked to death,' as happens so often on this island."
He then referred to the high prevalence of HIV/Aids there. I found the whole situation quite bizarre. The girls walked around him freely, occasionally being touched by Bery as an affable father.
Meanwhile, they were being raised in a sexually liberal way which was in total contrast to common ways on the Ssese islands.
"I taught these girls never to kneel down for men," he proudly told me, referring to a centuries-old tradition in many parts of Uganda, showing respect for elders.
Mr. Glaser really saw himself as a father to these girls, he said on several occasions. He also admitted most of them were no orphans, but that did not matter.
"Their parents don't care about them at all. Therefore I am trying to become their legal guardian."
Later on, islanders connected me to a number of young ladies who had left Bery's place, and had moved to Kampala.
Not much later, the brave police woman, who was hell-bent on getting to the root of what happened at Bery's place, suddenly got transferred to Kampala, after asking too many critical questions to her superiors.
After returning to the main land, I linked up with a couple of these runaway girls.
We met at Nando's, which had just been opened. At least two of them told me that Mr. Glaser had performed vaginal 'investigations' on them, with his bare hands. They also mentioned their nude pictures had been taken, but stopped short of actually putting the full evidence -the pictures themselves- on the table.
They told me about how they took turns sharing the bed with Bery, while naked, and being asked to massage him. So my article, although brief, appeared in the Dutch weekly Nieuwe Revu.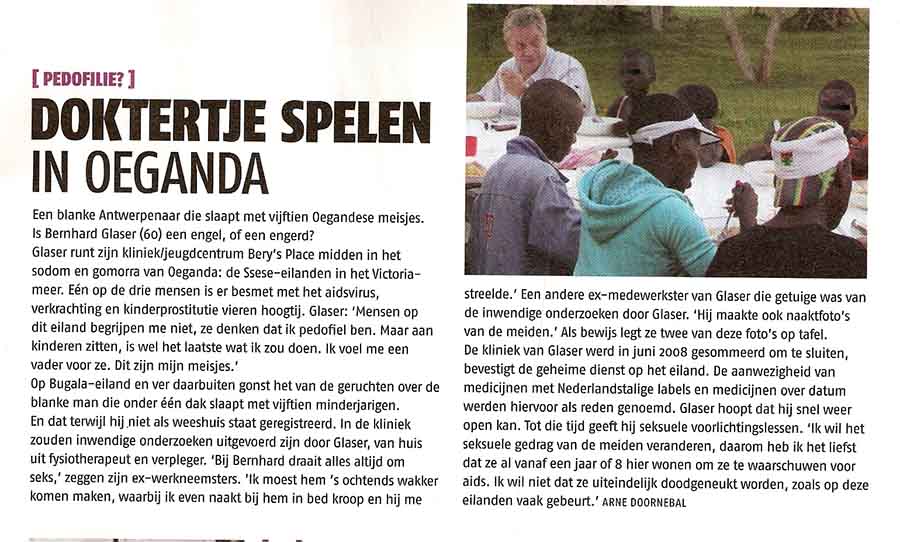 Not amused with the headline 'Pedophile?' Bery threatened to sue me, but he stopped short. Since he hailed from Belgium, I also tried to interest Belgian newspapers for this story. But to my disappointment they refused.
They didn't know me, and didn't want to take risks with such a burdened topic.
Life went on.
As a freelancer, you also have to accept that you don't sell each story easily, and I went on to focus on other topics. I was a journalist, after all, not an activist. Was it really my duty to go another extra mile to expose a potential pedophile?
A few years went by without hearing too much about Bernhard Glaser, until he got arrested in 2013, as reported by the Daily Monitor.
It felt as justice was about to be done, since I was still convinced something was totally wrong there. When I spoke about this man to other expatriates in Kampala, it turned out that were quite many people who had already been aware of his existence, including journalists and diplomats.
Therefore, we cannot pretend that nobody knew.
Everybody seemed to feel that something wasn't right at 'Bery's Place' -except from some naïve young volunteers from Belgium who I met there- but nobody felt it was their duty to take action.
None of the embassies felt the need to do something, although the German embassy should have.
Having lived in Uganda for nearly seven years, I returned to The Netherlands in early 2014. I hardly ever thought about Bernard Glaser again.
Until August 1 2016, when I receive an e-mail from Mr. Glaser himself, titled: 'a confrontation with an old story.'
He managed to get a statement from a court in Masaka, stating that the charges of aggravated defilement against him would not proceed.
Mr. Glaser said his name had been cleared of all blame, and asked me to speak out and renounce my story from 2009.
I politely declined.
It is 2019 now, and times have changed. Things that could remain hidden in 2009, now find their way our more easily due to social media and WhatsApp.
We have had #MeToo.
The way we think about child abuse seems to shift.
Bazungu cannot get away anymore with criminal behavior in far-away countries and those countries are taking their responsibility to investigate and prosecute more and more serious. There is a general feeling that justice needs to be done, even after a decade.
Even after many decades. When I read in the Ugandan and international media that Mr. Glaser is under investigation once again, it was clear to me that I had to break the silence once more.
The Ugandan Prosecutor should start a high-level investigation into what has happened in this 'clinic' over the past decade.
I would advise to bring in people who haven't worked on the case before, or at least people who can work completely independent and are not hindered by the cozy relationships between Mr. Glaser and certain officials at Kalangala.
I have sent this story to the Ugandan ambassador to the Benelux, Ms. Mirjam Blaak, and officials of the anti-trafficking department.
I also copied in a number of journalists and European diplomats based in Kampala. I was told by one of them that Mr. Glaser has turned himself in to the police last week, following the arrest of his wife.
According to the New Vision and Daily Monitor, the CID-team involved is led by Rosemary Nalubega.
Mr. Doornebal lived in Uganda between 2007 ad 2014 and worked as a freelance journalist for Dutch and international news media.
More information and contact: www.arnedoornebal.com