Yesterday, over 85 million Nigerians woke up to vote their next president. The battle is between the candidate of the ruling All Progressives Congress (APC) Muhammadu Buhari and the candidate of the main opposition party, the Peoples Democratic Party (PDP) Alhaji Atiku Abubakar.
The 2019 general election in Nigeria has come with a new dimension and a new slogan in Jigawa state "Wake da Shinkafa" (rice and Beans) as voters across the state have prepared to vote candidates based on their quality, not on the basis of political affiliation.
The presidential contest is widely seen as a tight race between President Buhari and Abubakar, a former vice president who vows to "get Nigeria working again."
Despite the recent culture of elections, Nigeria has had their fair share of coups to overthrow different leaders, some bloodless while others quite violent. From the likes of; General Ironsi, Abacha, Yakubu Gowon and Murtala Muhammed.
However, the main focus here will be Gowon, who has direct relationships to Uganda, capital Kampala.
Gowon overthrown in Kampala
On Tuesday July 29, 1975 there was pandemonium during the Organisation of African Unit (OAU/AU) summit in Kampala when delegates and heads of state heard that one of their own, Nigeria's Gen Yakubu Gowon had been overthrown.
Gowon who was listening in through a translator while Ugandan President and sitting chairman of the OAU Idi Amin Dada spoke, was handed a note by one of his assistants, communicating trouble back home.
In black suit and holding a note book, the assistant mumbled a few things to Gowon and dismissed himself.
Gowon sat next to the Rwanda delegation and for some time after getting the message, remained inscrutable, he stayed glued to his seat for a number of minutes and lowered his headsets, gazed directly in front of him of course lost in thought, before standing up randomly and bursting out of the conference room.
Holding his agbada behind him, Gowon paced up the stairs to a consultation room within the facility where the conference was happening. With his delegation in tow, they closed the room to swarming journalists and reporters and stayed in there consulting on the next move for the next 20 minutes or so.
After, the group flung the door open and Gowon walked out, telling the journalists who were already waiting; "I have seen the various reports, but look, I have no comments to make in this state," as he waved away further questions.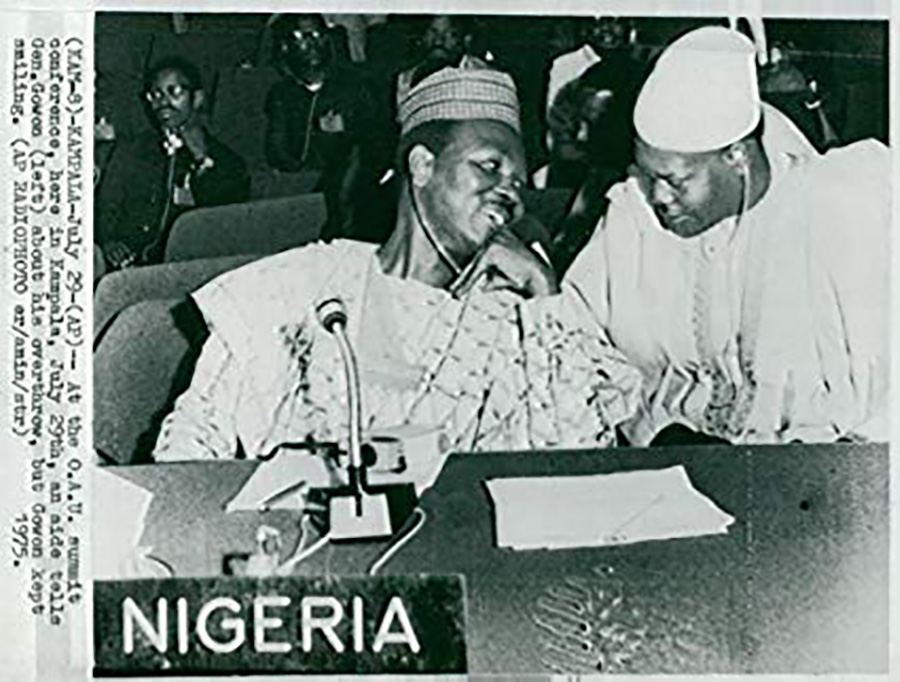 One specific journalist asked Gowon if he was going to continue attending the summit and in which capacity, but there was no answer.
Gowon walked down to Idi Amin Dada and spoke with him briefly, expressing that he would sit in the meeting for a few more minutes.
The General who had been in power since 1966 walked back to his seat while shouting; "Nothing to worry about, nothing to worry about."
However, everything was already done, the meeting could not proceed as every head of state expressed concern and one by one approached Gowon to catch more of the gossip or the news.
Gowon stayed in the city for a little more time, trying to establish if there was any support back home, but it was clear that one of his closest friends, Col. Namvan Garba, commander of the Elite, Guards Brigade, which had usually protected the chief of state in his Lagos headquarters had engineered his overthrow.
Gowon had suspected something of the sort, and moved is family to London just before he left Lagos for Uganda. What was next for him was to fly out and join his family in Britain from Entebbe. Unfortunately for Gowon, he had no money on him.
Broke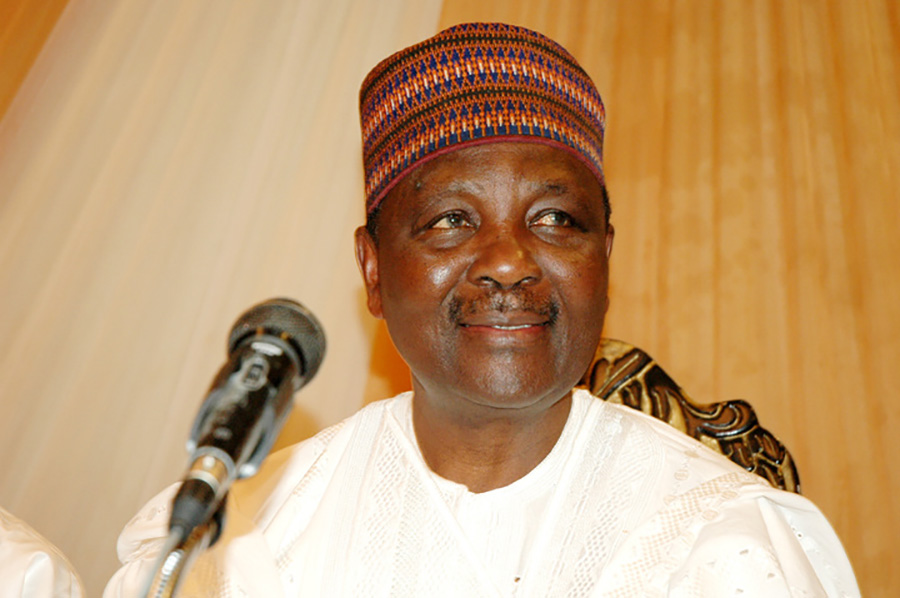 The ill prepared Gowon had to gather his delegation who contributed money for his upkeep. We cannot confirm any token received from then Ugandan president Idi Amin Dada.
However, while at an event in Nigeria last year, Gowon personally confirmed that by the time of his overthrow, he had just his salaries on him and required contributions from his staff to have "something to live on'.
Gowon bragged that many Presidents after him learnt following his experience to 'prepare for their future' by picking money from the treasury.
He said the condition he found himself after his ouster from office in 1975 might have changed the attitude of Nigerian leaders to corruption by deciding to "prepare for the future", added that he and his officers did not indulge in corruption.
"Everything we had in the country belonged to the nation, belonged to the people and we must not touch anything. We made sure nothing like that (graft) happened, especially in the civil service."
However, for Gowon, that is not even his biggest regret, but the fact that he did not make Jos city the capital city ahead of Lagos.
"I had powers to make Jos, and not Abuja, the capital of Nigeria but refused to do so because I was not prepared to be clouded by sentiments and selfishness", he said.
Why he was overthrown
Gowon was overthrown by a combined government of Muritala Mohammed and Olusegun Obasanjo (President and Vice President respectively).
However, Muritala would later be assassinated like a 'chicken' when soldiers ambushed him in his car and sprayed him bullets in a failed coup attempt that led to Obasanjo taking over.
In one of the interviews later, Obasanjo claimed that the overthrow of Gowon because: "After the war, General Gowon said that military will go by 1976 but later said that it will not be realistic again."
During Gowon's overthrow, Col. Namvan Garba announced that Gowon was being overthrown because of the way' things have been running in the country of recent'.
How snake caused President Binaisa's body guards panic, they almost shot him
The author is a contributor to Nile Post