MOSES AL-SAYEED LUBEGA
If sport is your nourishment, then pursuit of fairness is wrong judgement.
Logic in sport is when you plunder your opponents due.
Nothing LESS.
I learnt so while as a football pretender; were the 'good natured fellow' among us would cause a throw-in and quickly point in the direction of the opponent as the guilty fellow!
The unaware referee would then give the 'cheat' (the wise one in sport) the advantage and his team will toast to –"what a smart kid!"
I recall when the teams 'Prayer Master' would rupture a rivals leg and then plead innocence! to the referee.
Unapologetic, he would tongue lash the wailing opponent.
"He wanted to give his team an advantage period!" aficionados would say
Sport and morals are never bed fellows!
By the way, that is the character of sport-someone please remind Moses Muhangi.
His well-intentioned outcry for fairness in distribution of sports gains is again ill intentioned in the sovereign state of sport and the whims of stewards –where he too belongs.
As a federation president of a sport like boxing where common sense is to subdue an opponent to claim sports merit, seeking a fair share for your adversary is 'unsportsmanlike'
In boxing a sport he knows too well (hoping he does) , a referee would beseech two boxers punching kindly to box with intense intent. Boxing to injure is well accepted!
To put it succinctly there is no prize for kindness in sport! The reverse is oftentimes the norm.
Fufa seeking the bulk of the cherry should not be considered a loot.
In a liberal democracy, Muhangi will be The undisputed 'champion for equal rights' and for a Ugandan case- a candidate for a medal on Heroes Day every June (Hoping heroes' day represents those virtues) Paradoxically, on sporting merit, he is an outcast.
Sport is about who maximises the moment to obtain the scarce resource (victory )
It is that stubborn behaviour employed by superior franchises with bottomless purse to bewitch  talent  from less endowed teams to append their signature.
In the end, the conqueror gains a leap above a rival, while goes further to poke a hole in opponent's oxygen cylinder to frail their ability or extinguish them entirely.
It is that ambition driving athletes to seek seldom sophisticated facilities and high level, kits or physios to sky above their rivals.
The evidence is alike in the boardroom. I imagine Moses Magogo- Fufa president was playing to the 'immoral sports moral'  to greed and grab grapes for oneself, and  perch  them  high above other predators in the jungle to malnourish rivals to mere mortals as football stays immortal to attract staggering deals, publicity, facilities, endorsements and public charm.
Moses Magogo's mind looks around for his (football) and not amateur boxing.
The Fufa elective Assembly who re-elected Magogo did not have the image of other federations in the assembly when choosing the man to sit in The Presidential Suite in Mengo.
The 72 delegates prophesied a leader who will selfishly advantage football over the rest. I'm sure Boxing Clubs who made a similar choice –'Muhangi our man' desired the same place on The sports altar.
When individual sports bodies crave The Head of State-the ambition is selfish-To boost the wallet of the handshake chasing body above the rest
Sports bodies ( many on invitation check into State House with a fresh fragrance of 2nd hand kits just obtained Down Town a day earlier )  lucky enough to seek 'The handshake Man' cosmetically slice everyone's bread in front of camera's with The cliché ' We need improved funding for all sports bodies'
When the camera's shut down it is a sole crave-'your excellency our boys are doing bad, not even sure what they will eat when they return home'
That is the biased reality. 'Moralist' Moses Muhangi will  do just the same IN THE DARK.
 In some of the earlier media interviews, Moses muhangi went further to suggest he will petition president Yoweri Museveni. Muhangi is choosing to forget, The Man in a Hat knows too well the message behind 'discriminatory figures' he endorses football-Fufa has made their own case, UBF make yours.
The Sports economy is a functional 'accepted devil' that seeks perfection by amassing more and disregarding rivals.
Muhangi is seeking moral paradise but ignores sports has no place in the fantasy paradise.  That is the eternal logic of sport.
Another call for unfair fairness in IAAF
The International Association of Athletics Federations (IAAF) president –Sebastian Coe is a man lost in a fairness jungle trying so much to defy the fairness of nature.
His open war to fight South African Athlete Caster Semenya to limit the levels of naturally-occurring testosterone in female athletes saying it gives an unfair advantage.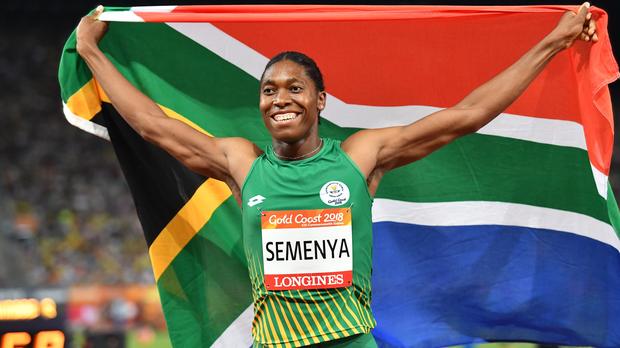 Caster semenya has unusually high levels of testosterone which builds muscle mass and strength. First he and those in the same corner admit she is not cheating.
"So, isn't limiting her limits an unfair grab of nature's fairness?" Or rather cheating her gift
Semenya competes with athletes gifted with relatively superior lung capacity, great endurance, longer limbs that come with long strides ( all given by nature) that yield advantage for oneself and the South African hasn't complained about the rest.
Why retain natures advantages of others and resign hers?
"We will support our athletes on the grounds that the regulations discriminate against certain female athletes on the basis of natural physical characteristics and/or sex," statement added.
Is there a better discrimination than one exhibited by IAAF.
Imagine Caster Semenya's physical attributes have no place in the  'all-inclusive IAAF!?'