THE ROGUE
This week, the two edible fruits watermelon and pumpkin entered our political lexicon, thanks to the political spat between Norbert Mao, the DP president and Betty Nambooze, the Mukono Municipality MP.
It all started when Mao lashed out at party members who had accepted to serve in the people's cabinet announced last week by Dr Kizza Besigye, the former FDC leader.
Specifically, he termed them as "political watermelons", who have no locus in politics.
There are no prizes for guessing who Mao was referring to.
It is Erias Lukwago, the Kampala Lord Mayor who 'ate' the post of Vice President and Betty Nambooze, the Mukono Municipality MP who was appointed minister for Kampala.
According to website, healthline.com, a watermelon is one of the more nutritious fruits and contains citrulline, an amino acid that may increase nitric oxide levels in the body.
"Nitric oxide helps your blood vessels expand, which lowers blood pressure (9). Other vitamins and minerals in watermelon are also good for your heart. These include vitamins A, B6, C, magnesium and potassium  watermelon,' so states the website.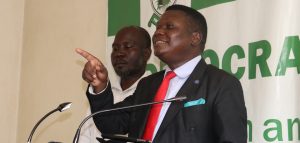 In referring to them as watermelons, Mao was definitely not alluding to its nutritious qualities and health benefits.
Mao said a watermelon is green on the outside but has many colours on the inside (so on the surface he meant that Lukwago and Nambooze are political flip floppers).
Yet by comparing them to a watermelon, some people claimed Mao actually meant (mbu) that the two politicians are just "full of water" like the delicious fruit and have no political mettle.
Those who have lived long enough know that one of the easiest ways to annoy someone is to tell them that they are "full of water" [not brains-emphasis mine].
Little wonder therefore that Nambooze, never one to take matter lying down, shot back  and turned the joke against Mao.
She accepted that "I am a watermelon" but Mao is "a pumpkin."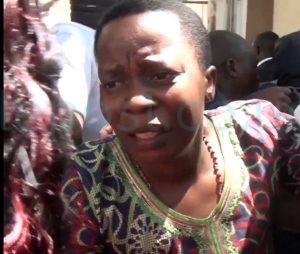 She said a watermelon is green (official DP colour) on the outside and red on the inside while a pumpkin is green on the outside and yellow on the inside.
Yellow is the official colour of the ruling National Resistance Movement (NRM).
So in effect, Nambooze was saying that Mao is a quiet sympathiser of the NRM.
That he preaches opposition politics during the day and drinks NRM "wine" at night (This is not how Nambooze put it. I am just trying to interpret her statement in a lay man's understanding).
Now, since politics is not my cup of tea, I will try not to go further than this.
You, the reader, should draw your own conclusion.
As the Rogue, I don't want to get in the middle of this watermelon and pumpkin politics lest I could be munched by either Mao or Nambooze.
The ROGUE, written by Edris Kiggundu, is a new satirical column that shall run once a week on the Nile Post. Views expressed here have a tinge of satire.