Have you ever wondered why Kidepo Valley National park is commonly referred to as the virgin National park?
This beautiful wild frontier located in Karamoja region is heaven on earth! If you are a traveller in Uganda, a night at this park isn't a bad idea.
But what does it take to be at Uganda's 3rd best yet most isolated park?
If moving by road from Kampala it would take you 571 kms that's through Karuma – Gulu road, alternatively one can use the Karuma – Kotido road that's about 707 kms which could last you about 12 hours on the road.
For those that prefer to move by air ,an aircraft will land right in the middle of the park within two hours
Driving by road to Uganda's largest park is more rewarding, you will be treated to a vast and unspoiled wilderness. Kidepo ranks among Africa's finest wildernesses.
From Apoka, in the heart of the park, a savannah landscape extends far beyond the gazetted area, towards horizons outlined by distant mountain ranges.
This park provides you with several options of a game drive but an evening game drive is a must do , the beautiful sun set is a true manifestation of the pearl of Africa.
They say most animals come out to graze freely in the pack during the night! , and luck was on our side, we found the king of the jungle right in the middle of the road!
This lioness is fearless , even with our car head lights flashing into her eyes! it seemed unshaken, they say finding a lion during a game drive is a moment to remember If you want to view more wild species at this magnificent national park, try sunrise.
At sunrise dozens of herds of buffalos come out of their habitant to graze freely in the park Watching this moment is truly breath taking!
Kidepo national park is a true gem with huge abundance in wildlife, and this you can only find out, if you are here, by the way this is one of the least visited national parks in Uganda yet the most endowed.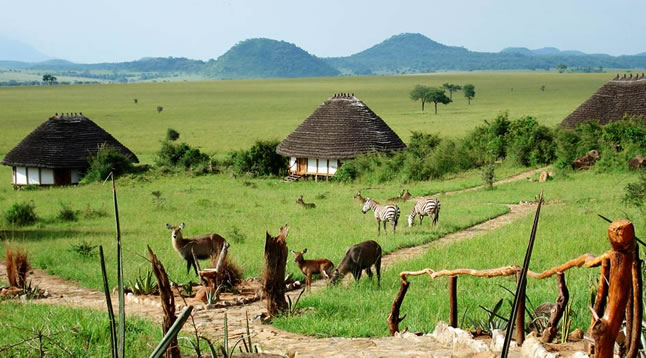 This park which was gazzetted in 1962 is now a home to over 75 species of mammals and 470 species of birds.
The beauty with this park, you don't need to drive deeper into the park, most of the wildlife is in a prime game viewing location. Maybe that's why it's called the virgin pack.
Kidepo, the only park in north eastern Uganda, is situated in Kaabong district Karamoja region.
The park lies in the rugged, semi arid valleys between Uganda's borders with Sudan and Kenya, it is surrounded by mountains and it contains two rivers – Kidepo and Narus , which unfortunately disappear in the dry season, leaving just pools for the wildlife.