A group of 230 Israel nationals on Wednesday arrived at Entebbe International airport aboard El Al Israel Airlines, the flag carrier for Israel for a three day tour in Uganda.
Their flight was the first direct flight from Israel to Uganda since 1976 when an Air France plane was hijacked by Palestinian insurgents forcing it to land at Entebbe.
Commenting on the excursion, the group's team leader and organizer Tali Yativ was optimistic of the trip that he said open door for many Israelites to visit Uganda.
"This trip is a first of its kind for us and we are looking forward to a great experience in
Uganda. We are mostly pleased to see the tourist site of the Uganda old airport tower
where a group of Israelis were held hostage by Uganda's former president. We however
look forward to touring more of Uganda over the next few days" Yativ said.
The group that will be in  country until Saturday, February 16, 2019 and will be visiting various sites in the Pearl of Africa including  Murchison Falls National Park, the Jewish community in Mbale and various sights in Jinja including the source of the Nile.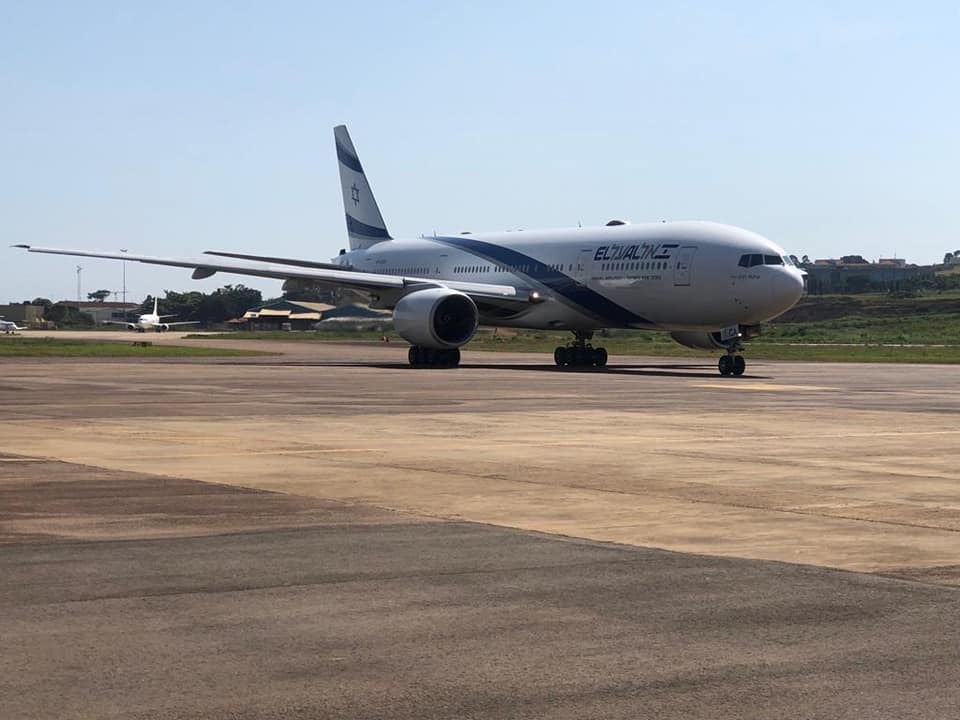 According to the outgoing Uganda Tourism Board CEO, Stephen Asiimwe, the visit was a remarkable development not only to the sector but the entire country adding that it will be key in increasing the number of Israel visitors to Uganda.
"We are positive that this visit will attract more visitors from Israel and the rest of the world.
The two countries have a shared piece of history and we hope to strengthen our travel
trade in order to increase the number of Israeli tourist coming to Uganda," Asiimwe said.
The visit comes on the backdrop of a delegation of officials from Uganda led  by the  Minister for Tourism, Wildlife and Antiquities,  Prof. Ephraim
Kamuntu  headed to ,Tel Aviv, the  Israel  capital to participate the  International Mediterranean
Tourism Market(ITTM).
The event is described as a key activity aimed to foster trade between the Israel and
Uganda.
President Museveni on Wednesday met a group of Presidents of major American Jewish Organizations who  are currently  in the country as part of a national leadership delegation to Uganda.
Operation Thunderbolt
In 1976, an Air France flight with 248 passengers aboard, most of them Jews was hijacked by members of the external wing of the Popular Front for the Liberation of Palestine before being forced to land at Entebbe airport .
The following days saw Israel organize over 100 commandos who flew for over 4000 kilometres to Entebbe in a rescue mission code named Operation Thunderbolt.
In only 90 minutes, of the remaining 106 hostages(all Jews), 102 were rescued whereas three were killed by the hijackers.
The operation commander, Lt.Col.Yonatan Netanyahu, a brother to the current Israel Prime Minister Benjamin Netanyahu was killed during the raid.
The operation has since lived to be reminisced by Israelites.
Amir Ofer, one of the Israel Defence Forces commandos who participated in the rescue mission spoke about it with pride on his first ever visit to Uganda in 2016.
"We took off on July 3rd, 1976 and a few minutes to midnight we were at Entebbe. The 4 planes came quietly and on a low level   that it was difficult for the control tower officers to realize an enemy had come."
"In less than 20 minutes, we had reached the terminal and killing 4 terrorists instantly .We then embarked on evacuating the hostages."
Amir said that it was not long that the Ugandan soldiers realized there was an enemy and had to fight back.
"They started firing at us and we retaliated in return killing some of them as they tried to stop us from evacuating the hostages."
He however said they had orders while setting from Israel that they should not kill any Ugandan soldiers apart from the hijackers.
"Whoever kept aside was left alone apart from those who fired back at us. We had no intention of killing any Ugandan soldier."
On July 4, 2016, Uganda celebrated 40 years since the raid at Entebbe and the function was graced by Israel Prime Minister, Benjamin Netanyahu.
The Uganda Tourism Board has since promised to develop the old Entebbe airport as a tourist attraction in remembrance to the July 4, 1976 raid by Israel commandos.