Legislators have criticized Uganda National Road Authority (UNRA)'s management of the new bridge in Jinja and wondered whether it is safe for use by motorists and pedestrians.
The legislators on the Committee on Physical Infrastructure were in Jinja to assess the state of the Source of the Nile Bridge following reports that it was under repair a few months after it was opened to traffic.
Officials from UNRA, who were in charge of the construction of the bridge led members on the Committee chaired by Eng. Kafeero Ssekitoleko on a tour of the facility on Thursday, 07 February 2019.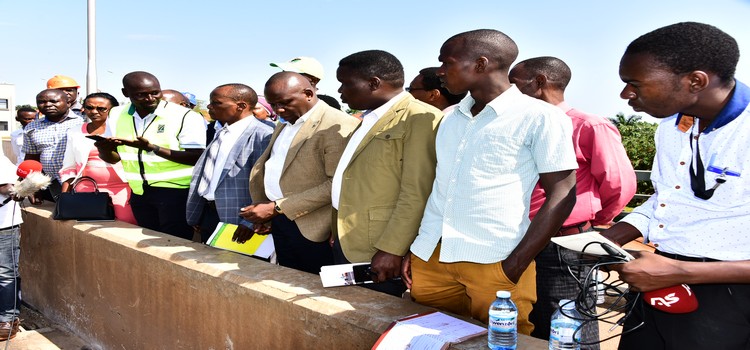 The MPs were unhappy to discover that the alleged reports citing cracks and rutting of the bridge are indeed true.
The UNRA Project Engineer, Morris Odru Odoch, said the cracks and rutting were observed on 20 October 2018, having opened to traffic on 17 October 2018.
He explained that the sudden defects resulted from lack of bonding between the water proofing materials and asphalt used on the surface of the bridge.
"Due to lack of bond, the asphalt surface was unable to withstand the shearing force of the passage of traffic," said Odoch.
He however, assured members that the bridge in itself has no defects save for the cracked outer layer which he said has been replaced.
"The main bridge structure has been designed for a period of 120 years and no single defect has been detected," he said.
MPs did not buy into UNRA's assurances on the bridge's safety and demanded proof on the safety of the main bridge.
"I am not sure if Ugandans are safe on this bridge; you cannot build a modern bridge and tell me that even after doing the design, you don't have baseline data to monitor the bridge. I need the proof that even the concrete structure of the bridge is safe," Hon. Richard Othieno Okoth (NRM, West Budama) said.
MPs were equally displeased to learn that material testing is ongoing even when the bridge is under use.
"I see you are still testing water proofing material on the bridge. Why didn't you test the water proofing material in the laboratory and wait to see how it bonds with asphalt," said Kafeero Ssekitoleko.
Hon Rose Mutonyi (NRM, Bubulo West) asked UNRA to address the bumpiness of the bridge which she said was experienced by motorists shortly after the commissioning on the bridge.
"When you are driving, you already feel the bumps; I experienced these bumps at the beginning of December 2018," said Mutonyi.
Hon Watongola Rehema (NRM, Kamuli Municipality) also asked UNRA to explain the accidents registered on the bridge, a few months after it was opened.
Speaker, Rebecca Kadaga directed the Committee on Physical Infrastructure to investigate allegations that the bridge was defective and not fit for use. The Committee is expected to report back to the House with their findings.