President Museveni who is also the commander in chief of the armed forces has promoted a group of 2031 UPDF officers to various ranks.
The promotion is carried in a press statement issued by the army spokesperson, Brig.Richard Karemire released on Friday afternoon.
"H.E the President and Commander in Chief of the Uganda Peoples' Defence Forces has confirmed the promotions of 2,031 UPDF personnel to various ranks as categorized as below," read the statement.
"The UPDF fraternity congratulates them for their patriotic service to our Country Uganda," the statement continues.
Among those promoted include Lieutenant Generals Joram Mugume and Ivan Koreta who are now full generals.
The two generals are among the list of UPDF officers set for retirement from active service of the army later this year.
The Friday promotions have also seen 10 Major Generals promoted to the rank of Lieutenant General and these include Pecos Kuteesa, John Mugume, Prossy Nalweyiso, Charles Awany Otema, Nakibus Lakara,Peter Elwelu, James Mugira , Joseph Musanyufu,Charles Lutaaya and Muhoozi Kainerugaba, the Senior Presidential Advisor for Soecial Operations.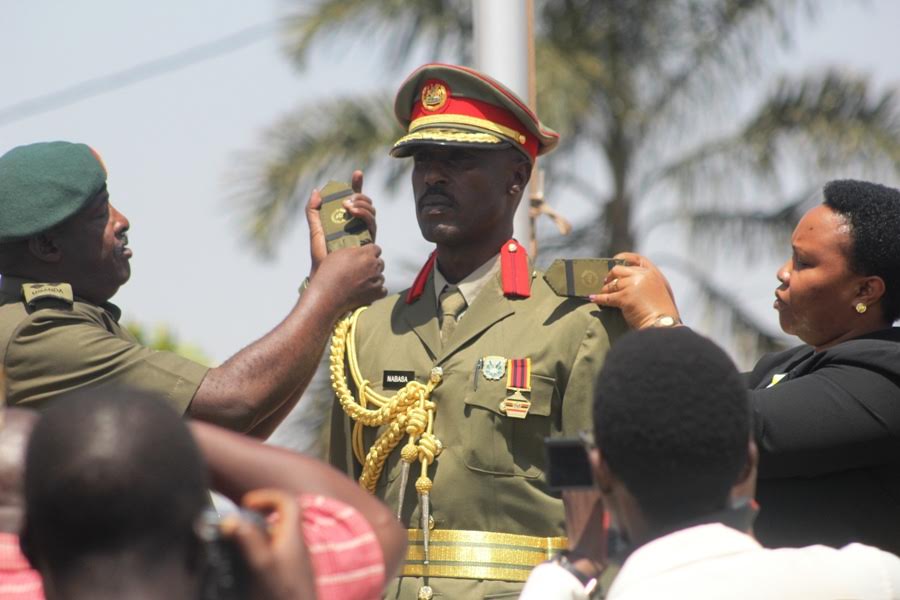 The promotions have also seen the former Special Forces Commander and Deputy Inspector General of Police, Brig.Muzeeyi Sabiti promoted to Major General.
Former operation Wembley commander, Elly Kayanja, SFC commander Don Nabaasa and Leopold Kyanda among others have been promoted to the rank of Major General.
The military police commander, William Bainomugisha has been promoted to the rank of Brigadier.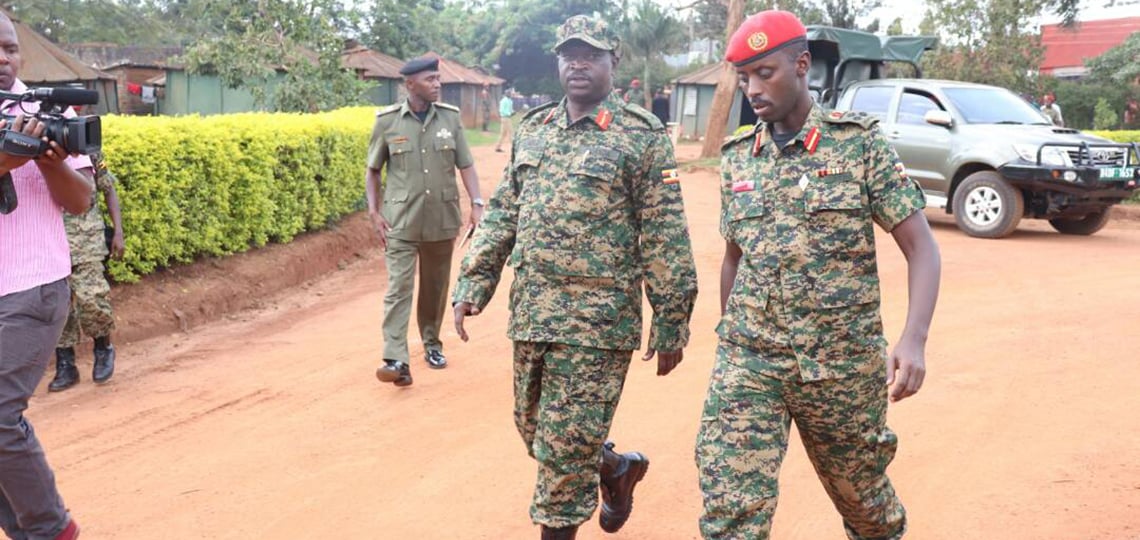 Criteria
According to the army spokesperson, 100 officers have been promoted to align with their appointments whereas 97 others have been promoted because they are due for retirement.
"130 officers have been promoted for long reckonable record or service, 49 promoted after successfully completing staff course whereas others have been promoted on recommendation by their units," said the message by Brig.Karemire.
| | | | | |
| --- | --- | --- | --- | --- |
| 1. | LT Gen | Ivan Koreta | – | Gen |
| 2. | Lt Gen | Joram Mugume | – | Gen |
| 3. | Maj Gen | Pecos Kuteesa | – | Lt Gen |
| 4. | Maj Gen | John Mugume | – | Lt Gen |
| 5. | Maj Gen | Prossy Nalweyiso | – | Lt Gen |
| 6. | Maj Gen | Charles Awany Otema | – | Lt Gen |
| 7. | Maj Gen | James Nakibus Lakara | – | Lt Gen |
| 8. | Maj Gen | Peter Elwelu | – | Lt Gen |
| 9. | Maj Gen | James Mugira | – | Lt Gen |
| 10. | Maj Gen | Joseph B Musanyufu | – | Lt Gen |
| 11. | Maj Gen | Charles Lutaaya | – | Lt Gen |
| 12. | Maj Gen | Muhoozi Kainerugaba | – | Lt Gen |
| 13. | Brig | Joram Kakari Tumwine | – | Maj Gen |
| 14. | Brig | Elly Kayanja | – | Maj Gen |
| 15. | Brig | Eric Mukasa | – | Maj Gen |
| | | | | |
| --- | --- | --- | --- | --- |
| 16. | Brig | Burundi K Nyamunywanisa | – | Maj Gen |
| 17. | Brig | Sam Kiwanuka | – | Maj Gen |
| 18. | Brig | Dr Ambrose K Musinguzi | – | Maj Gen |
| 19. | Brig | Samuel Kawagga | – | Maj Gen |
| 20. | Brig | Joseph Arocha | – | Maj Gen |
| 21. | Brig | John Lorot | – | Maj Gen |
| 22. | Brig | Apollo Kasiita Gowa | – | Maj Gen |
| 23. | Brig | Leopold Eric Kyanda | – | Maj Gen |
| 24. | Brig | Birungi James Mugabe | – | Maj Gen |
| 25. | Brig | Don William Nabasa | – | Maj Gen |
| 26. | Brig | Stephen Muzeyi Sabiiti | – | Maj Gen |
| 27. | Brig | Samuel Wasswa | – | Maj Gen |
| 28. | Brig | Jim Willis Byarugaba | – | Maj Gen |
| 29. | Brig | Timothy Sabiiti | – | Maj Gen |
| 30. | Col | Moses S Lukyamuzi | – | Brig Gen |
| 31. | Col | John M Kaganda | – | Brig Gen |
| 32. | Col | Charles R Tusiime | – | Brig Gen |
| 33. | Col | Fenekansi Mugyenyi | – | Brig Gen |
| 34. | Col | Adolf Serwada | – | Brig Gen |
| 35. | Col | John C Anywar | – | Brig Gen |
| 36. | Col | Jackson Bell | – | Brig Gen |
| 37. | Col | Dr Kenneth Ocen Obwot | – | Brig Gen |
| 38. | Col | Sam Omara | – | Brig Gen |
| 39. | Col | Emmy Mulindwa | – | Brig Gen |
| 40. | Col | Stephen Mugerwa | – | Brig Gen |
| 41. | Col | Johnson Muma | – | Brig Gen |
| 42. | Col | Frank Kyambadde | – | Brig Gen |
| 43. | Col | Moses Kwikiriza | – | Brig Gen |
| 44. | Col | Ceaser Innocent Bahwezi | – | Brig Gen |
| 45. | Col | William Beinomugisha | – | Brig Gen |
| 46. | Col | James Kaija | – | Brig Gen |
| 47. | Col | Godwin Karugaba | – | Brig Gen |
| 48. | Col | Fred M Karara | – | Brig Gen |
| 49. | Col | Fred Rugadya Akiiki | – | Brig Gen |
| 50. | Col | Bonny Bamwiseki | – | Brig Gen |
| 51. | Col | Ronald S Bigirwa | – | Brig Gen |
| 52. | Col | Joseph Balikudembe | – | Brig Gen |
| 53. | Col | Felix Kulaigye | – | Brig Gen |
| 54. | Col | Wilson Muhabuzi | – | Brig Gen |
| 55. | Col | Dr James Kiyengo | – | Brig Gen |
| 56. | Col | Dr Stephen Kusasira | – | Brig Gen |
| 57. | Col | Bob Paciesky Ogiki | – | Brig Gen |
| 58. | Col | Peter Gaitan Omola | – | Brig Gen |
| 59. | Col | Julius Biryabarema | – | Brig Gen |
| 60. | Col | Flavia Byekwaso | – | Brig Gen |
| 61. | Col | Dr Shilling E Tibayungwa | – | Brig Gen |
| | | 2 | | |
| | | | | |
| --- | --- | --- | --- | --- |
| 62. | Col | Johnson Namanya | – | Brig Gen |
| 63. | Col | Dr Patrick Ogwok Ogen | – | Brig Gen |
| 64. | Col | Daniel Mugumya Kakono | – | Brig Gen |
| 65. | Col | Godfrey Mujuni | – | Brig Gen |