The Uganda Revenue Authority working with security personnel have today intercepted three trucks of smuggled elephant tusks and pangolin scales at Elegu border post, on the Uganda- South Sudan border.
Although details are still scanty, the tax body says two Vietnamese were arrested and are helping police with investigations.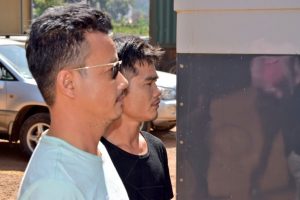 According to URA's twitter feed, the tusks and scales had been meticulously sealed and it took an non-intrusive cargo scanner to discover them.
Dickson Kateshumbwa, the Commissioner Customs said the smuggled goods were nabbed at Elegu border coming from Democratic Republic of Congo.
It is believed that they were transiting through Uganda to Vietnam.
Following a tip off from the intelligence, two Vietnam nationals have been arrested in custody of three containers each carrying over 750 pieces of ivory which are estimated to be from over 300 elephants and yet to be identified tones of pangolin scales.
Kateshumbwa said at Elegu border, the scanners gave them confusing pictures which forced them to do a detailed search.
"These people declared timber as the consignment being taken to Vietnam but due to our intelligence we intercepted them since the scanner couldn't give us a clear picture," Kateshumbwa said.
The ivory was hidden in the timber.
This has been the most sophisticated smuggling operation they have encountered this year.
"We are now breaking the timber and melting the wax which was used to hide the ivory and pangolin scales. We are sure the group is big and working in all African countries and with these two, we are going to trace them," he said.
According to Section 200 D (II) of the East African Community Customs Management Act 2004, it is illegal to acquire prohibited goods and the offence attracts a jail sentence of not less than five years or a penalty of 50 per cent of dutiable value of the goods or both