By Salmah Namwanje
The Kampala Lord Mayor Erias Lukwago has assembled a team of lawyers to handle the case where 42 residents of Kirombe B, Mutungo Parish, Nakawa Divion were taken to court over wrongful occupancy of different plots of land in that area.
The Lord Mayor says since this is public land is controlled by the Uganda Land Commission for and on behalf of Ugandans, it was wrong for the commission to lease out land to individual owners without considering its occupants.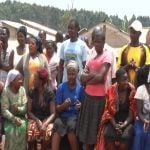 Nineteen landlords who acquired land titles on the said land sued 42 tenants on this land contesting their continued occupancy without legal documents. The lord mayor told residents here that his team of lawyers is ready to handle this case.
Lukwago told residents that the Uganda Land Commission is just a trustee but not the owner of the land and the constitution only gives them powers to hold this land in trust for Ugandans.
The area chairman says the case has 42 tenants but the eviction is bound to affect over 4000 residents.
In the meeting the Lord Mayor showed residents the legal team that is working out the paper work to handle the case.