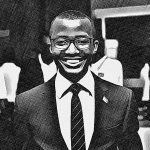 For many young people; particularly those that have freshly graduated University, on their first job or hanging on in between the two, there exists little doubt about the now widely accepted fact that sections of our political culture require changing.
It is that the existing political culture is hardly representative and delivering of the dreams and aspirations that we have been sold in schools and the culture we adopt.
And it isn't to suggest that the problem is only political but the social and economic challenges are only a derivative of a bad political culture that the state inherited from it's colonial handover file.
Perhaps, I should start from where the motivation for this week's column came from. I'm an avid listener of a podcast from SouthAfrica by a journalist, author and debater Eusebius McKaiser. On one of his shows, he hosts the leader of the Democratic Alliance, Mmusi Maimane, one of Africa's brightest lights in leadership.
Somewhere in between the barrage of questions, Mmusi Maimane tells Eusebius that 'we can only govern from a philosophy we have'.
The strength of the statement got me thinking and, in fact, wondering what philosophy of governance would best be suited to both the environment and demand of the political culture we need.
I have purposed to argue for a lean government – always. A result-oriented civil service and a charismatic and inspirational political overhead.
Our current political leadership is far too broad, fat, expensive and incompetent in the basic demands of governing society. There are atleast 1.2 million elected officials in the political leadership of the country currently. They are hardly trained in the management of public expectations as are they in basic community leadership. Most of the political class is a product of local populism, money or protest voting.
That political leadership prevails over civil service of nearly half a million people who include; teachers, doctors, permanent secretaries, government attorneys and even servicemen. These are the core of government business. They are in charge of trudging the horse of government promises to fruition. They however have no performance and delivery targets yet they consume in excess of 4 trillion Uganda shillings. Government provides for the cream of them cars, house allowances, health and travel benefits and contributes a stipend to their pension.
The question then remains why, with all this manpower that serves 40 million people, do we have lapses in service delivery?
It boils down to the political culture.
By what 'philosophy of governance' are we led as a country?
Can the parties in hold of political positions truly claim to hold a vision upon which they are guided?
It is the honest discourse of this question; which is broad-based and bi-partisan that we shall chart a better political culture than we currently have.