The Ugandan Government has released the 2018 Uganda Primary Leaving Exam (PLE) results revealing that, for the second consecutive year, Bridge pupils are among some of the top performers in the country.
The PLE results showed that Bridge pupils were among the best PLE performers in the country with pupils getting scores such as 8 and 10 aggregates and being placed in Division one. The results are even more impressive considering that many Bridge pupils are from the impoverished communities in districts like  Mayuge, Arua and Kasese.
Bridge school candidates performed particularly well with many passing in Division 1 and 2. A high performing pupil was Mugisha Rogers from Bridge, Kengere in Kasese District
The emerging results mean Bridge pupils will have access to some of the best Ugandan secondary schools and go onto pursue their dreams; despite coming from communities struggling to make ends meet.
Speaking about her results Brenda Namusobya from Bridge Magamaga in Mayuge district who passed in Division 1 and was among the top performers in Uganda said: "I am so happy about my results. I studied  hard and I knew that I would make it. I had lots of help from my amazing teachers who never gave up on me. My parents are overjoyed because of my results." She says: "I want to be a doctor when I finish school and maybe even build my own hospital one day. Now it's possible and I would never have achieved this without Bridge in my village." She adds.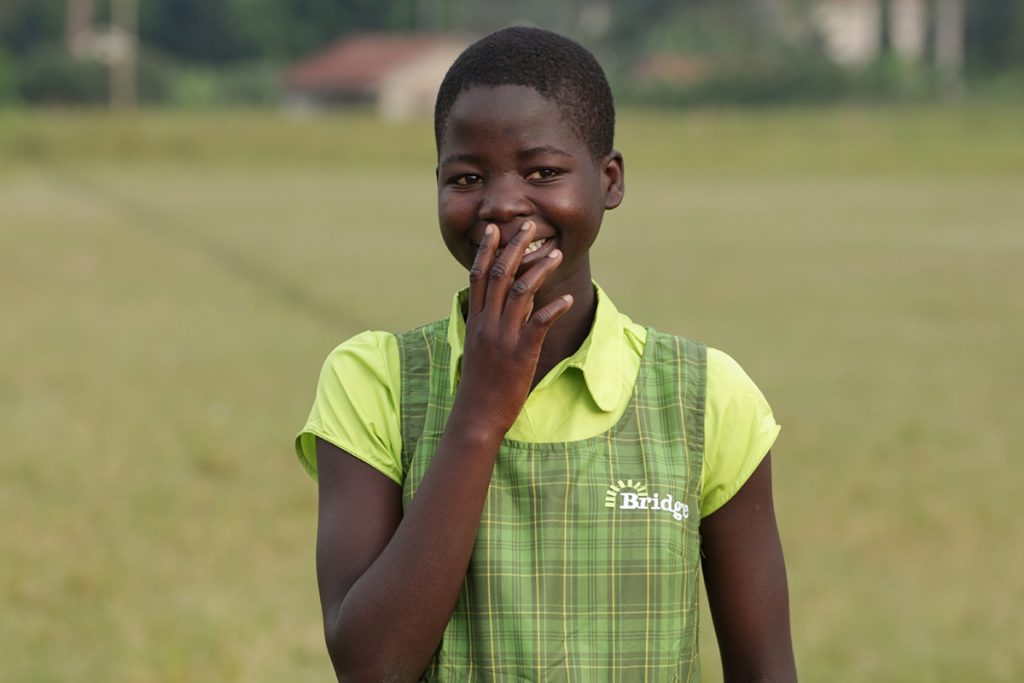 Brenda's parents who are casual farmers couldn't help but break down with tears of joy. "I am celebrating and dancing because my daughter has passed with such high marks. I had lost hope in educating my girl but when Bridge came to our community I got hope that one day my girl will be someone important in this country. I am  hopeful that this dream is becoming a reality."
An excited Aniku Rogers from Bridge, Adalafu in Arua district could not hide his delight after he placed in Division 1 "This is the best reward that I can give to my parents. They worked so hard to make sure that I had a great education and the opportunity to succeed in life. I am so thankful. And my teachers in Bridge were just the best."
Commenting on the emerging PLE results for Bridge pupils Christine Apiot, Academic Director for Bridge in Uganda, said, "We are so proud of our pupils who look to have done exceptionally well in these exams. This shows fantastic dedication, passion and hard work by our teachers who are consistently delivering a life-changing education for children in some of the most challenging environments in Uganda."
Ms Apiot  also attributed the success to the great support from the government of Uganda, saying, "We are grateful to the minister for Education Hon. Janet Kataaha Museveni for the support and encouragement that she extended to us throughout the academic year. With her passion and enthusiasm towards educating Uganda's children, in partnership with the private sector, the future of this great nation remains bright."
"This great performance in the national exams confirms that we teach the Ugandan curriculum enabling Bridge pupils to become strong and confident Ugandan citizens." she added.
"This success is evidence that children from all communities can achieve academic success if given the right opportunities, supportive teachers and empowering schools. These results show Bridge pupils in Uganda are gaining a very high quality primary education are are able to fulfil their potential. "
Ogaba Bonny, a Bridge Teacher from Magamaga said, "We always believed in our pupils and today I'm so proud of them. From the time they joined Bridge, their academic performance was steadily improving. These results are an encouragement for us to continue to provide evidence based learning. The way we are supported with teaching resources and guides has made all the difference."
The results are the latest in a string of children's learning gains being evidenced by Bridge, a social enterprise focused on extending quality education to every child in Uganda.
The results continue the success of Bridge pupils in the PLE 2017; after which Bridge graduates joined top secondary schools including Nabisunsa Girls School, Tororo Girls School and Busoga College Mwiri.