National Social Security Fund (NSSF), Mulago Hospitals, Uganda Blood transfusion Services and Uganda Red Cross society have entered into partnership to collect over 6000 units of blood in a bid to save lives and also avoid blood shortages that usually hit the country especially upcountry health facilities.
The week long drive campaign will be collecting blood from the public in different centres which includes Constitutional Square, Workers House, Clock Tower, Mukwano Arcade and Owino Market, Kalerwe, Bwaise, Mukono, and Entebbe under the theme "Stand Up for Life."
Speaking at the blood donation launch, Dr. Dorothy Kyeyune Byabazaire, the Director Uganda Blood Transfusion Services, has commended NSSF and its partners in championing this cause. She adds that whereas as UBTS are mandated to collect 1,200 units of blood daily to meet the country's demand but they are only able to collect under 800, units due to various challenges that range from access to funding and other logistics.
"Many of our international partners are cutting back their support which has left the National Blood Bank with challenges. We therefore have to start looking within the country for partners. We appreciate organisations such as NSSF that have come in to fill this void. We hope other organisations and individuals can emulate this gesture," Dr Kyeyune said.
To qualify as a blood donor, someone has to be above the age of 17 years, weigh more than 45kg, and is in good health.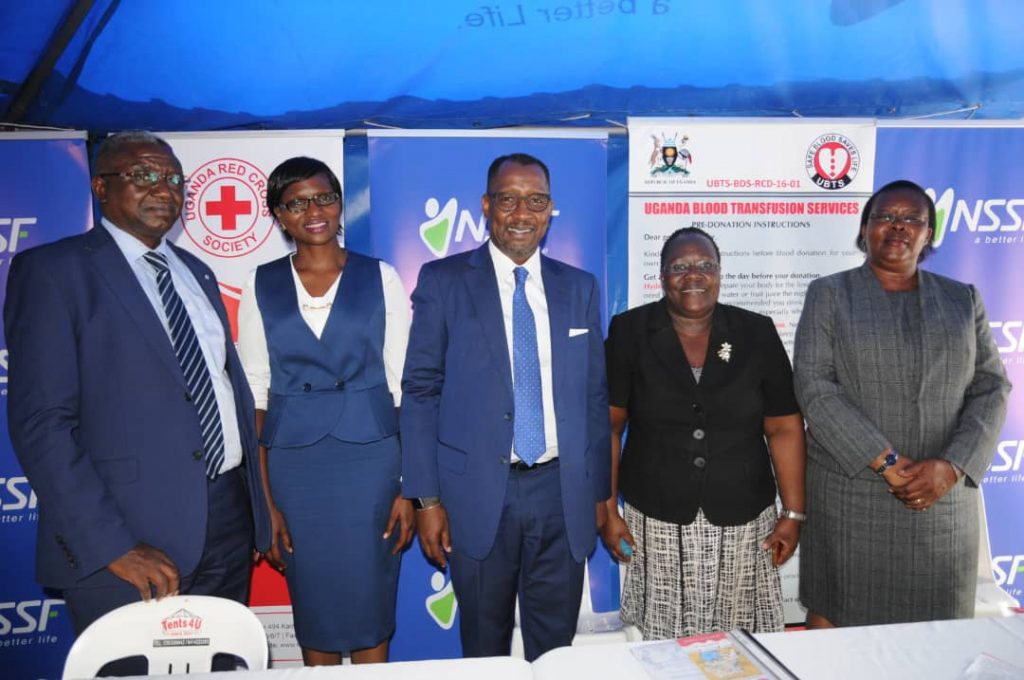 Statistics from World Health Organisation (WHO) indicate that Uganda has an annual demand of about 340,000 units of blood but falls short by over 100,000 units. Last year, only 240,000 units were collected against a targeted 340,000 units in Uganda. This year, The Uganda Blood Bank is aiming to collect 300,000 units of blood.
Byarugaba, an avid blood donor himself, said that the Fund owes it to its members to contribute to meaningful social causes that affect them diversely. A potential blood shortage he said, affects everyone indiscriminately regardless of stature and standing in society.
"We are one of the organisations that has a footprint across the country or whose business affects a wider population. We are passionate about the communities we serve and believe a healthy community is critical for the fulfilment of our mandate. That is why we are committing resources and our office spaces this week as donation collection points" said Byarugaba.
Upcountry, the donation drive will be held at NSSF Branch Offices offices in Mbale, Mbarara, Gulu, Arua, Fort Portal, Jinja, Mukono, Kabale and Masaka as well as other high traffic areas in major towns.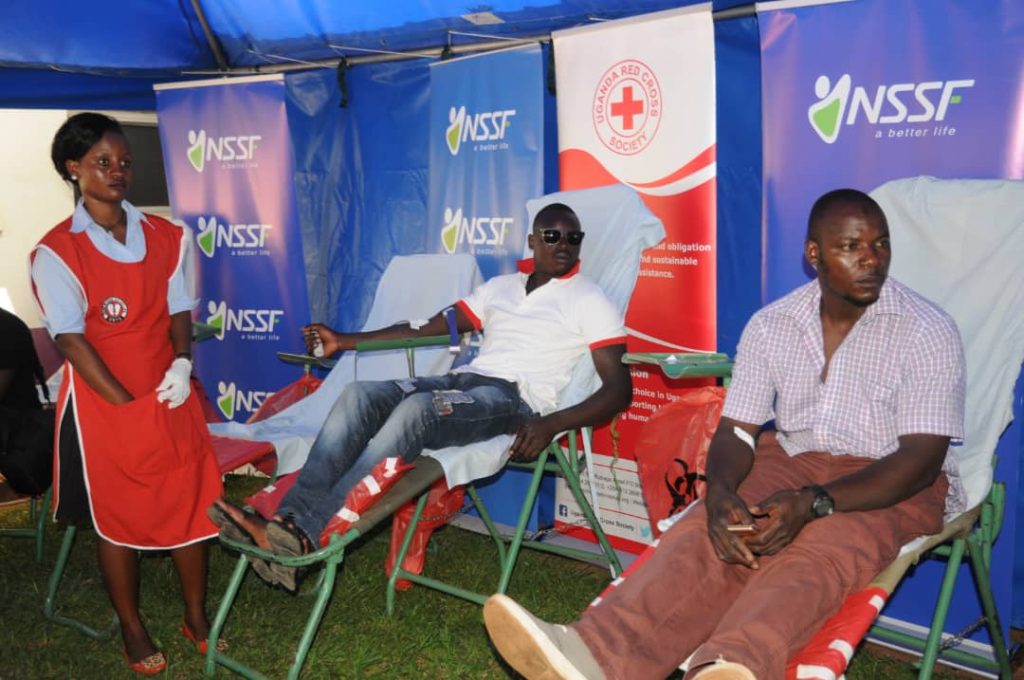 Robert Kwesiga, the Secretary General Uganda Red Cross Society said; "Uganda Red Cross through the MOH has the mandate of mobilising Voluntary blood donors in Uganda. We appreciate corporate entities like NSSF that come one board to complement our efforts through mobilising customers and their stakeholders to appreciate such a humanitarian cause. Donating blood saves lives and is voluntary. We therefore appreciate the spirit behind this and pray that this grows beyond the one week blood drive to something bigger which we can do every other year".
"Uganda Red Cross has a blood donor recruitment strategy where we preach to the converted first (our volunteers and members) to donate and live by example. From there, other people join and appreciate the worth of life. With that, we stop relying on students and young people whom we always target while in schools. Our branch network across the country is well positioned and volunteers in communities do this very well as part of our community activities".
"I want to call upon all people who fall under the age bracket of blood donors, and are in good health to heed to the call and see that we deal with blood shortages and save lives of vulnerable people who require blood transfusions. We are able and can meet the country blood targets, we just have to work hard and improve public perceptions and attitude towards donating blood," he added.