In 1969, a 14 year old girl who had run away from a nursing school was connected to the then Inspector General of Police, Erinayo Oryema to help her try her luck in the police force
As they say, the stone ignored by the builders later turned out to be the cornerstone as she rose to become the first ever woman to head the Police Music, Dance and Drama Department.
Fast forward, in the morning hours of January 9, 2019, the labrosone was played for the last time as Josephine Kakooza, the little girls who joined the police force at 14 years died.
Born to Joseph Kakooza a former county chief for Buganda kingdom and Theodora Namutebi Kakooza on June 8, in 1955 at Villa Maria hospital in Masaka, Josephine Kakooza was according to her parents supposed to be a nurse but to her, it was not her calling.
Having attended Ntinda Nursery school, St. Agnes Naggalama, Nabagereka Primary School (for one year) Kakooza later joined Trinity College Nabbingo but dropped out in S.2.
"I was at Trinity College Nabbingo, but I dropped out of school in 1968 and my daddy told me to join a nursing school though I didn't like the course," Kakooza told the Observer in an interview last year.
Having run away from the nursing school, the then 14 year old Kakooza was `connective to the then police boss and was enrolled on probation and underwent intensive music training for two years at Kibuli Police Training School that saw her deployed under the police music deployment.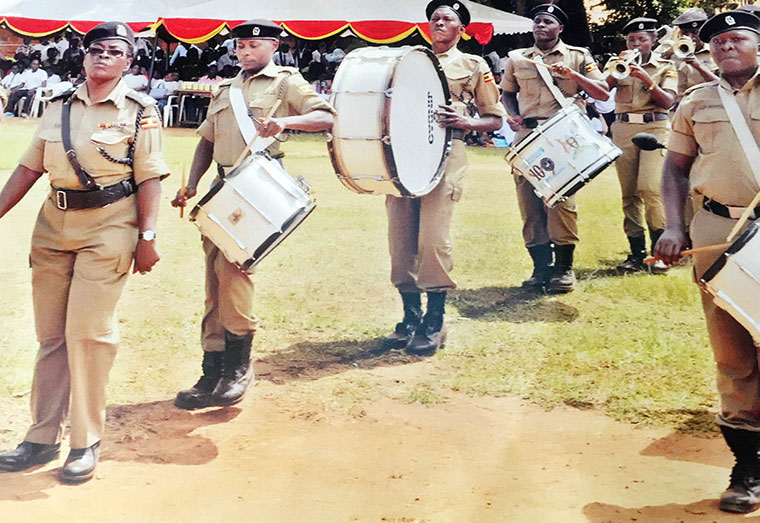 This would be the beginning of a 49 year journey of diligent service for Josephine Kakooza as an officer in the police music, dance and drama department.
In his message about the deceased, Inspector General of Police, Okoth Ochola had three words to describe Kakooza's life in the police force as an officer with high integrity, commitment and zeal towards her job.
"She will always be remembered for her talented leadership in music, dance and drama,"Ochola said.
AIGP Asan Kasingye, the Chief Political Commissar for the police force said he met Kakooza in 1994 when he was posted in the community affairs department that the music department fell.
"I have since known her as being ideologically clear, hardworking, disciplined and respectful. For the many years I have seen her, I have never heard anyone accuse her of any disciplinary issue,"Kasingye, who is also the chairman of the Police Appeals court said.
Due to the long time she spent in the force, Kakooza was nicknamed 'Mama Police' literally translated as mother of the police force and according to Kasingye, the nickname was befitting.
"Before 9 January (her death) if anyone asked police officers who have served under all Inspector Generals of Police after independence, it was only Kakooza. Everyone respected her,"Kasingye said.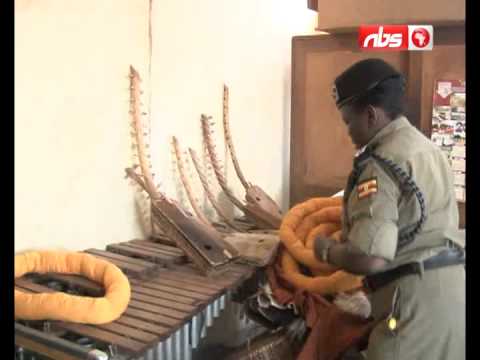 In 2011, her dedicated service paid off when she was appointed the first ever police woman to head the Police Music, Dance and Drama Department that played at almost all government functions.
It is therefore not surprising that in 2015, President Museveni grabbed her by hand and introduced her to Pope Francis during his visit to Uganda.
She was the only police officer introduced to the Pope by the president and as a Catholic and believer, this meant blessings.
Kakooza's long service saw her play and also lead the police brass band in front of eight different Ugandan presidents and was eventually recognized by Museveni who awarded her three medals.
She was decorated with the distinguished service medal of the police, given to only those who have been exceptional; the long serving medal of police, meant for officers who have served for above 30 years and the Independence medal.
Promotion
From Probation Police Constable (PPC), Kakooza was promoted to Police Constable and then Corporal before becoming a Sergeant.
In 1993, Josephine Kakooza was promoted to the rank of Assistant Inspector of Police and in February 2000, she became a police inspector before she was in 1993 promoted to Assistant Inspector of Police.
She became a full Inspector of Police in 2000 and in 2004 she became an Assistant Superintendent whereas in 2008 she became a Superintendent of Police.
In May 2012, President Museveni promoted her to the rank of Assistant Commissioner of Police, skipping one rank (Senior Superintendent of Police).
Kakooza in 2013 she clocked the age retirement age for public service but because of her exemplary service, she was allowed to serve on contract and in 2014 she was promoted to the rank of Commissioner of Police she held until her death.
Kakooza is survived by eight children and a number of grandchildren.
She will be laid to rest later today, Saturday at Namumira in Mukono district, along the Kyetume- Katosi road.