The very popular Umeme Twitter handle has gone offline. An attempt to search for Uganda's largest energy @umemeltd Twitter account turns up the message, "This account does not exist."
Umeme spokesperson Stephen Ilungole explained Umeme's disappearance from the social media platform that, "Our handle is temporarily unavailable due to the ongoing procedural authentication exercise by Twitter Inc."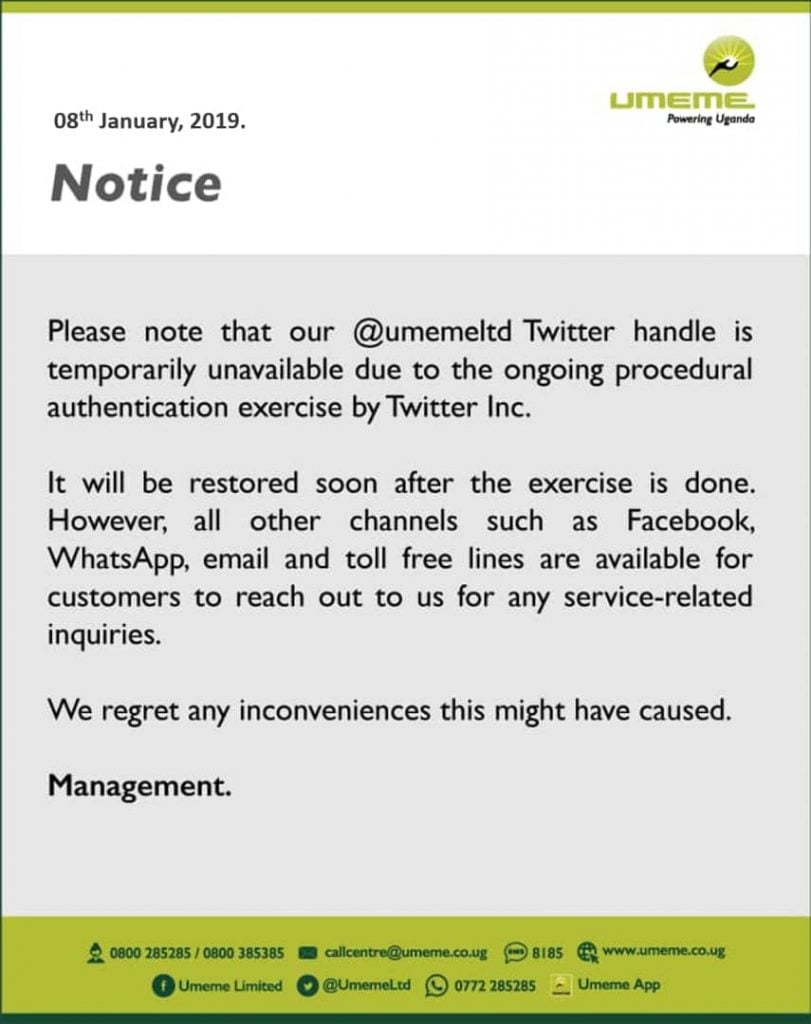 Ilungole did not elaborate what that authentication entails as before Tuesday, the @umemeltd handle already had a blue tick to distinguish the account as the true account of the company.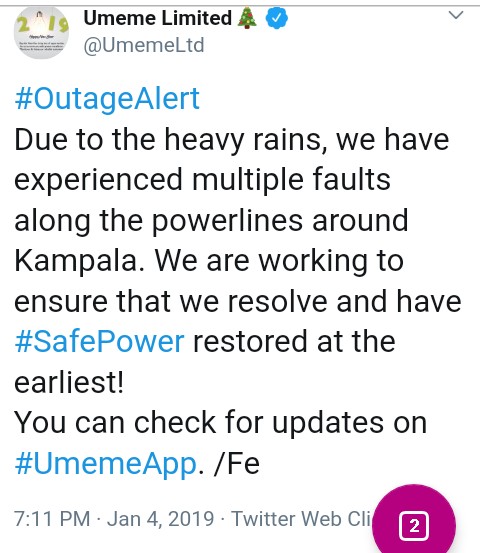 Some keen followers of the Umeme handle poured cold water on the explanations put forward by the power company. One such follower Paul Mugume (@PaulMugume_) accused the body of trying to hide what was really going on. He tweeted that, "First was 'scheduled update.' Second came 'procedural verification.' Now, its procedural authentication."
Mugume was informed that while the Umeme Twitter handle is currently unavailable, other platforms to reach the body are still functional. Umeme can still be contacted on it's mobile app SMS: 8185, Facebook: Umeme Limited, Call [email protected], WhatsApp numbers and on its official website.
At the time of the handle's disappearance, it had been a popular platform for Ugandan electricity consumers to inform Umeme of power outages or issues. The handle received hundreds of mentions and tweets from consumers and often responded.
It is unclear when the handle will resurface.
Umeme is operating a 20 year electricity distribution concession that started 1st March 2005, from the Government of Uganda. After the electricity sector reforms in 1999, Uganda adopted a single buyer electricity sector model, where Uganda Electricity Transmission Company Limited (UETCL) is the System Operator, responsible for the purchase of electricity from all Independent Power Producers, import and export of electricity and being Umeme's sole supplier.
As an electricity distributor, Umeme is licensed to distribute and supply electricity to customers.This mandate involves; operation, maintenance and upgrade of electricity distribution infrastructure, electricity retail and provision of related services.The sector is regulated by the Electricity Regulatory Authority, whose mandate includes setting operating standards and appropriate end user tariffs.