Raising theVillage, a Canadian Non -Government Organisation has come to the help of over 2000 households in Western Uganda through extension of clean water services tovarious villages.
Speaking on Wednesday at a function to commission extension of clean water to Nyakinoni and Kihihi sub-counties in Kanungu district, Clement Mugisha , the Deputy programs Director for Raising the Village said the project would come a long way in extending water to villages that don't have protected springs as the only solution for communities to get clean water.
"We are focused on fighting poverty through elimination of immediate barriers of scarcity, access and nurturing income generating projects as well as building local capacity in a bid to accelerate communities towards economic self -reliance,"Mugisha said.
"We shall alwayscontinue fighting to meet our target of ensuring at least 80 percent ofhouseholds throughout the country access safe and clean water covering shortdistances while saving time for other household productive work."
He explainedthat as part of the project, 17 water sources in the villages of Nyamabare,Rwangoboka,Buhumuriro,Nyamiyaga,Rwamahamba,Kanyambeho,Nyakayaga,Kamuswa, Bushogye, Nyakashure,Nyakarambi,Samaria,Bushogye,Mpangangoand Group farm A and B were constructed .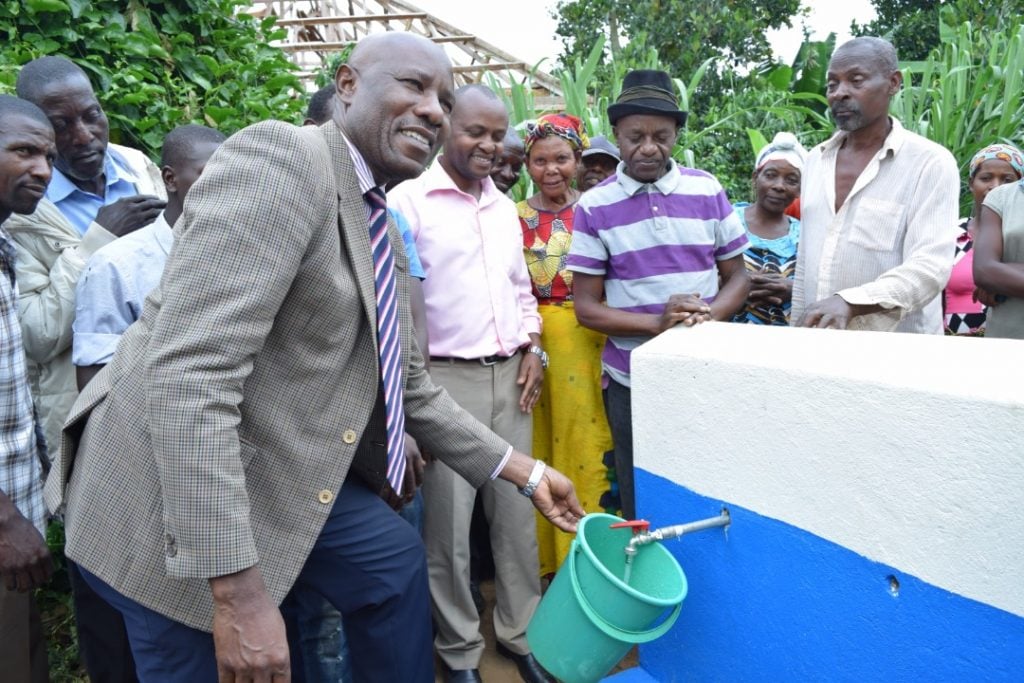 The project, he said is set to benefit 2120 households and a total of 10,000 people at a cost of over shs 50 million.
The Kanungu District Resident Commissioner, Shafick Ssengooba Ssekandi applauded Raising the Village for its initiatives to move communities out of poverty.
"We must thank government for bringing peace and the enabling environment that we are able to have such organisations to provide services to our people not only in Kanungu but also other districts like Kisoro,"Ssengooba said.
He however warned locals against spoiling the protected springs saying it would be an embarrassment if the NGO returns only to find them in ruins.
"I urge you people to maintain these projects very well because more is still coming from Raising the Village. If u fail to cooperate with them well, I will be forced to ask them to go to my home village in Wakiso, "he warned.
Raising the Village, is a Canadian Non -Government Organisation empowering communities in sub –Saharan Africa by providing training and critical infrastructure to implement and manage self-directed sustainable initiatives.