The East African Scouts Zonal activities in Burundi, remain a dream for the Ugandan contingent even after they started their journey several days before the scheduled dates of December 17- December 22.
All was going well when the Uganda Scouts Association chief patron, Dr Maggie Kigozi flagged off the contingent on Friday last week, ahead of the competitions that will gather all national scouts' associations from East African member states, in Burundi.
The group shortly canceled their journey abruptly before they could move from the flagging spot in Kazi, following highly placed orders to have them wait for security clearance from Tanzania.
The National Executive Commissioner, Richard Okello informed the team that certain security elements on both Uganda and Tanzania sides were engrossed in a meeting to find passage through Tanzania to Burundi after ruling out the route via Rwanda.
A meeting would then resolve that the journey be kick-started the following morning, reaching the Uganda- TZ border at Mutukula at 11:00am, but the group was held until 7:00pm with Tanzanian security dillydallying on clearance.
Following several consultations within the Tanzania government and the government in Kampala, the contingent was allowed passage but through Karagwe, Morogoro to Ngara, albeit via a battered road.
The group, moving in a 4-bus convoy, and two mini-busses had to under go several challenges as the road was completely impassable, lonely and remote. Several times the vehicles got stuck in large piles of mud, trenches on road as well as impassable and slippery steeps.
The team had to spend the night pushing out their cars from mud, before making headway and reaching the tarmac in Ngara, where one bus gave way, following developing clutch problems. Meanwhile during the whole time, they were escorted and guided strictly by Tanzania security riding in a Land Rover defender model.
At about 10:00am, the contingent arrived at Burundi border in Kobero, to a smooth clearance and quite hospitable reception. However, a few minutes to their departure, the Burundi security stopped them from proceeding.
The Burundi security demanded that the team proceed without any security personnel from Uganda or forfeit entry.
Following several consultations with the Kampala Government, the contingent head, Richard Okello ascertained that they had clear instructions by the powers in Uganda, to only march into Burundi with the security attached to them from Uganda.

"We requested a security team from Uganda to move with us to ensure our children are safe, so we needed clearance from security of Tanzania. Issues of security are not taken lightly and require protocol. You need to get permission from all levels. It took us a bit of time to be able to get process through Tanzania system and it is the same for Burundi but we understand there must be a protocol system," Okello said.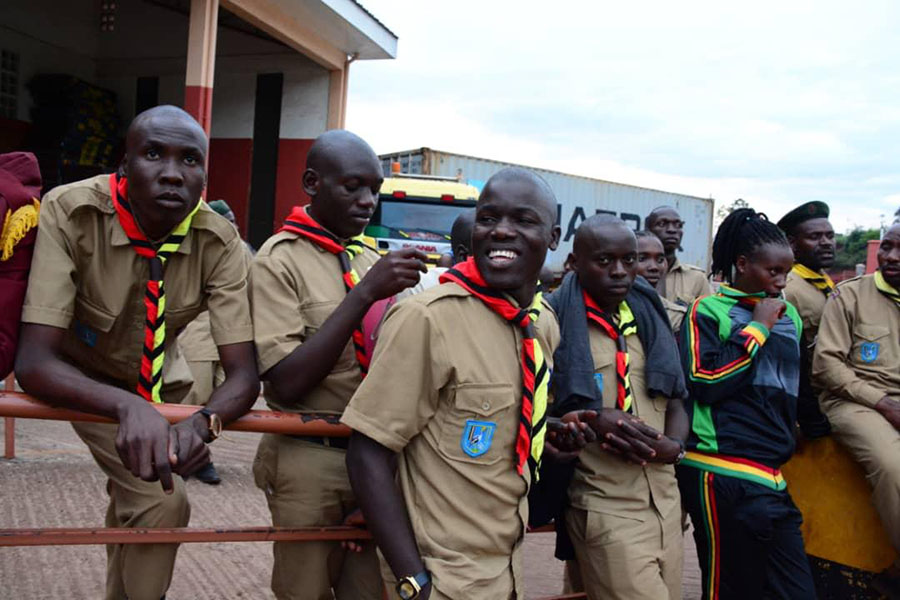 A security personnel attached to the team briefed the team and confirmed the details, urging they would not move until a final solution was arrived at regarding the different terms and conditions by each country.
The scouts team that had arrived and been cleared at border by 10:00am would have to spend the night at Kobero border post as night fell without clearly communicated resolutions.
By time of filing this article, Okello hinted that Burundi President, Pierre Nkurunziza had ordered for the scouts to proceed but the order came in after 8:00am, which is not an allowed travel time for such a convoy.
"The information I have is that we are supposed to be setting off between 8:00am and 9:00am (Monday). These are challenges scouts are prepared for. This journey is a training on its own because it teaches endurance and patience," Okello said.
"We are grateful for the security of our children, we had to secure our people. But everything comes with a little bit of cost. That is the cost of us moving secured. "
The Uganda Scouts Association if cleared will be in Gitega, Burundi for the East African Zonal Scouts activities which includes; Scouts competition (11-17 years), conference for adults, youth forum for senior young people (18-25 years), young scouts.