The Mukono Municipality legislator Betty Nambooze Bakireke has appeared before court and tasked president Museveni to appear before court and testify against her as she faces charges of inciting violence.

According to Nambooze, Museveni is one of the complainants who raised an alarm after reading her statement on her Facebook wall.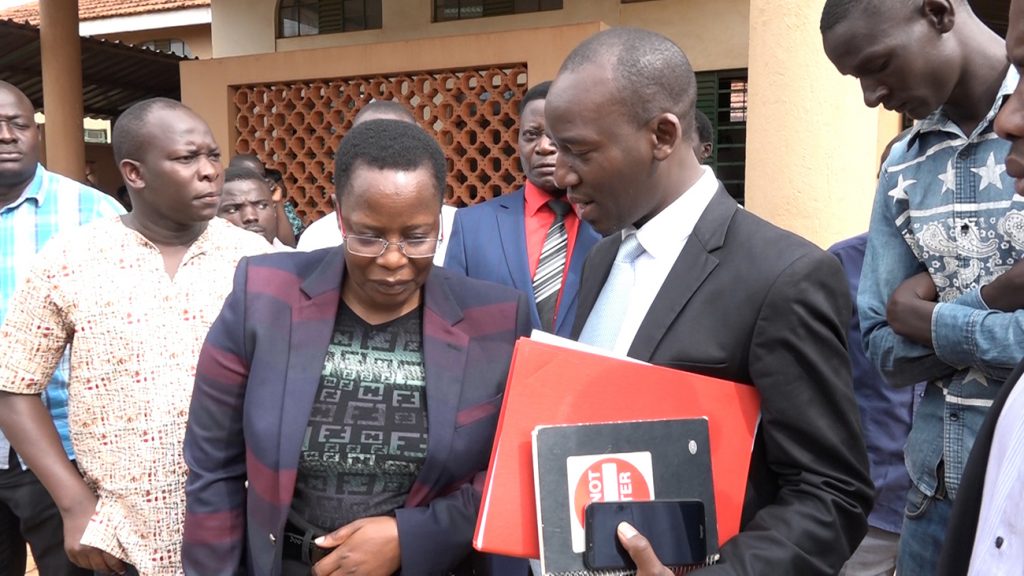 The Mukono legislator had appeared before the Nakawa Chief Magistrate court led by grade one Noah Sajjabi.
This morning the Mukono Mucipality legislator Betty Nambooze Bakireke has appeared before the Nakawa Chief Magistrate Court to answer charges against inciting the public to commit offences.
This follows two sets of criminal summons issued by court against her in September and November this year requiring her to appear in court without fail.
The magistrate Sajjabi wondered asked where the state prosecutor Rachael Nabwire was and was informed of her absence.
This prompted Nambooze through her lawyer Samuel Muyizzi to ask court to dismiss the case due to the state prosecutor's absence.
''The state has dragged a tortured person to come to court which is contrary to the directives of the Chief Justice. I pray that the case should be dismissed since state is not here,'' Samuel Muyizzi said.
Magistrate Sajjabi declined to dismiss the case explaining that, ''It would be unfair to the state prosecutor who has always appeared in court even when the accused person decided to absent herself." Ssajjabi ruled the matter should be adjourned.
Muyizzi informed court that his client is on sick leave between the month of January and February 2019 in India for treatment and asked court give her a longer period.
Sajjabi listened to his prayer and adjourned the matter to 7th March 2019 ordering the State Attorney who had appeared in court before the session was closed to come with the witnesses on that day.
Nambooze appeared visibly weak and walked slowly with the help of crutches.
The Mukono legislator is alleged to have posted statements on social media on 9th June, 2018 that allegedly incited the public to attack and murder public figures.